Honolulu's nightlife pulses with vibrant luaus, lively bars, mesmerizing hula, and a rich tapestry of world-class Pacific cuisine.
Starting with Sky Waikiki's sweeping vistas and ending with a steak and shrimp palate at Sam's Kitchen, this is how you can experience an amazing night out.
Here's your essential guide to Honolulu nightlife.
Elevate your pre-drinking session at Sky Waikiki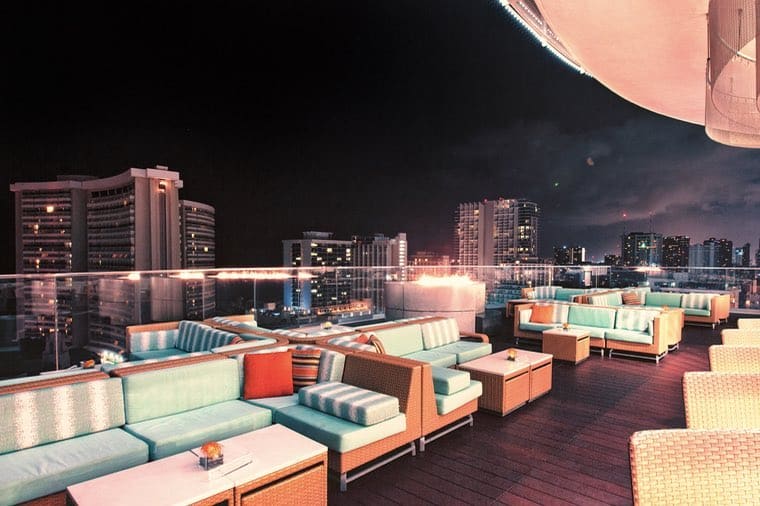 A sky-high bubble of excitement and elegance, Sky Waikiki hovers above the vibrant Waikiki district, opening up to 360-degree views. With its 19th-floor location, the rooftop bar stitches together Diamond Head's silhouette, the city lights, and the Waikiki beach.
Sky Waikiki's open-air layout melds seamlessly with the encompassing panorama, creating the illusion of endless space. The decor, a tasteful mix of island chic and urban sophistication, fosters an undeniable sense of warm-toned tranquility.
At Sky Waikiki, the menu plays second fiddle to the views. Billed as a raw and champagne bar, it offers a smorgasbord of seafood, from delicate sushi rolls to robust seafood platters – and for those who like their meals from the land, the Wagyu steak is there to catch you.
Here, urban trendsetters rub shoulders with sun-kissed surfers, couples cozy up in lounge corners, and groups of friends clink glasses against a backdrop of city lights. It's the melting pot that defines Honolulu nightlife, occasionally stirred by a tropical breeze.
Be Insta-worthy next to the Duke Kahanamoku Statue
Duke Paoa Kahinu Mokoe Hulikohola Kahanamoku – that's a name that gives your tongue a workout – was a Hawaiian surfing Olympian.
His influence was so monumental that locals honored him with a statue, right by the famous Waikiki Beach.
Unlike most statues, The Duke doesn't stand rigid or stony-faced. He's all aloha vibe, with open arms and leis – the Hawaiian flower garlands. Its statue is the ultimate marriage of style, story, and cultural significance, a triple-threat IG hotspot.
Embark on a sunset party cruise
Forget mainland merrymaking; the real magic happens off the shore. Not an intimate speakeasy nor a bustling club, Ocean and You Party Cruise defines Honolulu's nightlife entertainment. With its parties, the boat tour agency takes the revelry to the Pacific Ocean, offering a mix of serene natural settings and energetic entertainment.
At the center of the agency's operations is a luxurious double-decker powerboat. Built for comfort and style, the vessel features wraparound seating and a Titanic-style front railing, providing passengers with ample space.
The journey kicks off with a scenic cruise around Diamond Head, a well-known volcanic tuff cone that forms a distinctive landmark. At sunset, its silhouette bathed in golden hues offers a stunning backdrop, marking the beginning of the evening's experience. Passengers might also catch glimpses of native marine life, such as Hawaiian spinner dolphins or, during the winter, humpback whales.
However, Ocean and You is not merely about enjoying the natural sights of Honolulu. As daylight fades and city lights begin to twinkle, the boat transforms into a lively party venue. A live DJ takes control of the deck, creating an energetic atmosphere with a selection of contemporary tunes.
Discover after-dark Waikiki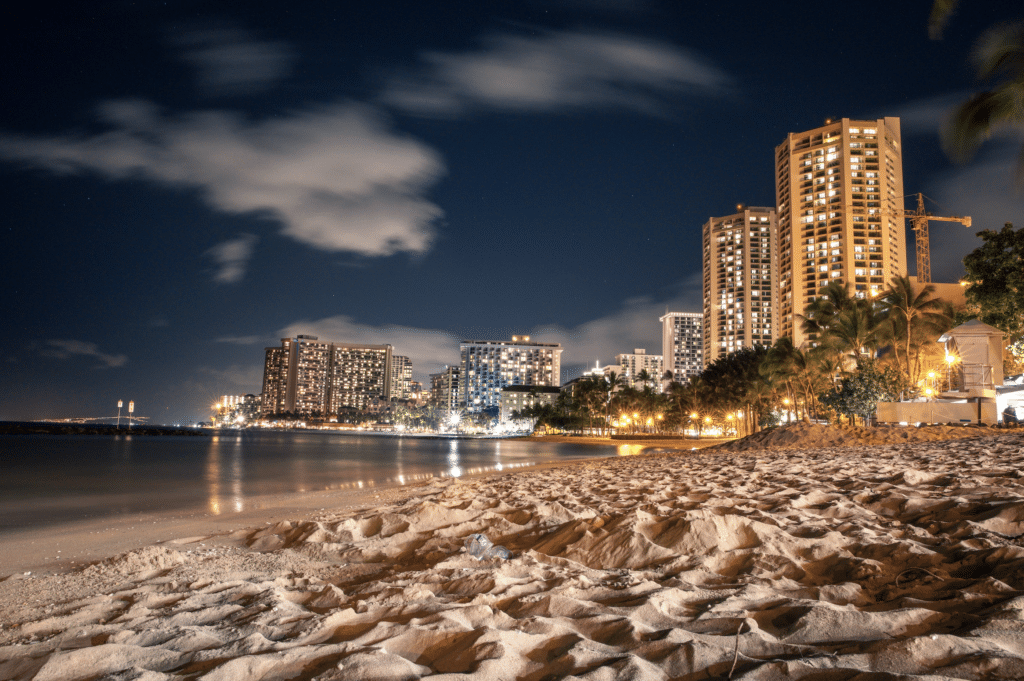 If Honolulu was the love child of Vegas and Bali, then Waikiki is its ever-stylish prodigy, giving its parents a run for their money. This moonlit metropolis cocooned on Honolulu's beach shore is a nocturnal oasis where designer duds, sultry sands, and hula hips are just as integral to the nighttime narrative as the obligatory Mai Tai.
Known for its iconic surf beach where the rhythm of the Pacific Ocean acts as a conga line call to all beach bums and board riders, Waikiki has long been a sun-worshipper's paradise.
But when the sun clocks out, the Honolulu nightlife hotspot trades its daytime shades for nighttime neons.
For the seasoned partyphile, the mere mention of Kalakaua Avenue can send a shiver of anticipation down their spine. This is the avenue where life sparkles, where high fashion meets beach chic, and where a casual stroll will make you question whether you accidentally landed on Rodeo Drive.
Cuckoo Coconuts, for instance, serves up a tasty menu of the island's best rhythms, laughter, and libations – a veritable cocktail of aloha spirit, just like their legendary Mai Tai.
When chasing an oriental twist, try Shanghai Bar, a watering hole that will have you saying "cheers" in every language. Dark, rich, and just a bit mysterious, this is the place where secrets are told over a glass of smoky whiskey.
And let's not forget Kiki's Tiki Bar, where tropical dreams come true under the starlit sky. As a haven for all things Polynesian, Kiki's is a kaleidoscope of exotic cocktails and vibrant vibes, making every night a luau under the island moon.
Sip on the Before Mitch cocktail at Skull & Crown Trading Co.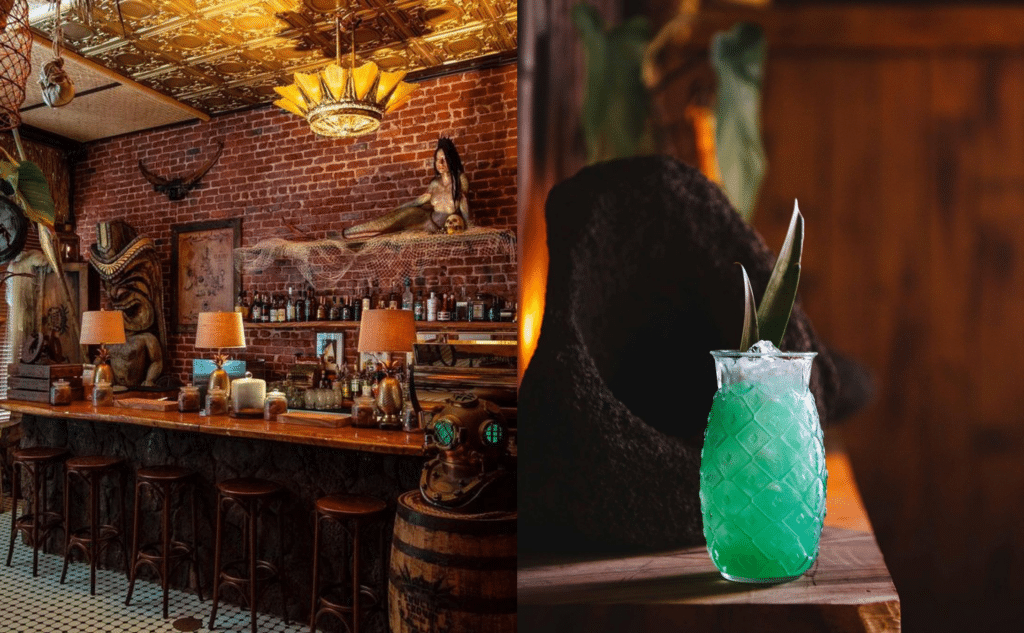 Stirred by the cocktail virtuoso Kyle Reutner, Before Mitch is a vibrant vortex of Kō Hana Kea, Blue Curaçao, Mahina Coco, lime, pineapple, and pandan. A tropical tryst that doesn't simply flirt with your taste buds but sweeps them off their feet, into a swirling waltz of exotic whispers and tarty giggles.
"Before Mitch" comes alive at the Skull & Crown Trading Co., an eclectic cocktail bar that often translates into one of the most coveted spots in Honolulu's nightlife.
A touch of pirate charm interlaced with Victorian sophistication, it's a stage fueled by flamboyant bartenders and a cast of patrons.
Underneath twinkling chandeliers and the warm embrace of rustic decor, you'll find an intoxicating variety of patrons – the sharply dressed executives, the sun-kissed tourists, the aging regulars with stories as aged as their whisky, and the creative soul scribbling away in a corner.
A mind-boggling music temple at heart, The District is no average clubbing spot. Upscale all the way and with a soft spot for electronic sounds, the Honolulu nightlife venue bridges the gap between VIP treatment and high-energy beats.
With events that see A-list names from the music realm and an intimate-meets-lively crowd, The District ranks high in the city's clubland.
Nourish your inner foodie Steak and Shrimp plate at Sam's Kitchen
For the uninitiated, a Yaroa is a decadent dish, a salivating siren call to the starved and the soused.
It translates into a mix of Swiss cheese sauce, a medley of fried ripe bananas, pork leg and smoked ham. Now add pickle relish, mayo, and a daring dusting of bacon to wrap it all in a crispy embrace.
A visit to Los Jefes is a must-do in the capital city. Beyond the Yaroa El Cubano, Los Jefes is an Aladdin's cave of delectable street food offerings.
From sizzling burgers dripping with creamy cheese to nachos crowned with succulent shredded meat, each dish is fuses Caribbean flavors with Honolulu nightlife.