Havana's nightlife teases visitors with seductive rhythms of salsa, soul-stirring Afro-Cuban beats, and richly flavoured rum concoctions.
Starting with La Guarida's sweeping vistas and ending with Pinchos de Cerdo at Pazillo Bar, this is how you can experience an amazing night out.
Here's your essential guide to Havana nightlife.
Elevate your cocktail experience at La Guarida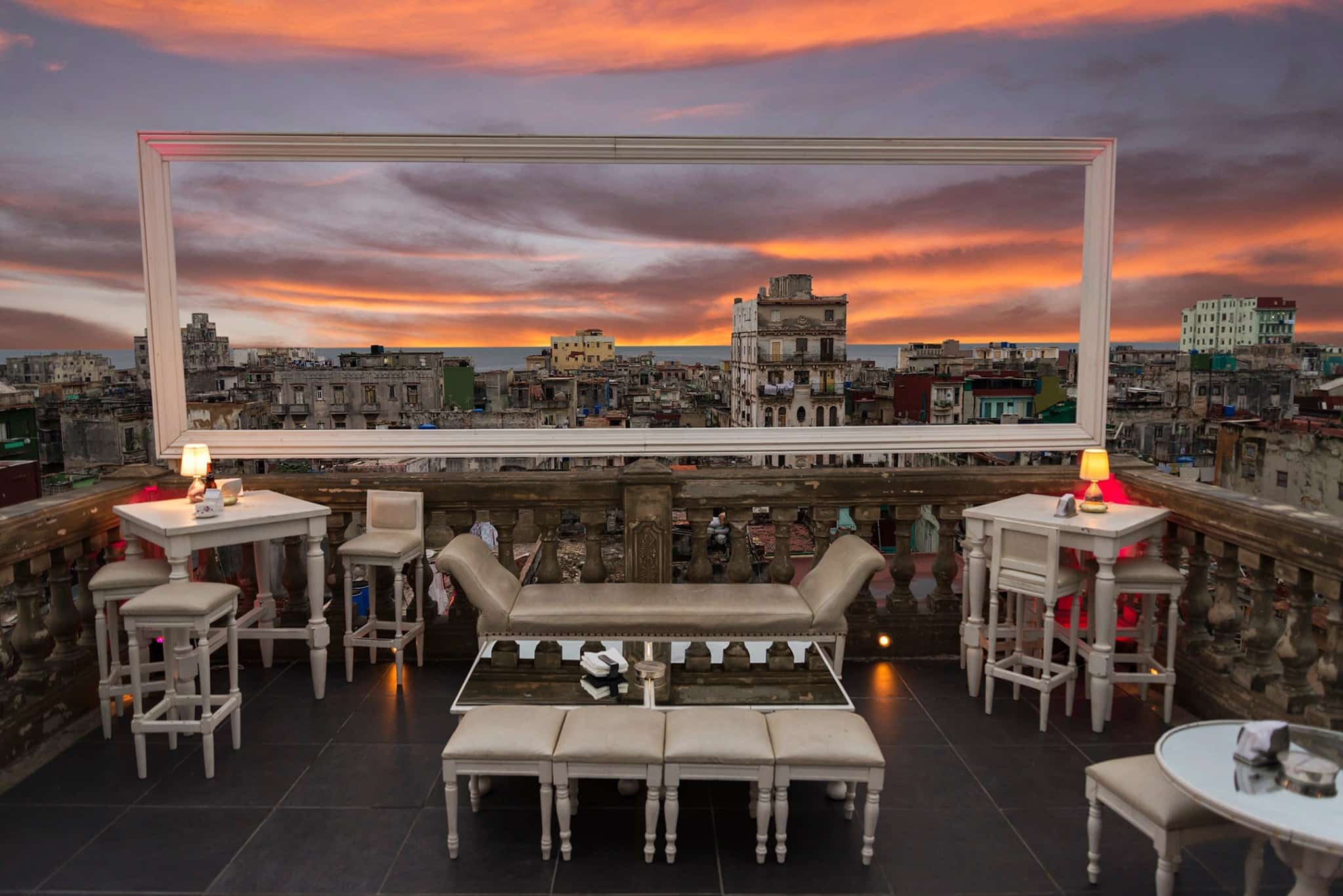 From the street, you'd hardly give it a second glance. But, as any well-versed raven can tell you, it's not about the book's cover; it's about the story within.
Dubbed La Guarida, the Spanish equivalent of 'The Hideout,' this legendary venue has been an open secret among Havana's glitterati since it was immortalized in the iconic Cuban film Fresa y Chocolate.
Winding your way up seven flights in this former multi-family building, you may wonder if you've taken a wrong turn. Then, Havana unfolds before you. Bathed in the warm Cuban glow, the vistas showcases Old Havana at its finest, offering a visual feast.
Infusing a casual vibe into the grandeur, La Guarida is for those who prefer sipping their mojitos under the vast Cuban sky, lazily lounging on comfortable sofas. The rooftop bar's layout is a nod to Havana's timeless elegance, with decor that blends the rustic charm of the building's past with the city's vibrant modern pulse.
Don't let the laid-back atmosphere fool you, though. La Guarida is serious about its food and drink offerings. The tapas menu is a tantalizing collection of lighter fare, perfect for whiling away a balmy evening.
La Guarida doesn't just serve customers – it curates a clientele. Those who ascend those seven flights form a mosaic of adventurers seeking the comfort that the nightlife spot delivers in spades.
Pose next to the Gran Teatro de La Habana
Think of Gran Teatro as the equivalent of that perfect little black dress – a timeless classic, always on-trend, and unquestionably glamorous.
But like any good fashion piece, it's all about the accessories. And in the case of the Gran Teatro, it's accessorized with history, culture, and a generous dose of architectural flamboyance.
With an architectural style that gives the Renaissance a run for its money, Gran Teatro embodies a beguiling blend of Havana's dynamic past and present. Magnificent and proud, it is perfectly positioned for an Instagram cameo in Havana's nightlife.
Explore Barrio Chino, Havana's Chinatown
Perhaps no place tells the tale of Havana's rich cultural cocktail better than Barrio Chino, a slice of the Far East wedged comfortably between the Latin American passion and tropical laissez-faire.
Established in the 19th century by Chinese laborers who traded their coolie hats for sombreros, this Chinatown is an unlikely offspring of a far-flung love affair between China and Cuba.
As your adventure unfolds, you'll find traces of Cuban baroque merging seamlessly with oriental flamboyance. It's where Spanish colonial mansions rub shoulders with Chinese pagodas, and red lanterns sway gracefully to the tropical breeze.
From traditional Cuban joints serving up generous portions of Arroz Frito Cubano (Cuban-style fried rice) to intimate paladars serving Peking Duck alongside pork-stuffed plantains, there's something to satiate every midnight craving.
And if you're a fan of kitsch, keep your eyes peeled for the faded glory of vintage neon signs competing with hanging paper dragons.
Discover Old Havana's charm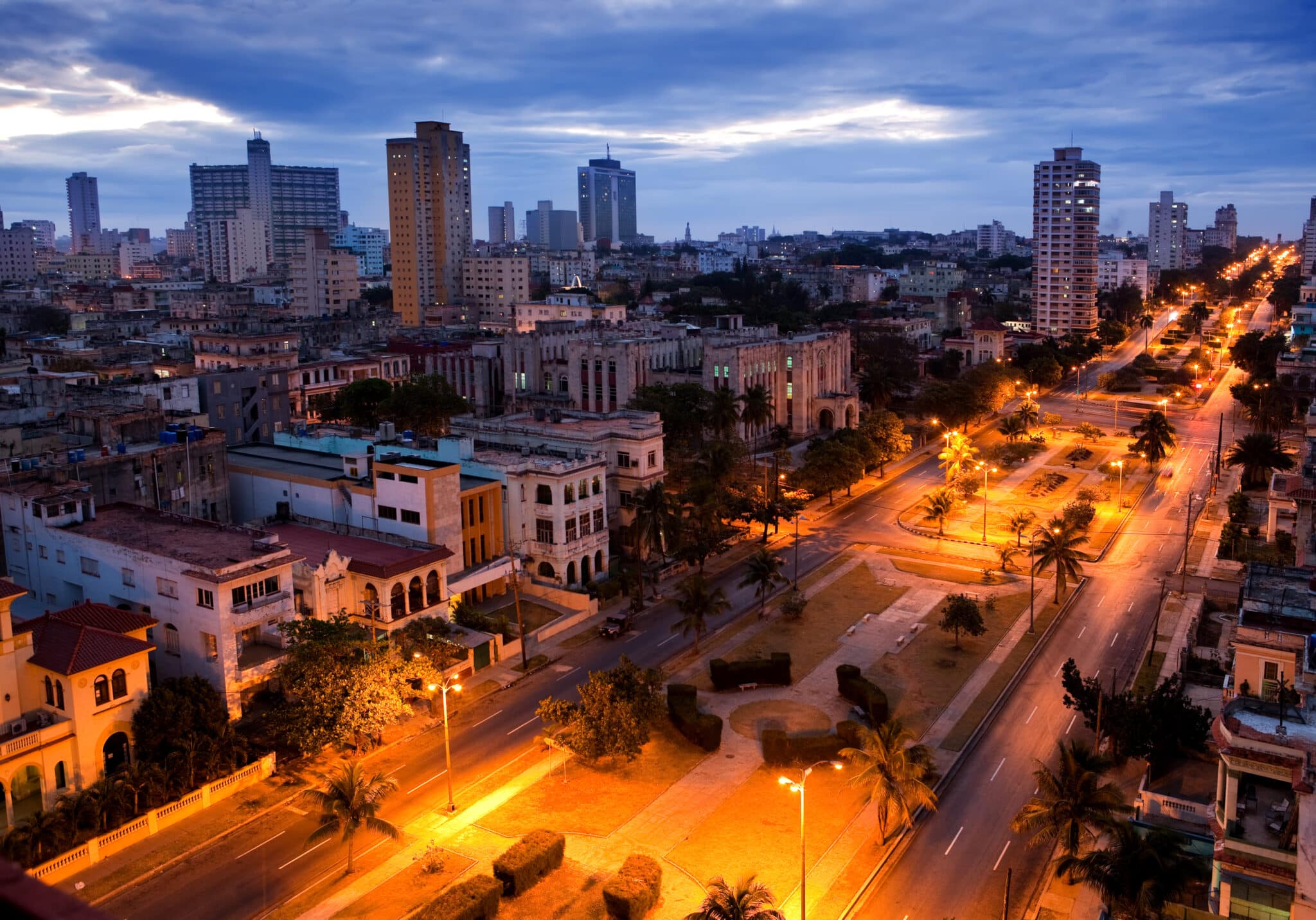 Old Havana, or as the locals say 'Habana Vieja', is a bit like that mysterious, aged whiskey bottle sitting on the top shelf. She's hip, happening, and ready to throw a fiesta where dancing and sipping daiquiris until dawn is just part of the wicked local lore.
And by wicked, we mean the kind where you end up in a conga line at 3 AM in a club, with an 80-year-old Cuban and a mojito in hand.
Speaking of clubs, let's not leave out Havana's nightlife main characters.
First up is Bar Pekin, a gem nestled between antiquated edifices, serving up ambrosial cocktails that, legend has it, were Fidel Castro's personal favorites. Its unique selling point is an energetic fusion of classic and modern music transforming the dance floor into a frenzy.
Then there's Havana World Music & Bajanda. This fabulous duo offers more than a party – it's an explosive celebration of Cuban heritage. Its vibe is raw and authentic, giving you a taste of the real Cuba as you sway to Afro-Cuban beats.
Legendarios del Guajirito Buena Vista Social Club, or simply "The Legends," is a musical relic, where the spirit of the Buena Vista Social Club is kept alive by its veteran musicians. Here, you can experience an epic night of music and dance that intertwines traditional son, bolero, and guajira.
Experience Havana's mixology with Margarita Dandy at El Dandy
When life hands you lemons, the adage tells us, make lemonade. But, in Havana's labyrinthine streets, those citrus little darlings do a salsa straight into a Margarita Dandy, and, lo and behold, the lemonade stands stand no chance.
Its heart is the robust tequila, followed by freshly squeezed lemon, triple sec, a fiery rim of chili and salt.
The maestro of this symphony, El Dandy, stands unassumingly nestled amidst the vibrantly hued buildings of Havana, beckoning the curious and the parched with equal allure. Its walls are festooned with a mix of local art, fading vintage posters, and charmingly chipped tiles.
This is no tourist trap, oh no, but rather a refuge for the genuine pleasure-seekers, the bon vivants. The clientele is as diverse as its drinks menu: local poets, artists, night owls, the odd stray rooster (don't ask), and yes, even the occasional tourist who's done their homework.
Once you step into the Fabrica de Arte Cubano, you're no longer a visitor but an explorer of Cuban culture. It's a wild symphony where art, music, and Havana's legendary cocktails blend under industrial arches, creating a fullproof atmosphere.
From passionate debates over perfect mojitos to impromptu salsa dances, the FAC doesn't just throw parties, it weaves vibrant tales of Cuban life, cherished long after the music fades.
Enter a realm of porky bliss at Pazillo Bar with Pinchos de Cerdo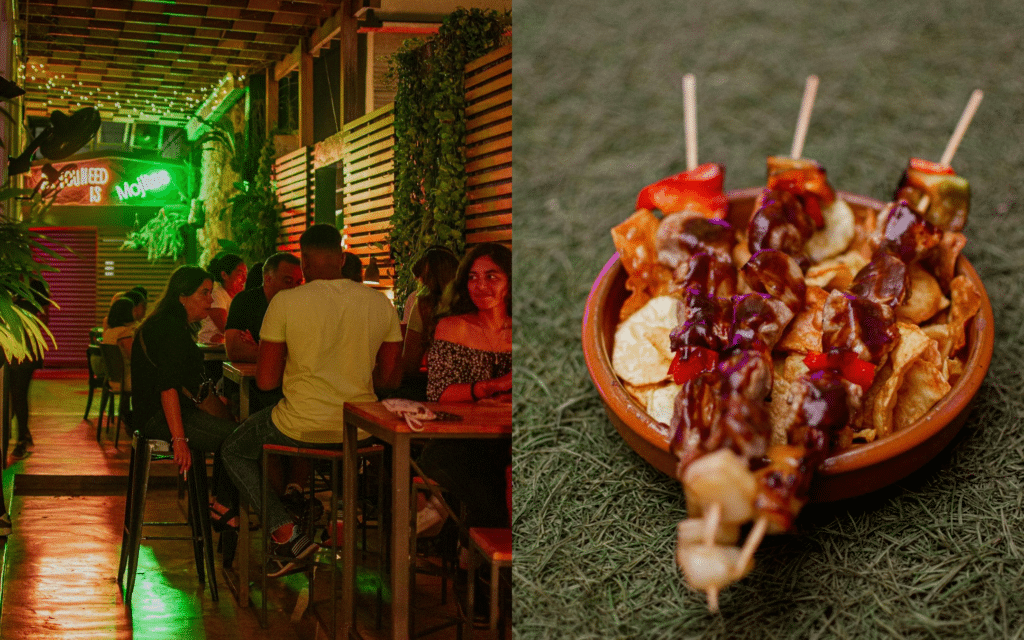 They say pigs can't fly, but in the mojito-misted air of Havana nights, Pinchos de Cerdo's sizzling aroma proves otherwise.
Traditionally skewered and served hot off a sidewalk grill, Pinchos de Cerdo is like the siren call to every merry wanderer weaving their way through Havana's vibrant nightlife. It's the Robin to your tipsy Batman, the Goose to your spirited Maverick.
Stepping into Pazillo is like wandering into a Hemingway novel; it's a place where stories dangle from the ceiling, wrapped in the whimsy of warm, rustic decor.
Imagine a place where reclaimed wood shakes hands with vibrant street art, where classic wrought iron furniture engages in lively conversation with bold, contemporary murals. It's a testament to Havana's evolving spirit, as embodied in the eclectic crowd it draws.