When in Berlin, a tasting tour of the best cocktails is a must. From Aprigot at Dream Baby to Holland Sour at St Bart, it's guaranteed you will find unmatched boozy drinks in the city's menu.
Here's your essential guide to the best cocktails in Berlin.
The Holy Mountain at Green Door Bar
The Holy Mountain is a mix of a pick-me-up and a dessert. The Berlin cocktail features espresso, Reposado Tequila, homemade plum amaretto, PX sherry and a hint of ancho chili, topped with vanilla ice cream. Talk about sounding delicious.
Sitting behind a neon sign and mysterious green door, The Green Door Bar is one of Berlin's hidden gems. Besides its retro appeal, the American-themed speakeasy looks like it came right out of the roaring 90s.
Green Door Bar Berlin was the stomping ground for everyone, from Christopher Isherwood to David Bowie. As a veteran drinking hotspot, Green Door Bar attracts locals and tourists like a magnet.
Gato De Cheshire at Fairytale Bar
You might have already guessed – the Gato De Cheshire is a drink that pays homage to the iconic Cheshire Cat from Alice in Wonderland. The Berlin cocktail features a mixture of Reposado Tequila, 6cl Casa Noble Reposado Tequila, lime water, Aperol, orgeat, lemon salt and fairybitters.
When the name doesn't give it away, Fairytale Bar welcomes you deep into the world of magical and mysterious fairy-tale stories. Inspired by wondrous tales, the bar's décor, menu and dark characters will transport you into a new world.
The bar's unique and creative cocktails bring together locals and tourists alike.
Yasmin my love vol.2 at GRACE Bar
With a name like that, you can guarantee this cocktail is all about being inventive. Sweet and eye-candy, the Yasmin my love vol.2 cocktail is a lip-smacking combo. The mix of roasted banana infused Shochu, jasmine blossom and champagne will deffo sweep you off your feet.
GRACE bar is a chic oasis towering over Berlin, perched on top of Hotel Zoo in Charlottenburg. What's more is that the venue offers a 270-degree view of the city's skyline, and an array of colorful, delicious Berlin cocktails.
Thanks to its upscale vibe, the bar usually attracts and elite clientele – or cocktail aficionados who want to splurge on their boozy experience.
Manzanilla and Slow Berry at Kink Bar
This red Manzanilla and Slow Berry contains Manzanilla Sherry, sloe berry wine, Storck rose rye, cider, and plum water.
It's creator, Kink Bar, is housed in Berlin's bustling centre. The bar's atmosphere is relaxed and welcoming, inviting guests to indulge in high-quality craftsmanship and creativity.
With its comfy and modern vibe, Kink Bar is a hotspot frequented both by locals and tourists looking to chill after trekking Berlin's grounds.
Aufnahme + Wiedergabe at Dream Baby Dream Bar
Bold and vibrant, the Aprigot cocktail is all about Bulleit bourbon, Massenez apricot cream, citrus and raw sugar – sweet and citrusy all around.
Berlin's electronic cocktail bar, Dream Baby Dream, is a hub of the best underground music and the delicious drinks. The highly-popular watering hole promises a lively atmosphere and fun all around. To liven up the atmosphere with foot-tapping beats, Dream Baby Dream hosts local DJs every weekend – a much-needed bar asset.
Featuring an alternative vibe, this comfy bar serves as a go-to spot for post-work drinking sessions.
To The Bone Mule at To The Bone Berlin
To The Bone is an Italian restaurant offering the best Italian meat dishes in Berlin, as well as creative cocktails to go along with your delicious meal.
Their fiery signature cocktail, To The Bone Mule contains ginger-and-lime-infused vodka with lime juice, ginger and cucumber to strike the balance between hot and cool.
This watering hole is a staple for cocktail-loving locals, but tourists seeking an authentic Italian experience will also come here.
Siberian Summer at Geist im Glas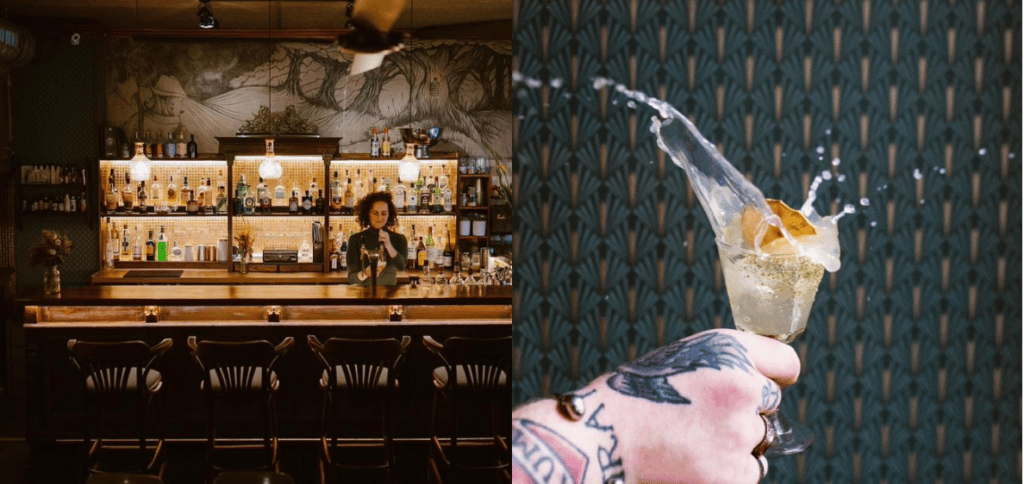 The Siberian Summer cocktail features Titos vodka, ginger and granny smith shrub, a splash of green chartreuse, and apple salt.
Since it is a trailblazer for crafted cocktails, Geist im Glas bar features a menu of home-infused spirits and some of the most indulgent brunches. Sounds like the full package to us!
If there's anything that encapsulates the vibe at Geist im Glas, their bar motto definitely does the trick – "Come for the drinks, stay for the spirit."
Since it prides on its diverse menu, you'll realise Geist im Glas suits any preference.
Fall n Leaves at Heimlich Treu Restaurant
The Fall n Leaves perfectly celebrates the autumn spirit, offering a delicious combination of Grace O'Malley rum, cask ruby vermouth, apricot verjuice, salt and fall leaves.
At Heimlich Treu, a welcoming atmosphere and a lavish vibe merge together to offer creative cocktails.
Unsurprisingly, the venue has an upscale vibe, so you might rub shoulders with Berlin's top influencers.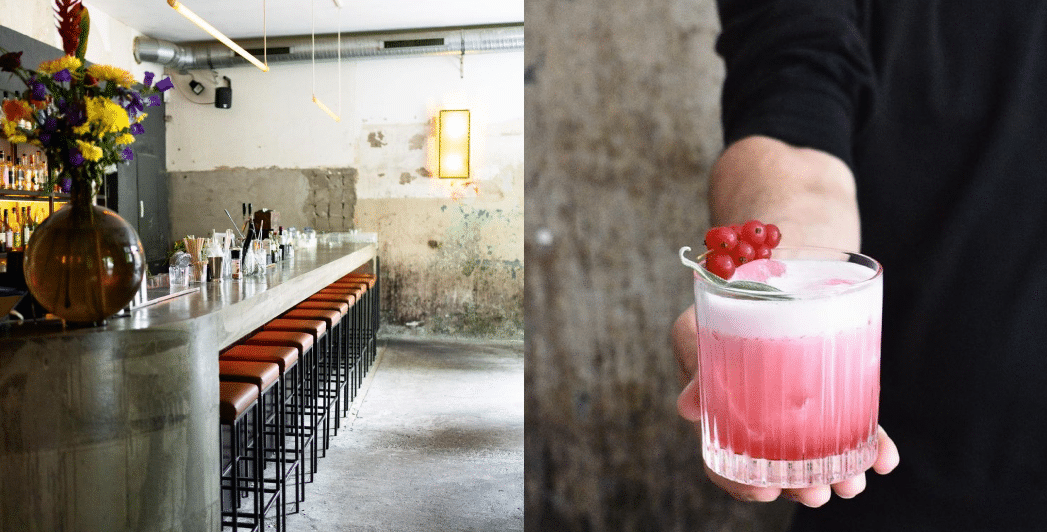 Beautiful and savoury Sage Club cocktail, showcases a vibrant combination of Bourbon, black currant, lemon and safe essence. It's pink and foamy, so it deserves a spot on your Instagram feed.
With a cosy atmosphere and a cocktail menu that screams creativity, Lamm Bar is an unmissable cocktail bar.
If you want to taste your cocktail before committing, you can order a small-size version of any of the drinks before you make your mind up.
Everyone from locals to tourists come together to indulge in Lamm Bar's cocktail realm.
Genever, black beer syrup and frothy egg white – mix these in a bowl and you will get the foamy Holland Sour cocktail.
Last but not least, St Bart is a one-of-a-kind gastropub that perfectly reflects what a traditional Berlin restaurant looks like. While the bar's evenings are candle-lit and cosy, the menu merges delicious finger food with top mixology.