When in Amsterdam, a tasting tour of the city's best cocktails is a must. From the foamy Lady Marmalade at Cut Throat to the vibrant Furnace Creek at The Tailor, it's guaranteed you can find unmatched boozy drinks in the city's menu.
Here's your essential guide to the best cocktails in Amsterdam.
Furnace Creek at The Tailor
We get the hype with beautifully layered cocktails and foamy textures – but there is something irresistible about Bloody Mary reiterations.
Inspired by American barbeque, Furnace Creek features a unique mix of mezcal, red bell pepper, and jackfruit juice – all topped off with a splash of barbecue tincture and tabasco.
Bringing modern mixology in a lounge setting, The Tailor is a timeless bar putting crafted cocktails on a pedestal. But looks aren't the only thing it serves – the menu contains everything from curated drinks to unmissable classics.
The Tailor is a bit pricey, so bar hoppers and white-collar workers who don't mind splurging on a few glasses fill up its rooms.
Flying Dutchmen Cocktail at Flying Dutchmen Cocktails
Also dubbed as a boozy representation of the Netherlands in a glass, Flying Dutchman Cocktail is not to be missed.
A shaken concoction of Bols Genever Barrel Aged, fresh lemon juice, homemade speculaas-gum syrup, orange bitters, and orange flower water, the Amsterdam cocktail is a bitter heaven for cocktail lovers.
Home to 800 unique spirits and lavish-meets-elegant decor, Flying Dutchmen Cocktails is Amsterdam's most diverse cocktail bars.
The bar prides itself on keeping in touch with neo-classic mixology culture and welcomes fellow cocktail enthusiasts to explore the world of Dutch concoctions.
Little Miss Trouble at Tales & Spirits
Not one for the faint-hearted, Little Miss Trouble will turn even the shiest lady into a troublemaker. Inspired by the flavor-forward Amelia cocktail, the boozy concoction combines gin, fresh lemon juice, blackberry puree, and elderflower.
Small bar, big heart is the vibe that Tales & Spirits is going for with vintage glassware, classic bar stools, and gleaming chandeliers. Should we also talk about the retro artwork hanging on every wall? We think we're good.
Those looking for antiques, top-notch hospitality and a cocktail menu that always strives to be the best spend their weekend between Tales & Spirits' walls.
Mayday, mayday, this Amsterdam cocktail is here to make any mixology aficionado feel like a rookie. With an energetic twist that pays homage to the fruity pisco, Golden Sour is made of saffron liqueur, lime juice, rose bees pollen, quillaia bark bitters, and pisco.
And its producer doesn't fall short either. Elegant and intimate, Vesper is a speakeasy bar lined with James Bond memorabilia and known for its dynamic menu.
Despite its small size, this established Amsterdam cocktail bar welcomed enthusiasts of the bar community for over a decade.
Lady Marmalade at Cut Throat
Lady Marmalade is the cocktail that nobody asked for but the cocktail that everybody needs. This boozy drink takes things up a notch with a bittersweet mixture of gin, apricot jam, egg white, lemon drops, and sugar syrup.
Created by an equally fearless drinks place, Lady Marmalade's home resides in Cut Throat's quirky interior. Recognized as the original concept of a barbershop combined with a restaurant and bar, Cut Throat gives off some modern tiki hut vibes.
Known as the place where you can get a clean shave with a boozy drink in one hand, Cut Throat is usually frequented by male cocktail lovers.
Breakfast Old-Fashioned at J.D. William's Whisky Bar

Whiskey lovers, brace yourselves because this bad boy is for you. You might not want to have it as your first meal of the day, but the Breakfast Old-Fashioned is a treat with its cozy infusion of bacon-infused bourbon, maple syrup, and cinnamon bitters.
True to its name, J.D. William's Whisky Bar is a family-owned cocktail bar serving over 250 kinds of whiskies.
While the menu brims with cocktail classics and in-house recipes, the J.D. William's Whisky Bar is all about the gentleman feel through leather armchairs and bricked walls.
Jasmine Spark at Izakaya Amsterdam
Meshing a high alcohol percentage and fresh ingredients without creating the 'ew' reaction is no easy feat, but Jasmine Spark does it like it's a high-paying job. This Amsterdam cocktail features Japanese shochu, Bacardi rum, jasmine tea syrup, and fresh mint.
Its creator, Izakaya Amsterdam, is a master of modern Japanese mixology but throws South American influences into the mix.
With a cocktail menu dominated by Asian ingredients such as yuzu juice and shochu, the chic bar tends to fall under the high-end Amsterdam places cachet – but it's worth every penny.
Black Magic Boulevardier at Sins of Sal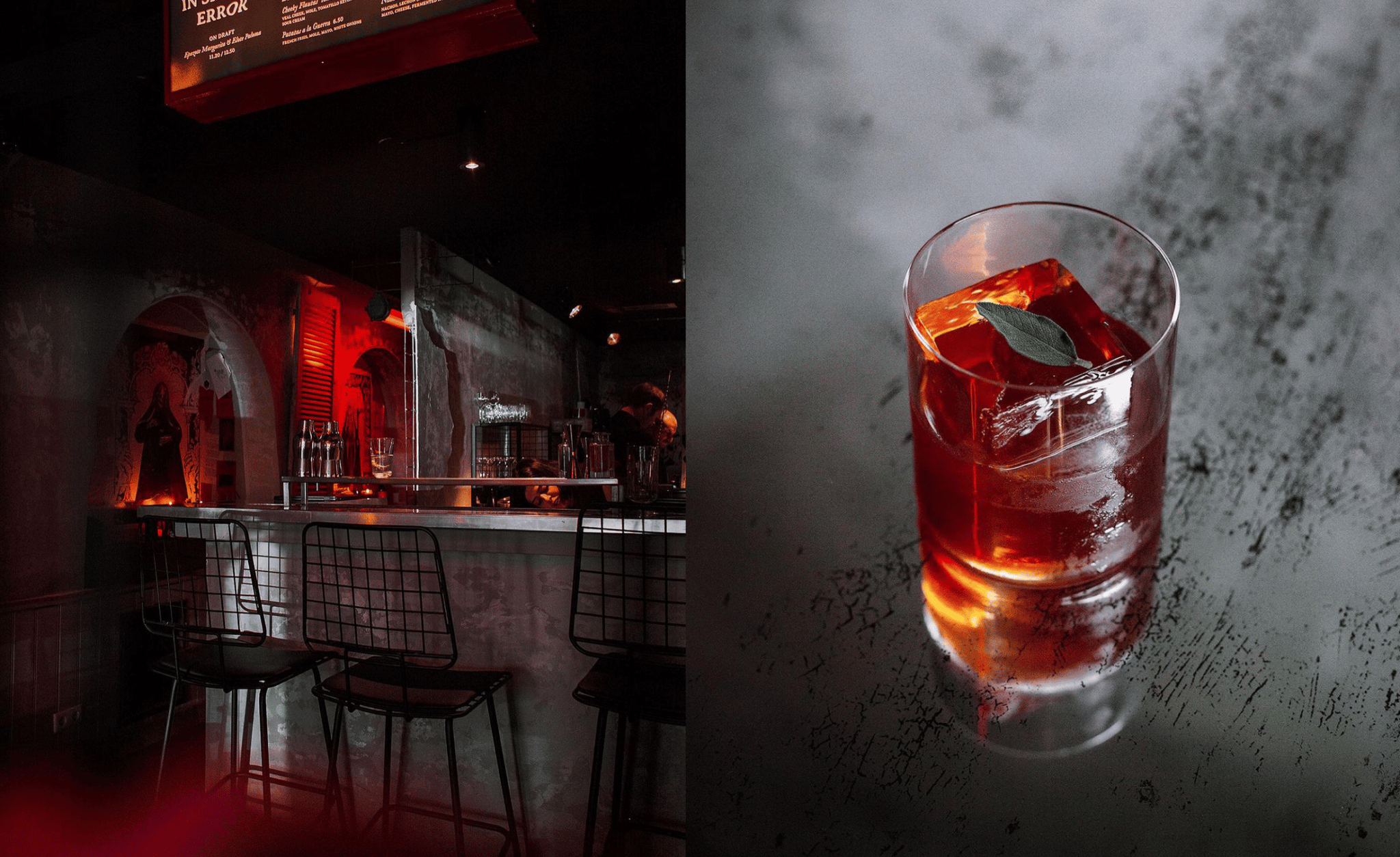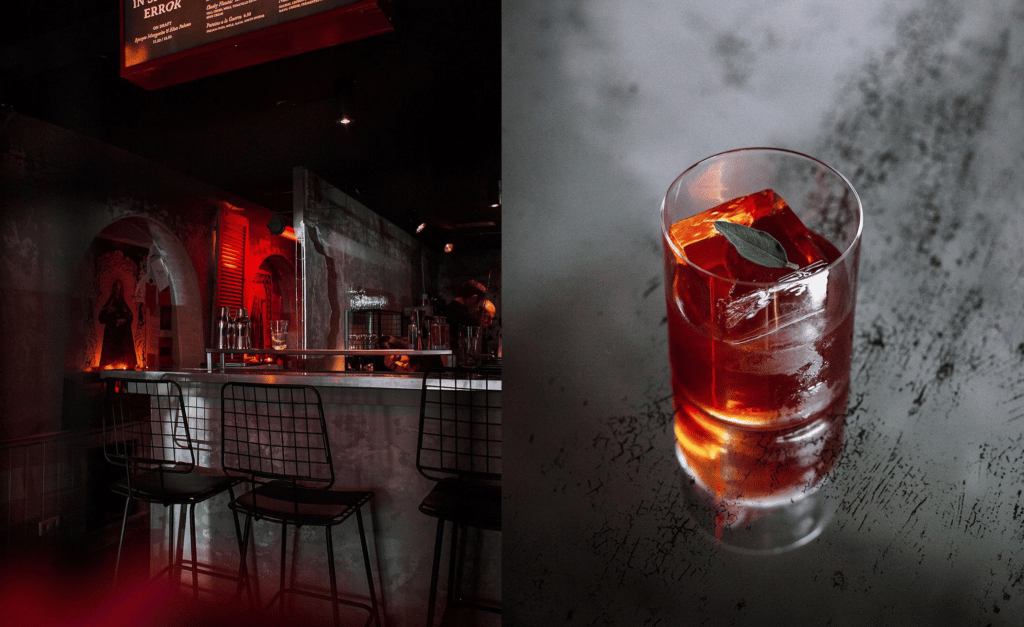 Both devilish and bittersweet, Black Magic Boulevardier strikes a balance between a boozy aperitivo and an extravagant dinner drink. The cheeky cocktail is a concoction of black banana, black pepper, cardamom, herbs, and bourbon.
Although Sins of Sal looks like your average cocktail bar from the outside, the Latin-inspired place is anything but ordinary. When you set foot inside, a dystopian-meets-hell decor unfolds before your eyes with red neon lights and a sultry ambiance.
The concept behind Sins of Sal's cult is inspired by Santa Muerte, a Mexican deity and goddess of death – so expect nothing but a crowd who wants a je ne sais quoi from their cocktail experience.
Inspired by British artist Elton John and celebrating gay pride, Rocketman is that Amsterdam cocktail that needs one sip to make you fall in love.
A foolproof blend of mixed citrus, hibiscus, elderflower, and floral vodka, Rocketman embodies the modern Amsterdam spirit, makes it visually satisfying and gives it a lip-smacking taste.
The only place where you can sip it is Super Lyan, a neon-tinged cocktail bar in the city's central area. With experimental concoctions and a cyberpunk allure, the bar takes you out of your comfort zone and makes it worthwhile.
Crafted and served by Bar Mokum, 'With your ponem in the sun' is a sheer explosion of crisp flavors.
As a gin tonic cuddling up with passion fruit's sweetness and the spiciness of fresh ginger, With your ponem in the sun is the go-to Amsterdam cocktail for gin aficionados.
A speakeasy bar using local ingredients and liquors, Bar Mokum delivers crafted cocktails in a fuss-free atmosphere. With brick walls, jazz tunes, and an old-school feel, the spot is one of the best-rated cocktail bars in Amsterdam.