When in London, a tasting tour of the city's best cocktails is a must. From The Black Narcissus at The Bloomsbury Club to Rhubarb and Cumin Daisy at Lyaness, it's guaranteed you will find unmatched boozy drinks in the city's menu.
Here's your essential guide to the best cocktails in London.
White Lady at American Bar at Savoy
Standing the time's test, White Lady ranks among the best cocktails on the bar's menu. The gin-powered sour was invented by Ada Coleman around the 1920s.
Boozy and foamy, it strikes the perfect balance between gin, Cointreau, and fresh lemon juice.
With a history spanning more than a century, the American Bar is one of London's first cocktail bars. The art deco venue serves its own take on American-style cocktails and is an icon in the city's history.
This is largely thanks to the legendary mixologists who took over the bar, including Ada Coleman and Harry Craddock. Mind you, American Bar at Savoy is all about being upscale – so expect to see an elite clientele sipping on the bar's boozy drinks.
Pinga Punch at The Punch Room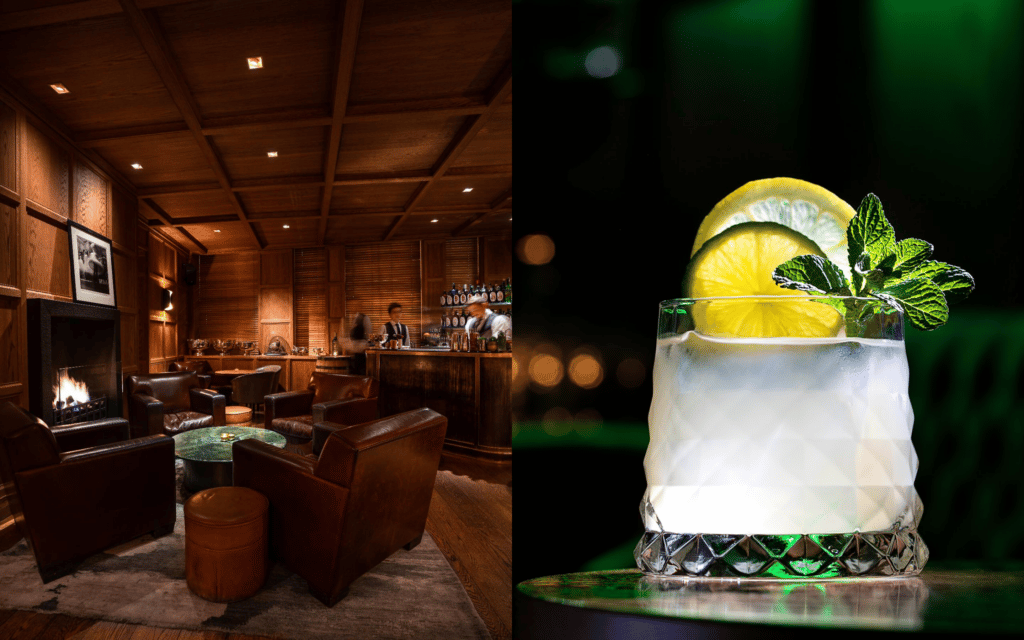 Hidden inside the ritzy EDITION Hotel's sanctuary, The Punch Room is an urban reincarnation of the 19th-century members' clubs.
Among their roster of creative cocktails is the sweet and refreshing Pinga Punch. With Cachaça at its core, the boozy concoction strikes a balance between a summer Mojito and a Caipirinha.
You might not care about the bar's curated repertoire of soul and blues, but you'll be impressed by its punches menu.
Boasting 30 specialty punches and giving prominence to the "punch of the day," this chic bar pushes the envelope with brave mixology experimentations. This is one of the reasons behind its post-work drinking spot status.
Irish Coffee Cocktail at Swift
Part of Swift's cocktail arsenal we can find the Irish Coffee cocktail, a go-to choice for blustery winter days. No, this is not your average Irish Coffee – Swift Soho paved the way towards it by adding a unique twist.
The bar uses Colombian coffee from local coffee stores and mixes it with Jameson Caskmates whiskey. Demerara sugar and hand-whipped double cream are part of the yummy package.
Soho's Swift might be a rookie in London's mixology scene, but the elegant bar is a pro at combining the best of both worlds. Opening its arms to cocktail aficionados and bar-hoppers alike, Swift is a bi-level watering hole.
It features a light-filled aperitif bar for those who want to munch on something and a speakeasy-like basement for drinking games.
Rhubarb and Cumin Daisy at Lyaness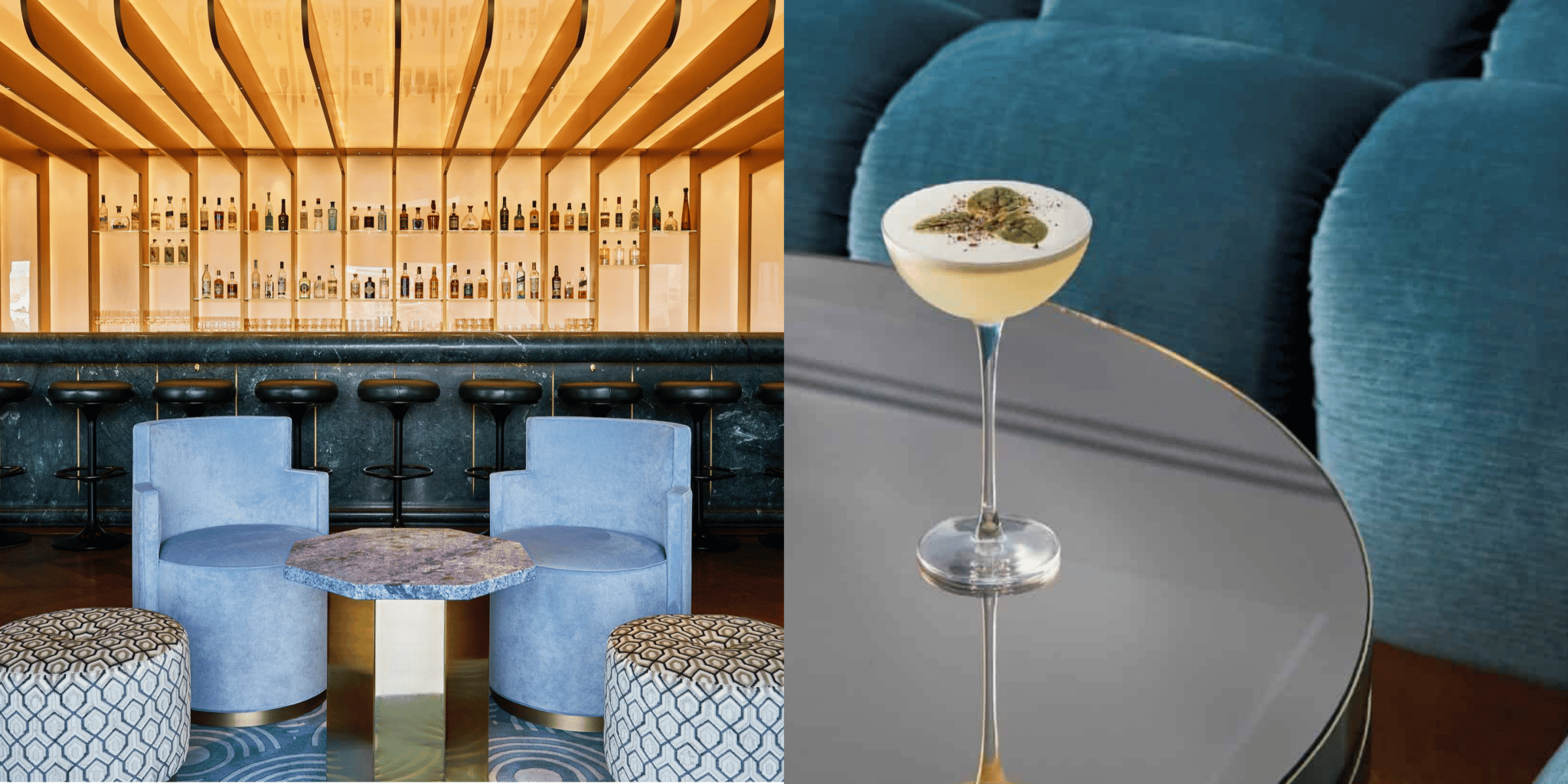 One of Lyaness' staples is the honey-dipped Rhubarb and Cumin Daisy cocktail.
Made of vegan honey, Beefeater London Garden gin, lucky kummel, and rhubarb, this cocktail unites unexpected flavors.
Sitting in the South Bank hotel, Lyaness is a swanky watering hole blessed with stunning river views. Created by mixology magnate Ryan Chetiyawardana, the bar stays loyal to its mission statement – delivering a curated list of cocktails that would make anyone come back.
With its powder-blue theme and unusual concoctions, Lyaness is the place for boozy drinks no other bar can emulate.
Fleurissimo at Connaught Bar
One of the Connaught Bar's iconic London cocktails is Fleurissimo, a concoction of Rémy Martin VSOP, barspoon crème de violet liqueur, sugar cube soaked in Peycheaud bitters, and champagne – all topped off with flower petals for a visually-pleasing aesthetic.
The Mayfair bar oozes dazzling luxury. It is no surprise it is all about style and glamor – at least this is what the disarmingly comfy seatings and tasteful color palettes say.
The menu showcases peerless classics, but for a genuine Connaught experience, you have to pick a Martini variation. Here you should expect to see the kind of clientele who affords to spend a fortune on cute cocktails.
The Black Narcissus at The Bloomsbury Club
When you mix Diplomatico Planas rum, Belsazar aperitif, passion fruit, kumquat Liqueur, and Bloomsbury Club Grenadine, you get The Black Narcissus.
Its creator, Bloomsbury Club, offers a selection of golden-age cocktails, iconic classics and creative concoctions in the heart of Bloomsbury. But the bar goes beyond the ritzy and vintage vibe with its personal "Cocktail Diviner".
For those of you who just can't settle for a cocktail, the spiritual guide will spread out a deck of Tarot cards to dive deep into your emotional state. This all falls to prophesying your boozy antidote.
The Tarot inspiration doesn't stop there. The Bloomsbury Club features a set of London cocktails inspired by Tarot cards designed by bohemian occultist Pamela 'Pixie' Colman Smith. Yes, you got that right – the 14 drinks reflect the 14 states of being.
Cocktail aficionados and individuals who are curious about mixology's quirkiness will come to The Bloomsbury Club.
Don's Jardin at Trailer Happiness
Boozy drinks can get flashy and often on fire, so expect a VIP mixology treatment at Trailer Happiness. One of the bar's signature cocktails is Don's Jardin, a combination of Don Q rum, St Germain, Campari, blueberry liqueur and lemon – all pink to make everyone wink.
Serving unforgettable cocktails since 2003, the Trailer Happiness is an award-winning Tiki-themed watering hole sitting on Portobello Road.
The kitsch-cool venue is all about bringing tropical and comfy vibes into the patrons' hearts and the best rum selection on the table. As one can imagine, everybody who loves retro decor and boozy cocktails will be there.
Smokey Kudu at Smokey Kudu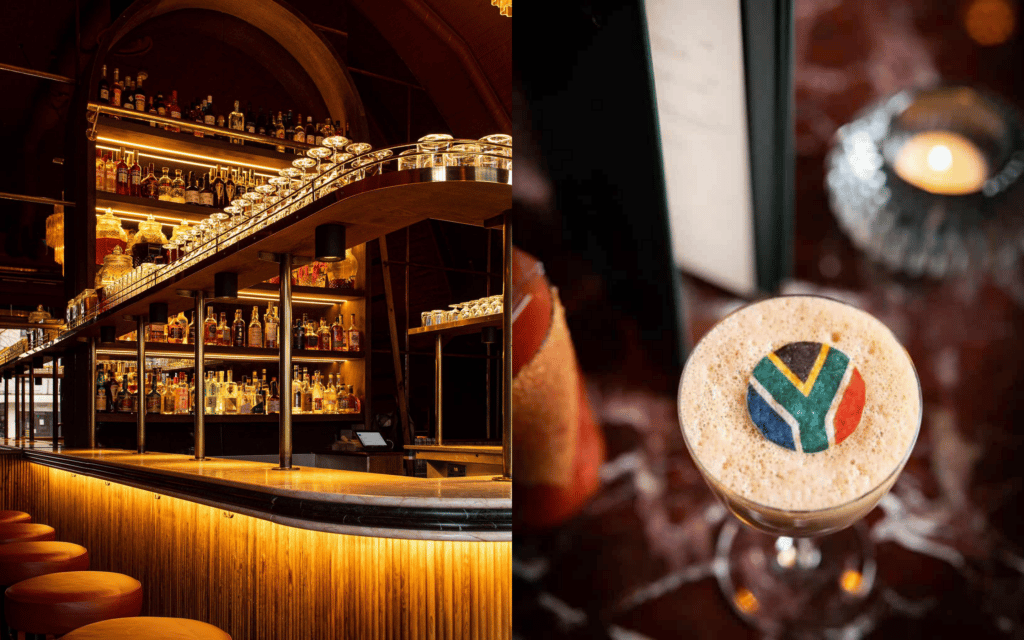 The namesake signature cocktail, Smokey Kudu, is inspired by South Africa's culture. It features a combination of South African whisky, Smokey whiskey, apricot, sweet vermouth, and South African aperitif.
Although Smokey Kudu first emerged as an offshoot of the renowned South African restaurant, the bar has earned an international reputation for its sleek and intimate atmosphere.
Channeling an Upper East Side bar energy, this chic watering hole offers a wide range of creative cocktails. Reinvention sits at the core of the cocktails menu – Smokey Kudu takes refreshingly South African ingredients and makes them deliciously boozy.
Thanks to its South African concept, this spot is frequented by cocktail lovers from different backgrounds.
With beautifully-layered aesthetics, Guacapa is made from Zacapa 23 rum, amaro Montenegro, citrus, and ginger beer – plus, it has some jaw-dropping visuals.
Coming from an equally beautiful bar, Ginger Lily leveled up in the mixology game by bottling the buzz and bliss of Asian culture. And that's not only about the ritzy interior – the bar boasts an extensive menu of over 100 types of champagne (who would have thought there were so many?) and creative cocktails.
The bartenders masterfully bring together Singaporean classics and contemporary boozy formulas to offer one-of-a-kind drinking experiences.
Pine Negroni at The Chelsea Pig
The signature Tanqueray No10-based Pine Negroni cocktail is a favorite among gin lovers. No, this is not your average Negroni – it's a magical mixture of Noilly Prat, Campari, pine, and peppermint.
With whacky interiors crafted by furniture brand Timothy Oulton, The Chelsea Pig is home to a wide array of spirits, wines, and cocktails – so many that it could be the epitome of the British drink-and-dine combo.
As soon as you step in, you will immediately be transported to the Victorian era – cheers to the ritzy chandeliers and plush sofas for that 19th-century vibe. This is why everyone loves this spot.
Glamour Girl Martini at Rock & Rose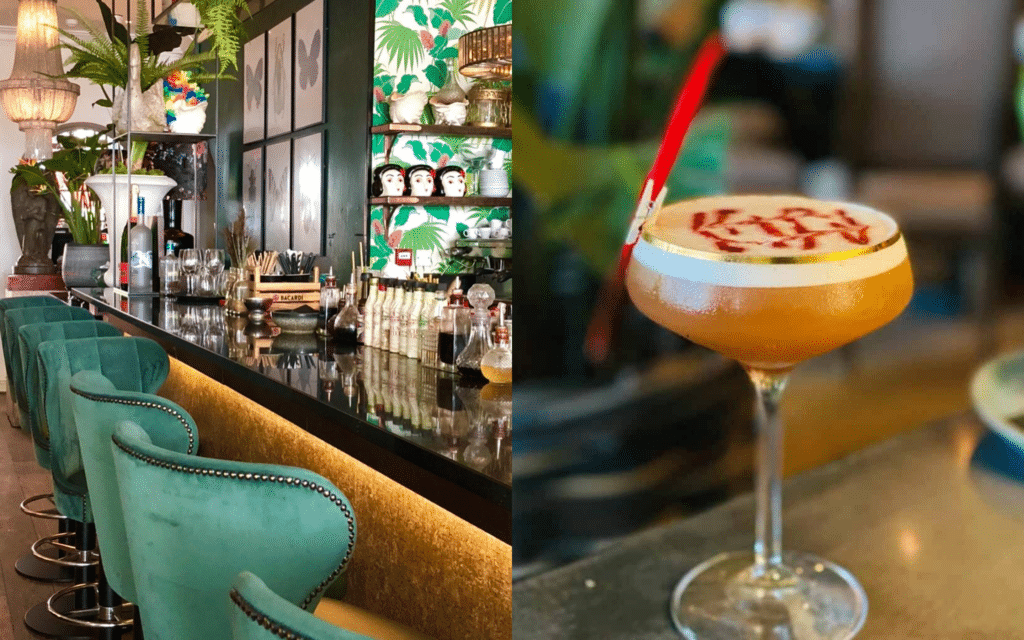 With a legacy that's all about food, passion, and glamor, Rock & Rose boasts an impressive list of Insta-worthy cocktails. Among them, you will find their signature Glamour Girl Martini London cocktail.
If the foamy-orangey aesthetic hasn't left you speechless, its combination of Zubrowka Bison Grass-infused vodka, Chambord, forest berries, pineapple, passion fruit, and lime will make your mouth water.
Did someone say quirky? Rock & Rose has been summoned. Featuring eccentric indoor plants, vibrantly-colored walls and an overall adventurous style, this bar puts the cocktail game on a pedestal.
If you love flamboyant cocktails and an antique-modern design, this bar should be at the top of your list.
Jungle Love at Bandra Bhai
Bold and quirky, Jungle Love is a mixture of fresh mint, rose liquor and cassia bark (all topped off with apricot liqueur, of course) is both eye candy and soul food.
When it comes to interior aesthetics, this bad boy had smugglers dens of 70s India on the mood board. There is a giant taxidermied peacock in the corner, but that's part of the tacky vibe that Bandra Bhai wants to transmit.
But the cocktails are the stars of the show. From mango-infused chili vodka to beautifully layered boozy concoctions, this watering hole doesn't fall short when it comes to cocktails.
The bar's unique and creative cocktails bring together both locals and tourists.