Bucharest is known for its high-energy nightlife.
Starting with signature cocktails and sweeping views at Linea / Closer to the Moon and ending with mouth-watering shawarma at Dristor Doner, this is how you can experience an amazing night out.
Here's your essential guide to Bucharest nightlife.
Enjoy the view from Linea / Closer to the Moon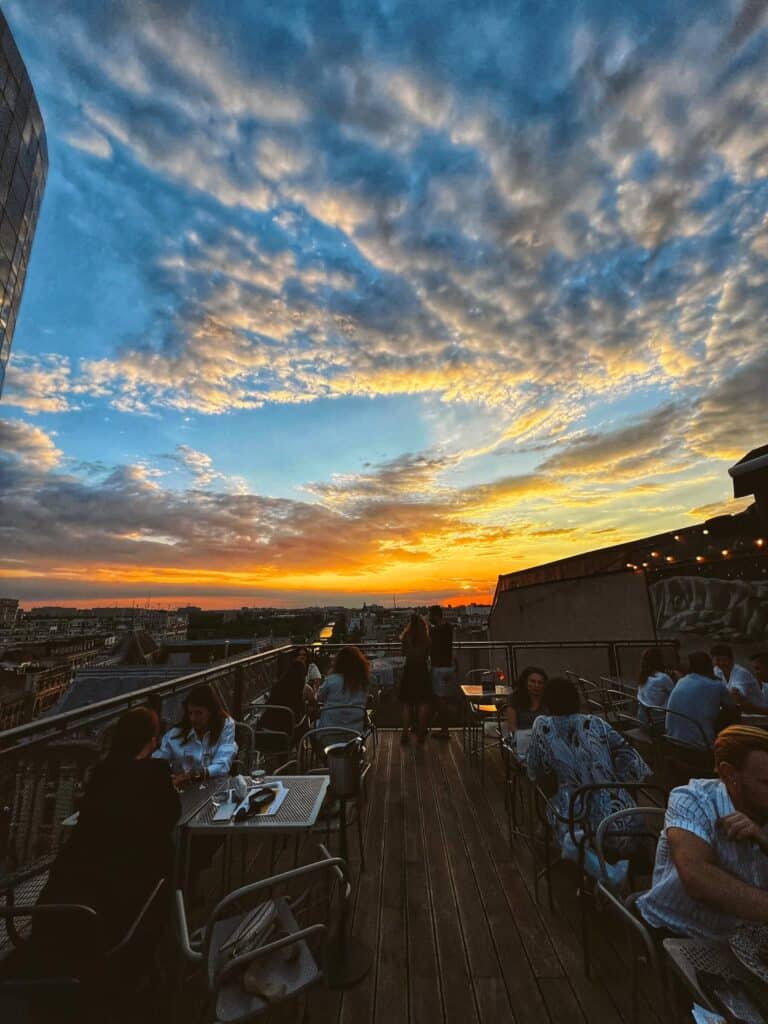 Half hippie, half modern, the cozy Linea / Closer to the Moon is nestled on a communist-era building's eighth floor. With sweeping views of the historic Old Town and Bucharest's skyline, the bar is a pro at delivering Instagrammable sunsets.
True to its name, Linea features a cosmic-themed terrace with metallic accents and graffiti art showcasing an astronaut landing on the moon. Small size, big heart is the vibe the sky-high watering hole is going for. Despite its intimate outdoor space, Linea packs a punch with industrial aesthetics and sleek glass elements.
Whether you're into crafted cocktails or live music sessions, the rooftop bar has you covered. Crowds of young professionals and trend-setting Gen Zers flock to Linea for its carefully curated drinks menu and finger-licking bites.
Strike a pose next to the iconic Palace of Parliament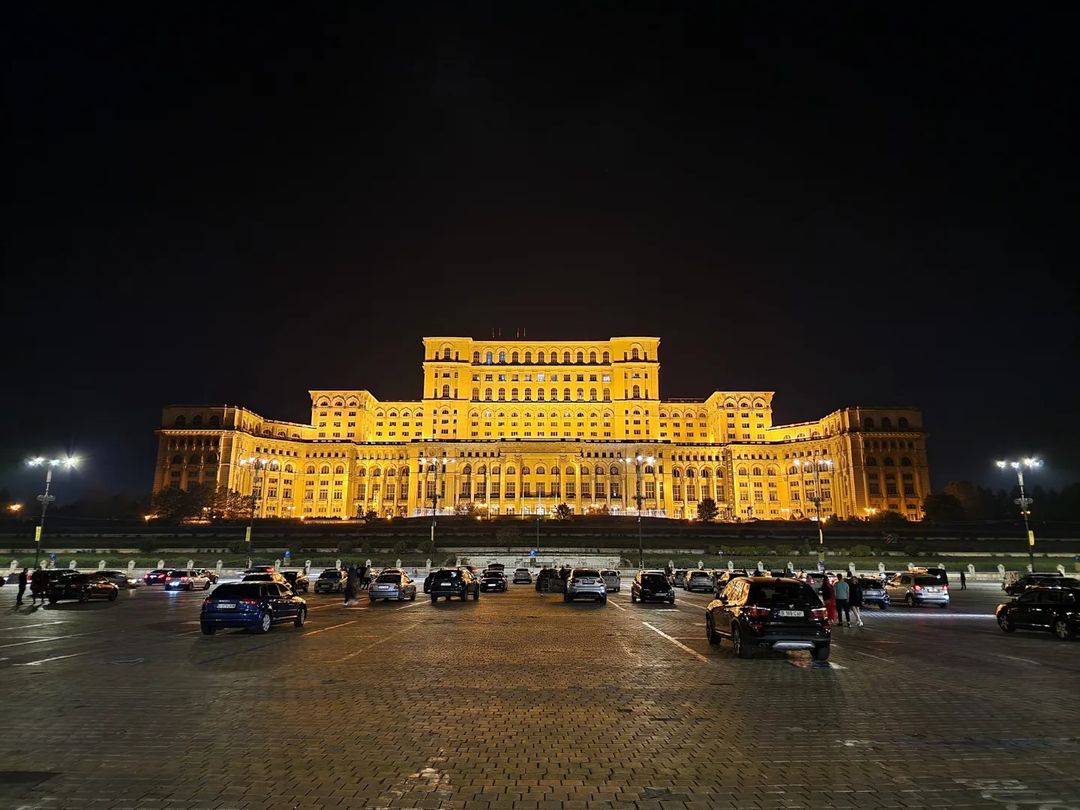 Dubbed Europe's largest administrative building, the majestic Palace of Parliament saw daylight in the 1980s when communist dictator Nicolae Ceaușescu used it as his personal residence.
The architectural masterpiece houses over 1,000 rooms and four underground levels – but its beautifully-lit exterior is the head-turner. When night falls and Palace of Parliament's neoclassical facade comes to life, the awe-inspiring building becomes the 'it' Instagram backdrop.
Experience Romania's music scene with a live performance at Arenele Romane
Open-air and home to dozens of live music performances yearly, Arenele Romane is one of Bucharest's most coveted concert venues. Located in the city's heart, the outdoor venue was originally built as an amphitheater in the early 20th century.
Fast forward to today, the live music venue is the go-to music playground for renowned artists and homegrown talents. From coveted rock bands like Megadeth to Romanian artists like Holograft, Arenele Romane has seen a little bit of everything.
Beyond its intimate appeal – the arena has an 8,000 capacity – Arenele Romane has an old-world feel. Loyal to its namesake, the venue features arched entrances and towering columns reminiscent of the Roman Empire.
Explore Calea Victoriei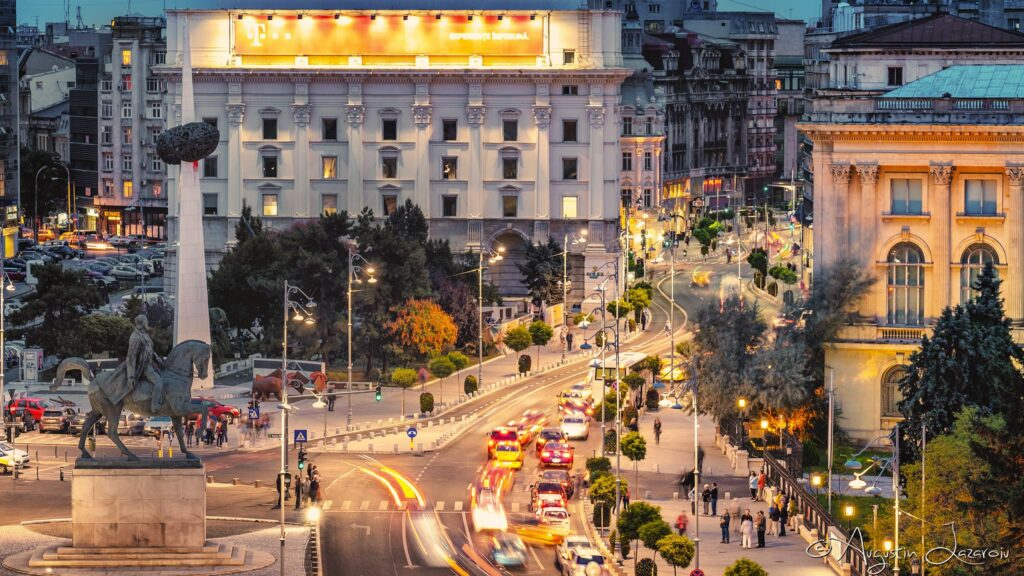 As one of Bucharest's oldest and most vibrant streets, Calea Victoriei seamlessly blends the city's past and present. Since its 17th-century beginnings, the nightlife hotspot has been preserving a historical charm with modern-day cafes and iconic architectural styles.
Stretching from north to south, Calea Victoriei has an all-inclusive approach to nightlife. When you set foot in this melting pot of cultures, a world where Romanian traditions and international influences coexist harmoniously unfolds before your eyes.
Everything from hole-in-the-wall bars and art galleries to high-end fashion boutiques and buzzing drunk food spots found shelter on the iconic avenue.
Whether you're a history buff, cocktail aficionado, or foodie, Calea Victoriei sweeps you off your feet with its urban flair, be it day or night.
Give Flair Angel's The Singleton cocktail a try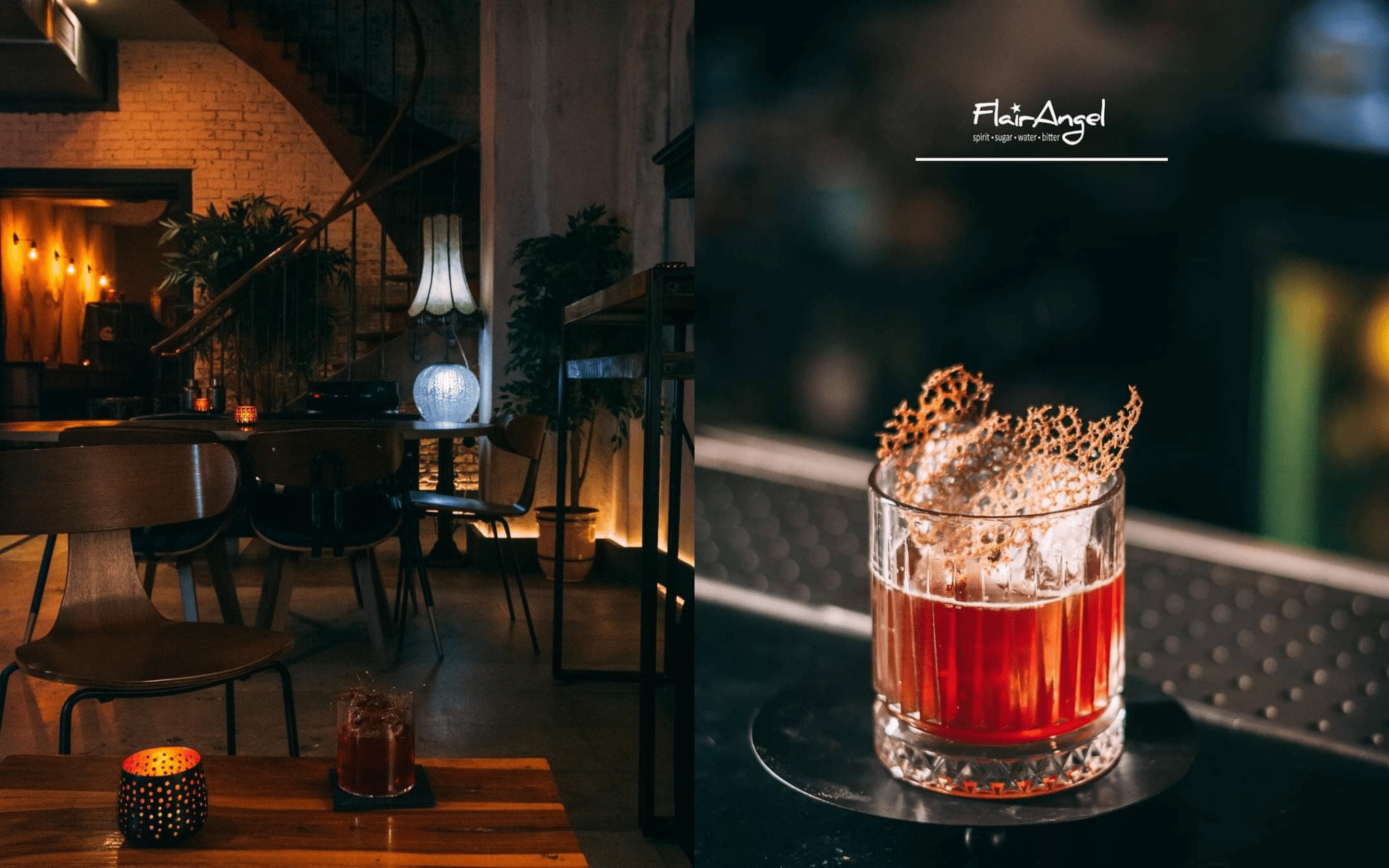 A balanced blend of sophistication and flavors, The Singleton cocktail proves that less is more. Featuring a whiskey-heavy base, the boozy elixir combines earthy zest with citrusy delights and a splash of bitters.
With more than a decade of cocktail-making experience under its belt, Flair Angel is located inside Bragadiru Palace, a Neo-Romanian architectural gem. Its decor oozes a speakeasy vibe, with dim lighting, plush velvet seating, industrial visuals, and exposed brick walls.
As one of the few Bucharest cocktail bars constantly pushing the boundaries of mixology, Flair Angel is the go-to nightlife spot for multi-sensory drinking experiences.
From the innovative drinks menu to bartending performances, the watering hole doesn't follow the herd but paves a new path for the art of cocktail making.
Party like there's no tomorrow at BOA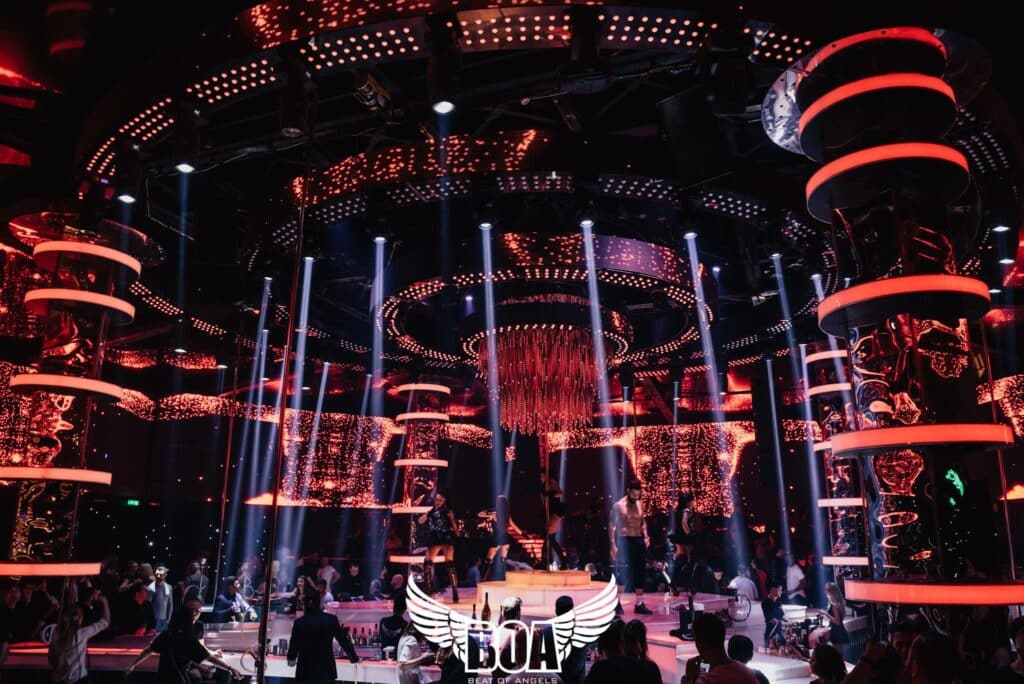 Not one for the penny pinchers, BOA prides itself on owning the recipe for a foolproof clubbing session. The music temple's sleek-meets-futuristic design is a testament to Bucharest's late-partying lifestyle. At the same time, its state-of-the-art sound system reminds clubbers why BOA sits tall in the city's nightlife hierarchy.
End your night with Dristor Doner's savory shawarma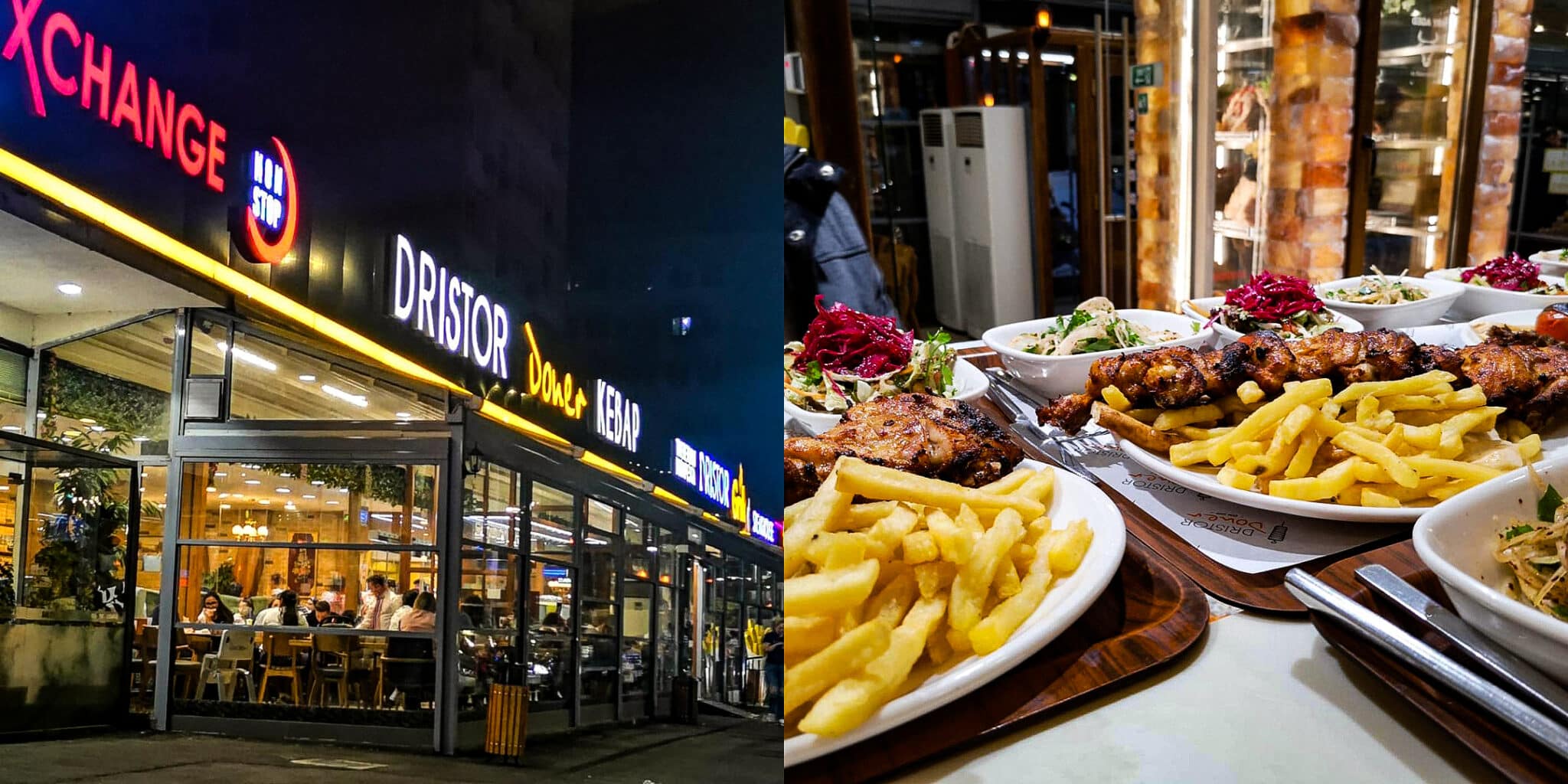 When the drinks have been downed and the club lights turned on, your stomach only needs Dristor Doner's pita-wrapped heaven. The drunk food is no ordinary Middle Eastern comfort food – rumor has it the chefs grill the meat on an open flame after marinating it for hours in a blend of spices.
Freshness is the rule of the land at Dristor Doner as the place bakes fresh pita every day and uses locally-sourced vegetables like lettuce, tomato, and cabbage.
Remember to ask for the homemade spicy sauce, a safeguarded secret recipe that made Dristor Doner the ultimate stop-over for booze-induced hungers.
Widely considered Bucharest's first doner kebab restaurant, Dristor Doner has been serving finger-licking dishes for almost two decades. The space is divided into two areas – an open kitchen concept giving customers a sneak peek into food prep and a casual sitting area featuring Turkish decor elements.