Budapest nightlife is a captivating blend of energy and excitement.
Starting with Intermezzo Rooftop's 360° views and ending with a sausage burger at Karavan, this is how you can experience an amazing night out.
Here's your essential guide to Budapest nightlife.
Witness the sunset's radiant glory at Intermezzo Rooftop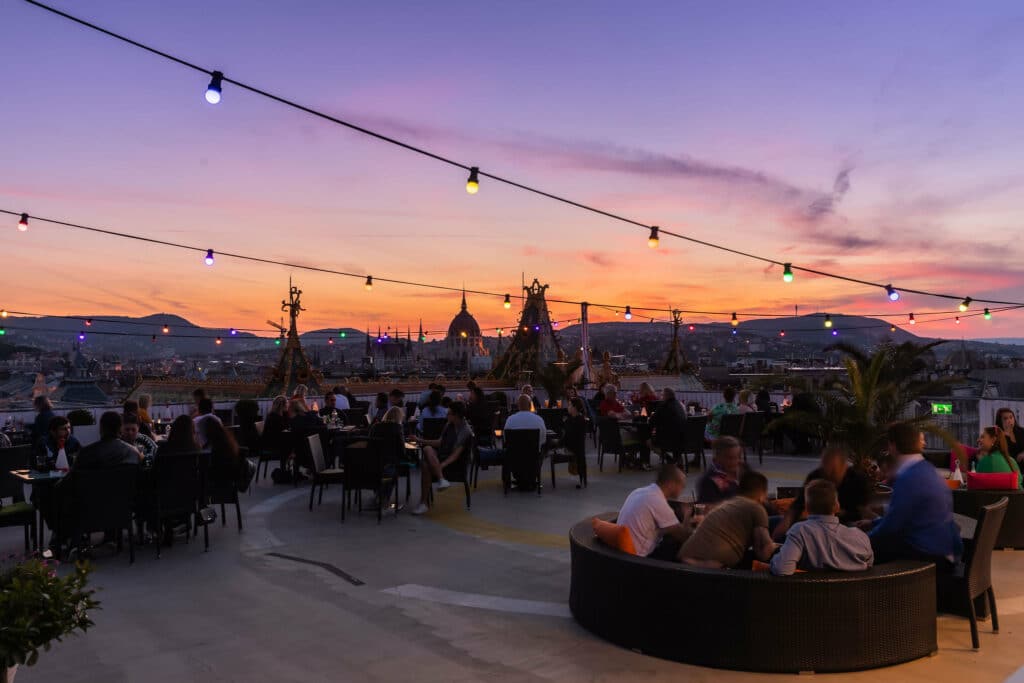 One of the few rooftops that understand old-world charm while celebrating contemporary luxury, Intermezzo is far from being Budapest's best-kept secret. Sitting on the Hotel President's 5th floor, the sky bar is a pro at delivering 360° vistas – but the real treat is its close-up of the Hungarian National Treasury building.
Although it serves as an open-air extension of the internationally-renowned Intermezzo restaurant, the rooftop oasis acts like the main character. As seasons shift, so does the terrace, transforming into a winter wonderland with igloos and (sometimes) an ice skating rink.
Quite minimalistic in design, Intermezzo Rooftop creates a fuss-free atmosphere through U-shaped seatings, cozy fairy lights, and contemporary elements.
Since it is one of Budapest's most coveted nightlife spots, everybody seeking a cheers-worthy pre-drinking session will flock to Intermezzo's terrace.
For a culturally-rich social feed, head to the Hungarian Parliament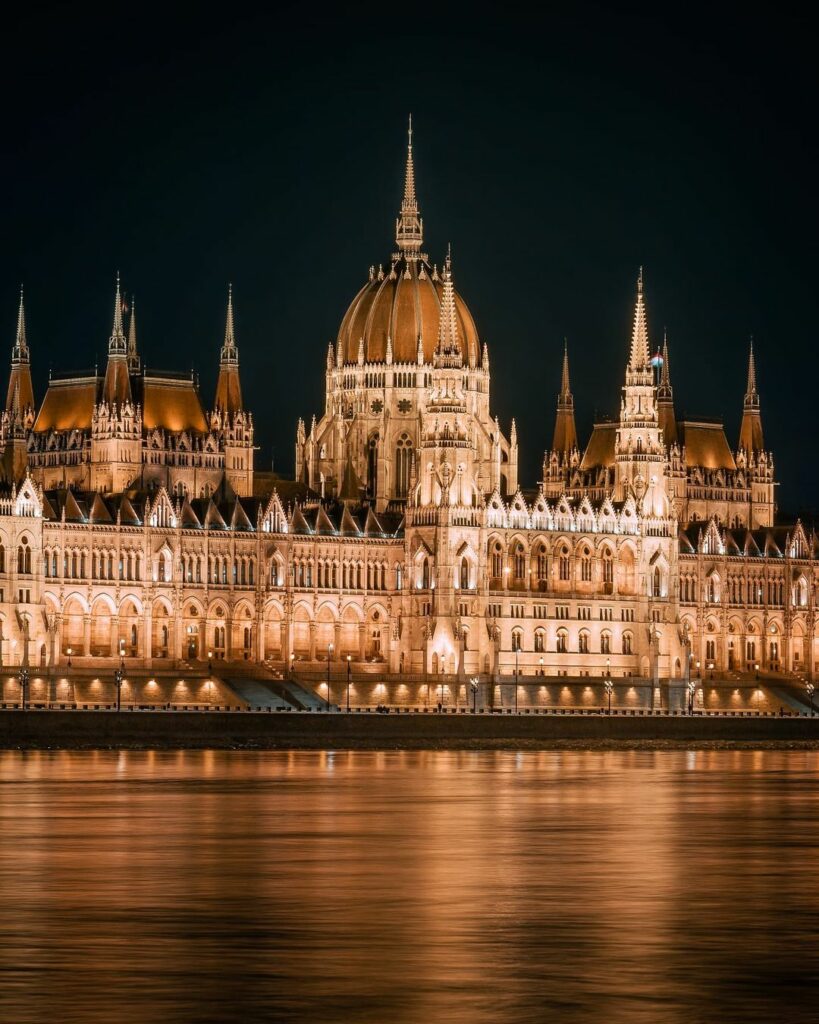 Designed in neo-Gothic style and a UNESCO World Heritage, the domed Hungarian Parliament is the country's largest and tallest building. Its interior spans almost 700 rooms and serves as both a vibrant government center and a city landmark.
Since it is located on the banks of the Danube, the building can easily become an Instagrammer's dream. Its enchanting blend of Gothic and Renaissance Revival styles makes it a timeless backdrop for capturing breathtaking feed pics.
Set sail on a scenic voyage with Duna Cruises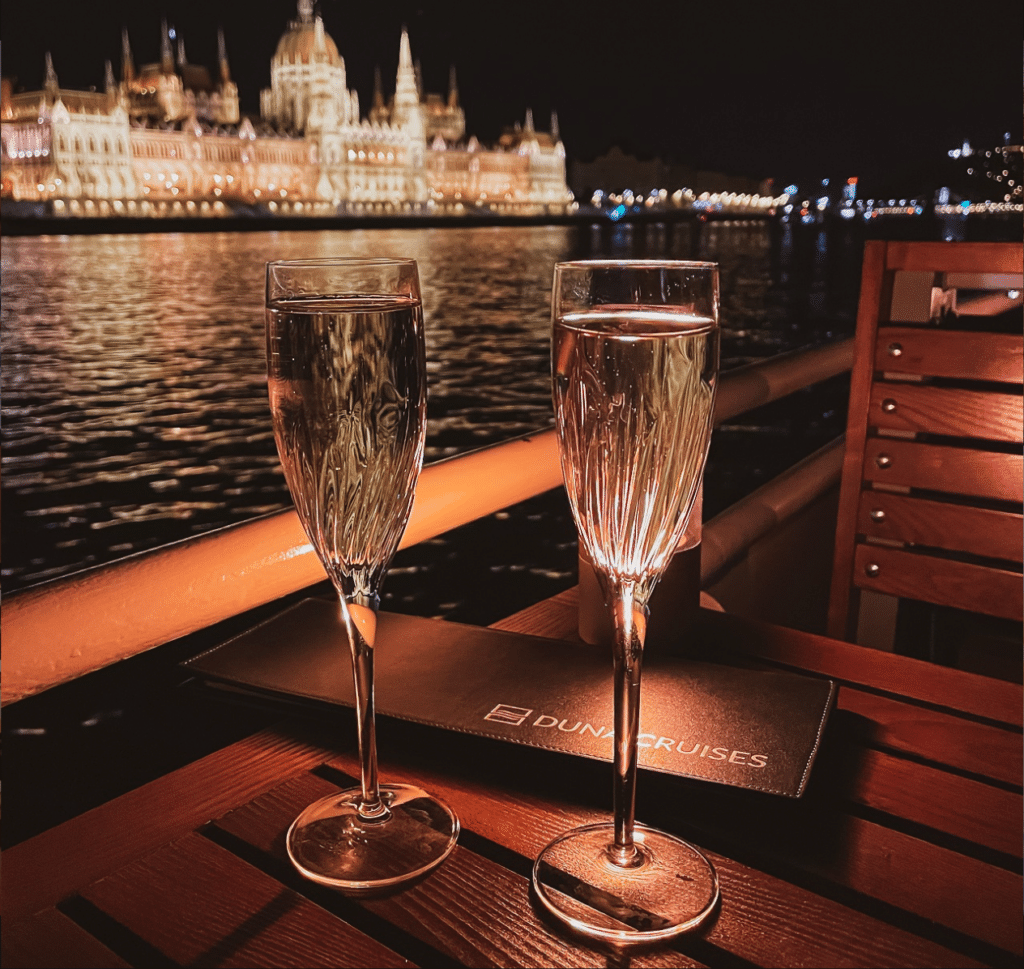 Cocktails? Check. Unmissable sightseeings? Check. Panoramic views? Checkmate. Duna Cruises guides passengers through an illuminated spectacle where iconic landmarks like the historic Chain Bridge, Buda Castle, and the Hungarian Parliament set the stage for scenic discovery.
Because everything is better with a cocktail in hand, the ship boasts an enticing array of libations. The carefully curated menu features everything from top-shelf liquor to signature cocktails, ensuring every preference and taste is satisfied.
Duna Cruises is a chance to experience Budapest's nightlife from a unique perspective, where awe-inspiring vistas, live music sessions and top-notch mixology guide you through the nocturnal escapade.
Venture into the Jewish Quarter's hidden gems
Once a decaying neighborhood plagued by World War II's ravages, Budapest's Jewish Quarter rose from its ashes and blossomed into a party district. The city's concentration for everything – from ruin bars to the best eateries – seems to lie in this hotspot.
The Jewish district might be the smallest in Budapest, yet it has the highest population density – and for a good reason. Away from the Kosher restaurants and museums honoring victims of totalitarian regimes, the district has an unapologetic out-there nightlife.
Brimming with karaoke bars, vintage bars, and restaurants open until late at night, the Jewish Quarter is a 24/7 area. Famed for clubbing spots like Peaches and Cream, its ruin bar culture, and pub crawl spots, the district is where you rub shoulders with locals.
Although the Jewish Quarter exudes timeless beauty both day and night, its partying style makes it an unmissable spot when the sun goes down.
Sip on the lip-smacking Budavardier at Hotsy Totsy
Smokey and bound to sweep you off your feet, the bold Budavardier is the cocktail that steals the spotlight. As a modern twist on the classic Boulevardier, this boozy elixir combines Maker's Mark, mushroom, rosemary-infused Campari, and Antica Formula vermouth.
But the real secret of the Budapest cocktail lies in Hotsy Totsy's commitment to using fresh ingredients only.
An award-winning speakeasy bar that oozes Prohibition Era aesthetics, the underground sanctuary provides an atmosphere you could only get in the 1920s.
Unlike mainstream bars, Hotsy Totsy doesn't feature a fixed menu. Skilled bartenders craft personalized connections tailored to each guest's taste preference. If a cocktail aficionado is into Italian amaro, mixologists will serve you a Hanky Panky without a moment of hesitation.
Thanks to cozy retreat visuals and cosmopolitan cocktail approach, Hotsy Totsy hasn't gone unnoticed by elite crowds. People seeking to splurge on what's new and next in mixology will forever head to the Budapest cocktail bar.
Party like there is no tomorrow at Sparty
Picture this: a centuries-old thermal bath transformed into a party hub that defies traditional norms. Known as the place where Budapest's nightlife aficionados flock, Sparty is a pro at fusing relaxation with revelry.
While music beats set the scene, the ultimate head-turner is the setting itself. At the end of the day, seeing Budapest's thermal baths getting transformed into a splashy dance floor is not a customary caper.
Nourish your inner foodie with Sausage Burger at Karavan

Just when we thought we had seen it all, Kavarna's offbeat twist on the American burger makes us rethink our top favorite dishes. Sausages, particularly kolbász (Hungarian sausage), are widely used in Budapest's street food offerings – and this bun delight is one of them.
Instead of a flavor-packed patty paradise, Kavarna's burger uses sizzling and expertly seasoned sausages as the protein source.
With the meat's smoky notes and vegetables's delicate crunch, the sausage burger packs an irresistible taste.
The mastermind behind this process, Karavan Budapest, is a vibrant outdoor food court that beckons foodies with an eclectic mix of flavors. Beyond Hungarian delicacies like crispy langos and Asian street food options, the late-night eatery has a casual vibe.
Whether you want to dive deep into Budapest's cuisine or sample new taste sensations, Karavan is the way to go.