Cape Town is known for its bustling nightlife.
From capturing the perfect sunset Instapic at St. James beach to clubbing like there's no tomorrow at COCO, this is how you can experience an amazing night out.
Here's your essential guide to Cape Town nightlife.
Soak up the breathtaking vistas at Baptiste Rooftop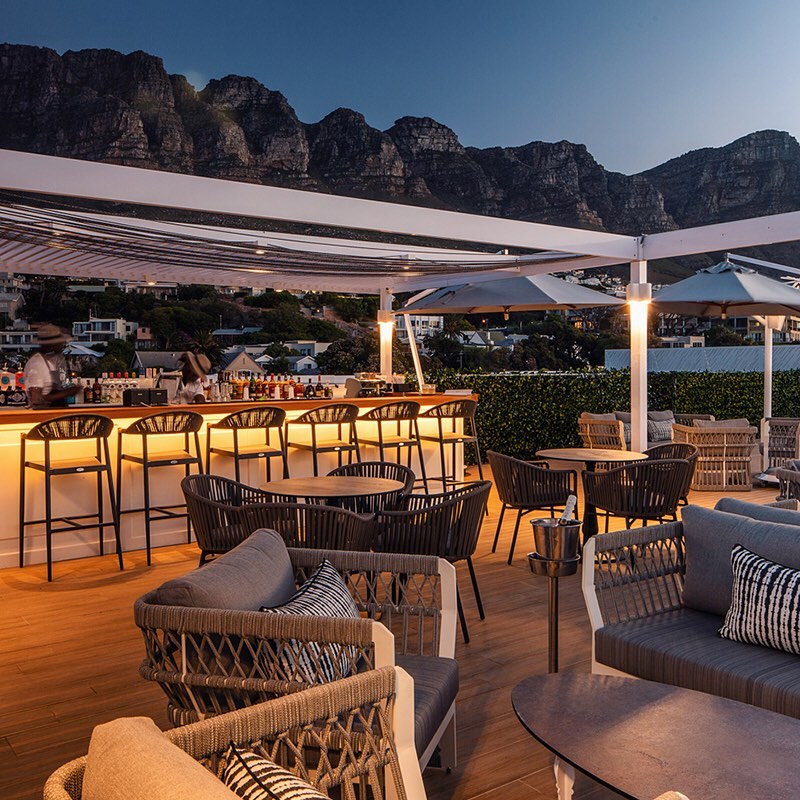 Somewhere between tropical and laid-back, Baptiste Rooftop sits atop the five-star Marly Boutique Hotel.
With a sweeping 360° panorama, Baptiste Rooftop boasts a front-row seat to Cape Town's most iconic landmarks. From the majestic Table Mountain to the azure waters of the Atlantic Ocean, the ever-present backdrop of the city's natural splendor is bound to sweep you off your feet.
Showcasing a vibrant beach club allure, the Cape Town nightlife spot blends the lines between a rooftop bar and a hotel pool. The ultimate head-turner – a Mediterranean-inspired deck equipped with lounge chairs and a pool – makes patrons return over and over again.
High-spirited both at sunset and after dark, the sky-high sanctuary usually welcomes people seeking South Africa's top mixology.
For an exotic Instagram snap, head to St. James Beach
For those who perceive golden hour as the best filter, St. James Beach stands tall in the Instagrammable spots hierarchy. Half tropical, half picturesque, the whale-watching spot casts a warm and inviting glow when the sun takes its final bow.
But picture-perfect lighting is not the only thing St. James Beach serves. With its tidal pool and Victorian-style bathing boxes, the sun-soaked beach gives more Insta-worthy backgrounds than your camera can handle.
Visit the bustling Mojo Market
While Cape Town brims with late-night markets, Mojo Market is the only one that matters. Open seven days a week, the lifestyle-meets-food microcosmos features over 30 stalls, all ready to deliver handcrafted products, mouth-watering dishes and timeless trinkets.
But that's not to say the Cape Town nightlife spot is all about consumerism – on the contrary. Sure, most people come here to pick up goods like kikois and sample the cuisine, but Mojo Market has a versatile approach to after-dark entertainment.
As a meeting point for live performances, the cultural hub is a launching pad for local talents. Events vary from week to week, so check the calendar before you head to the venue.
As if this wasn't enough of a trump card, Mojo Market is also billed as having the widest selection of beverages in the southern hemisphere.
Dive deep into Long Street's dynamic nightlife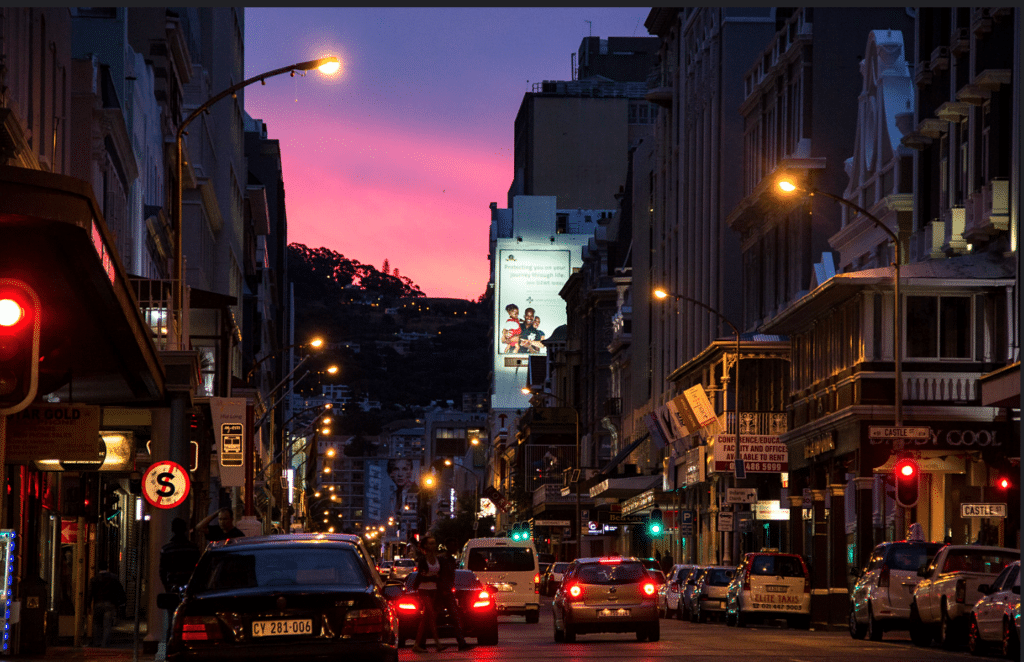 Celebrated as Cape Town's artistic haven and among the city's oldest streets, Long Street is a big old cultural stewpot. From Victorian-era buildings to second-hand bookstores and antique stores, the famous strip resembles European party streets.
Like London's Oxford Street and Hamburg's Reeperbahn, Long Street is the go-to hub for both tourists and locals who've already visited it hundreds of times.
Once the vintage clothing shops and designer alleys close their doors, the boho-chic area transforms into an all-out sensory assault.
A bustling hub year-round, the summertime sees visitors spilling onto the sidewalk cafes, savoring cocktails on rooftop bars, and reveling in high-energy clubs. Nightlife on Long Street calls for clubbing at Fiction, a music temple that sets the stage for international DJs.
For an alfresco atmosphere, boozy sanctuaries like The Waiting Room should be on your bucket list.
As an energetic realm that never sleeps, Long Street creates a multi-sensory journey both during the day and night.
Delight your senses with the Buchu Bomb cocktail at The Gin Bar
Sometimes, the art of minimalist mixology is the hardest one to master. But that doesn't apply to the light and fresh gin-based Buchu Bomb. The infusion of Buchu – a plant referred to as the miracle herb – adds an earthy twist to this G&T reiteration.
The Gin Bar is known by locals as a secret nightlife spot, mainly due to its hush-hush, unmarked location. Loyal to its namesake, this gin nirvana is a speakeasy gem that puts herbal libation on a pedestal through a – you guessed it – gin-focused menu.
Should we mention the bar comes equipped with over 150 different types of gin from around the world?
The watering hole's decor is inspired by the 1920 Prohibition era, with vintage furniture, jazz music, and dim lighting. Gin aficionados can lounge in the embrace of plush velvet sofas, surrounded by an old-world charm and nostalgic feel.
Get the VIP treatment at COCO
Two words best describe COCO's clubbing sessions – groovy and upscale. Committed to pushing the boundaries of traditional nightlife, the Cape Town club is where designer labels and premium bottle service are the law of the land.
Stepping into COCO feels like embarking on a journey where time stands still and champagne flows like liquid gold.
Munch on some biltong at The Butcher Man
As the South African version of American beef jerky, the protein-rich biltong translates into curated and spiced meat slices or sticks. With a history dating back to the 17th century, the drunk food makes each bite a true delight thanks to its savory chewiness.
A butchery is not the place one would visit for cooked bites, but The Butcher Man defies this notion. Situated in the lively Green Point, the nightlife destination is the Cape Town spot that carnivores and braai buffs can swear by.
At The Butcher Man, party animals seeking a late-night snack can choose from a generous biltong selection. Billed as "your one-stop meat emporium," the laid-back eatery offers prime cuts to-go or eat-in – just speak your meat and The Butcher Man will deliver.