Ho Chi Minh City nightlife unfurls an enchanting tableau of lively markets, exquisite cuisines, and exhilarating entertainment.
Starting with Zion Sky Lounge's Insta-worthy views and ending with roast duck at Tiem An Di Nhan, this is how you can experience an amazing night out.
Here's your essential guide to Ho Chi Minh City nightlife.
Enjoy a cocktail-and-view session at Zion Sky Lounge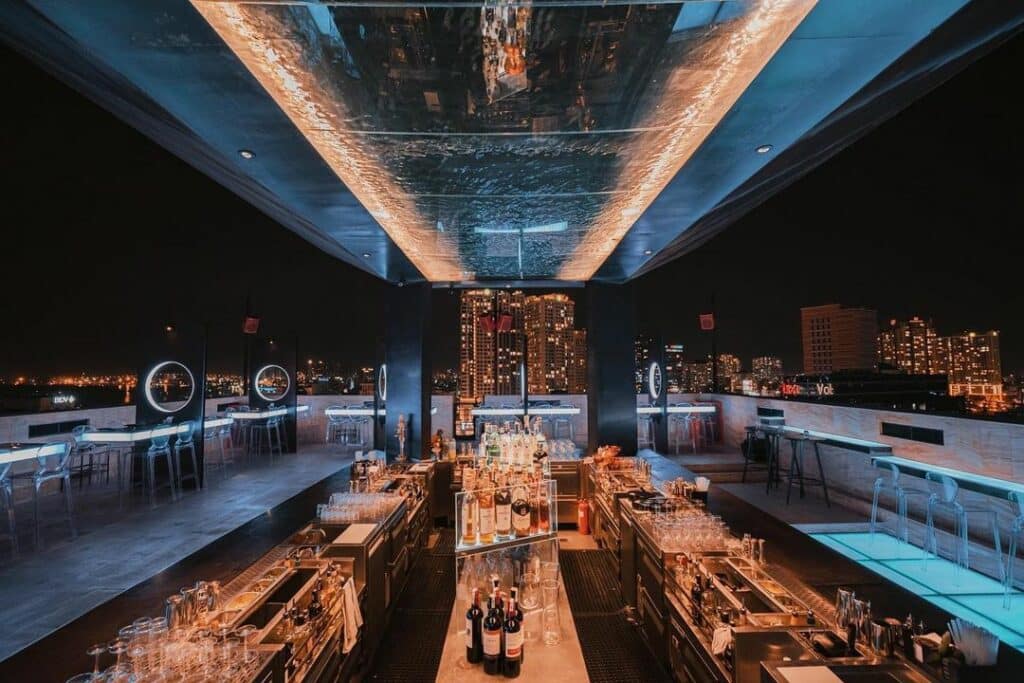 Few places on Earth gift you such staggering 360° views, but Zion Sky Lounge is one of them. A highlight of the bustling Saigon, the rooftop bar floats 14 floors above the city and asserts itself as a lustrous pearl in the sky's lofty oyster.
As you ascend from the city's frenzied streets, Zion greets you with an architectural spectacle that speaks the language of the future while maintaining an intimate conversation with the past.
A stunning steel-and-sandstone structure envelops the lounge. Here, elements of rust evoke a profound sense of history, blending seamlessly with an ultra-modern design that leaps forward in time.
Cocktails are creative without being pretentious, ranging from timeless concoctions like Cosmopolitan to reiterations of all-time classics.
Despite Zion's diverse clientele, patrons share a common trait – a deep appreciation for the finer things in life. They are the epicures, the bon vivants, and connoisseurs of experiences that transcend the ordinary.
Snap an Insta-worthy pic at Saigon Sky Deck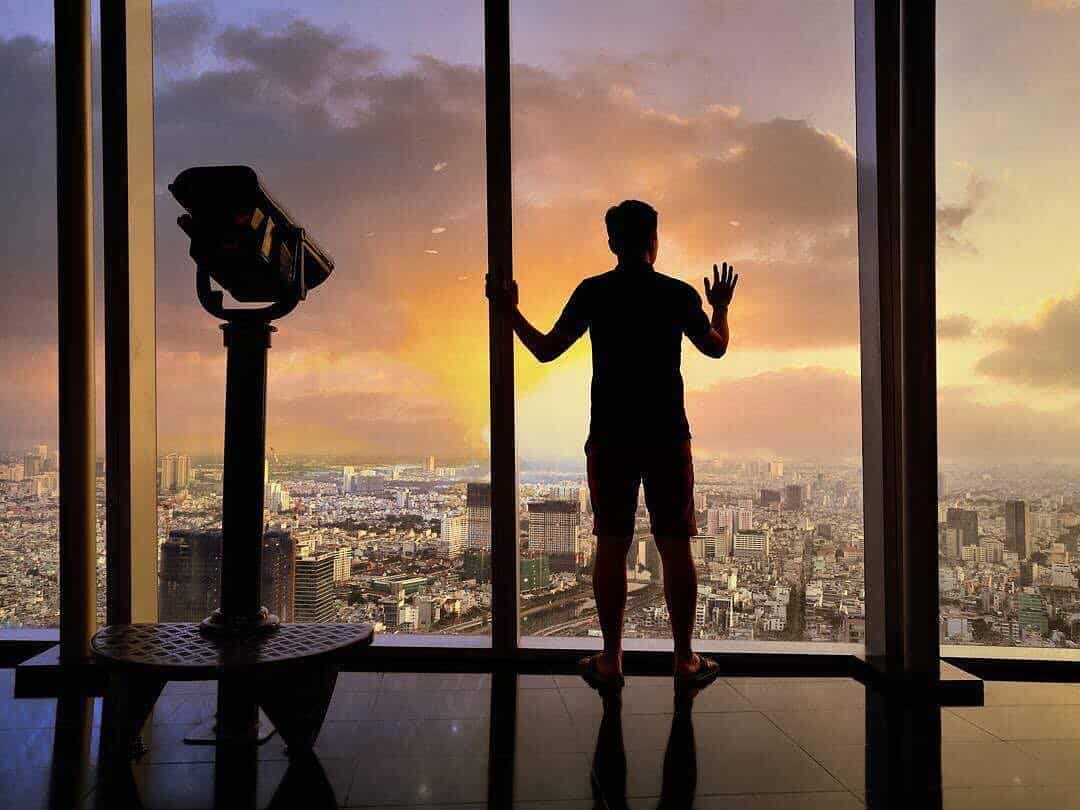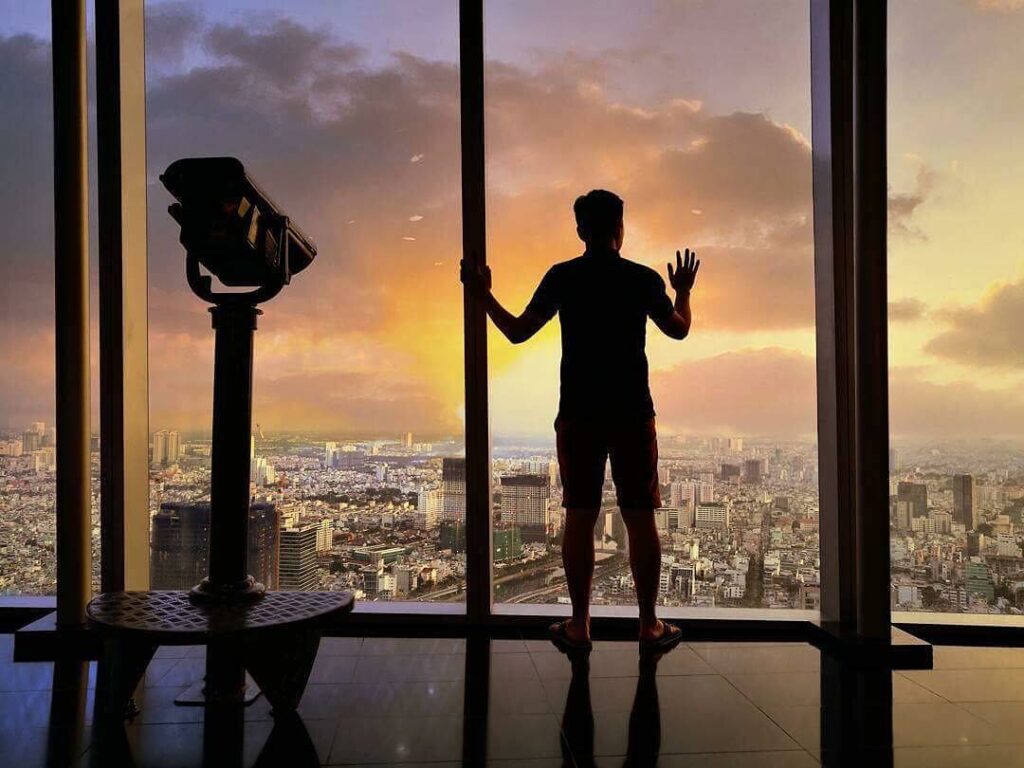 Perched on the 49th floor of the Bitexco Financial Tower, Saigon Sky Deck elevates Instagram aesthetics to dizzying heights. As if its height wasn't enough of a trump card, the deck features a transparent floor segment for gravity-defying visuals.
From the Saigon River snaking its way around the city to the timeless pagodas, this unobstructed cityscape is a dynamic backdrop that fits every Instagram feed.
Embark on a night tour with Thuyen Nhieu Loc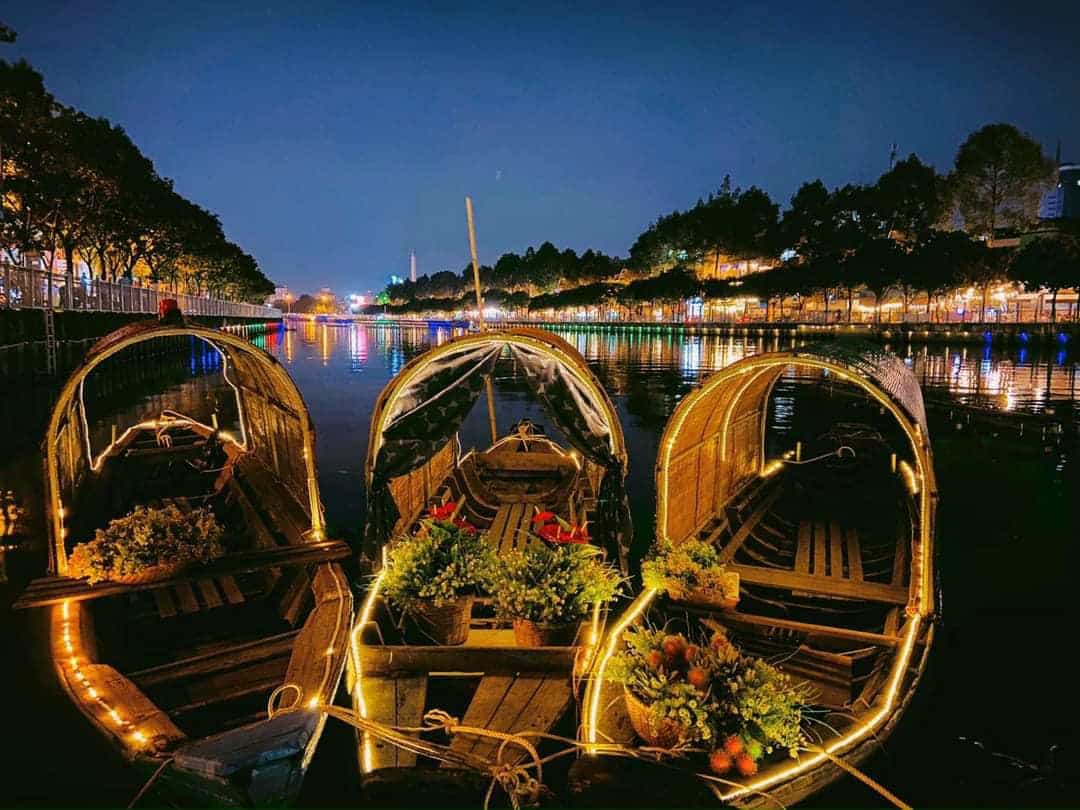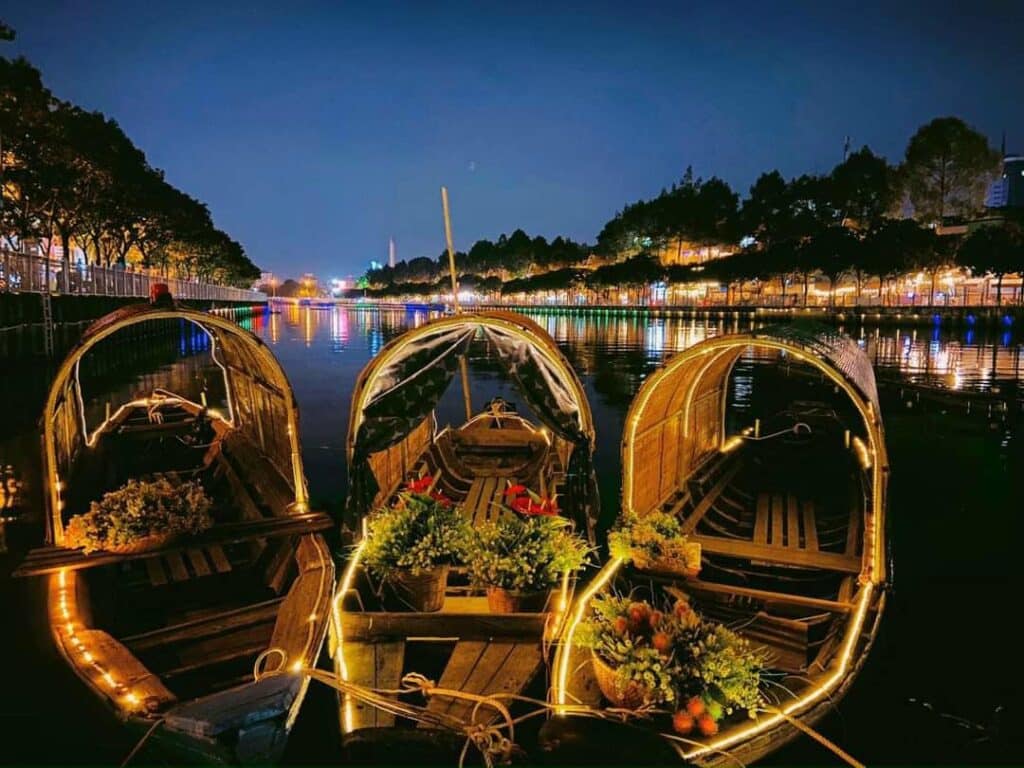 If someone told you that the best way to explore a metropolis was to hitch a ride on a floating hunk of wood, you might scoff at their suggestion.
But take heart because in Ho Chi Minh City's nightlife, where honking scooters thread their way through labyrinthine streets, the city's soul unfolds not on pavement but on water.
Boat tour agency Thuyen Nhieu Loc uses traditional Vietnamese sampans, giving passengers a deep dive into the country's cultural heritage. Decorated with fairy lights and made of lacquered wood, these boats may not come with a private butler, but they promise views money can't buy.
As the wooden vessel glides on the Thi Nghe Canal's night-dappled water, it beats witness to the city's untamed glory. The barefoot fisherman casting a hopeful net, the riverside diners clicking Bia Hoi, and the gleaming skyscrapers.
Put your walking shoes on and explore Bui Vien Street
Once a footpath known only to the humble folk of 18th-century Saigon, Bui Vien's humble beginnings seem almost incredulous when compared to the stiletto-clad party central it is today.
Often referred to as "Western Street" by locals – a nickname hinting at its European-orientated features – the strip is a neon streak that paints Ho Chi Minh City's nightlife.
Sweeping French colonial architecture rubs shoulders with bold, modern structures on this historical hotbed, creating a charming mosaic of styles. But as dusk recedes, Bui Vien transforms into a living, breathing tapestry of festivities. Stroll down its throbbing arteries, and make sure to visit Go2 Bar.
Despite its cheeky name, the watering hole offers Western hospitality and Vietnamese warmth. On the other side of the party spectrum, Hair of the Dog is a chill clubbing spot boasting genre-blending playlists.
If you're feeling peckish after dancing, Bui Vien Street provides gastronomical adventures in the form of streetside pho stalls. The famed Pho Quynh is a must-visit for its steaming pho bowls that can heal even the most stubborn hangover.
Indulge in the Purple Potato Madness cocktail at Summer Experiment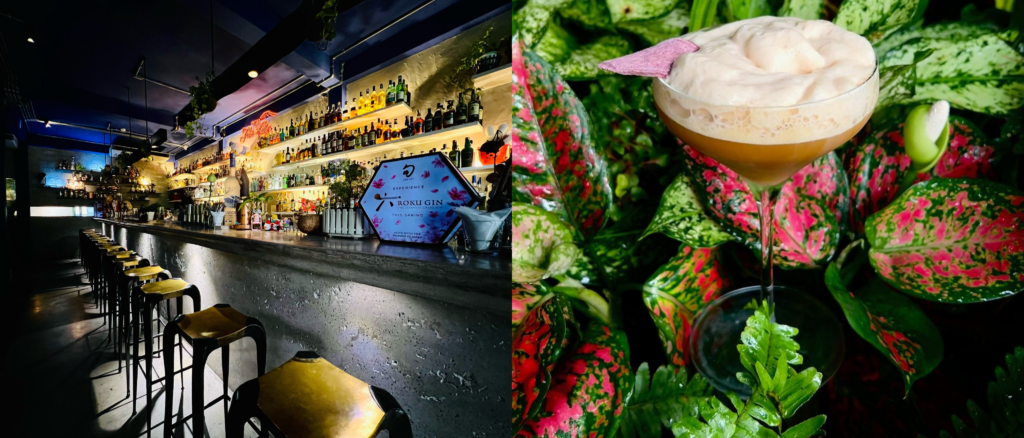 From the vegetable patch to the espresso machine, Purple Potato Madness is shaking up cocktail hour. Eccentric, daring, and somewhat chaotic, the libation features a mix of rum, espresso, purple sweet potato puree, cold brew, pink salt, and burnt potato caramel foam.
The genius concoction could only come from a place as enchanting as the Summer Experiment Bar. This place is like the Quentin Tarantino of bars – it breaks all the rules but still wins all the awards.
Its decor blends rustic charm with urban chic-industrial ceilings adorned with hanging Vietnam floral sit alongside sleek, modern bar stools, all under the gentle, flickering glow of Edison bulbs.
The cocktail bar guides cocktail-loving patrons through 30-odd creations, each brewed with locally-sourced ingredients (including many pulpy fruits).
Let loose and dance 'till down at Atmos
When passing through Atmos' doors, one might think they are in for a warehouse-style party. Despite its grunge aesthetics, the party hub is where globetrotters rub shoulders with the city's bad and boujee crowd.
With a tight-knit ambiance, hip-hop-focused sets, and commitment to being the best music temple, Atmos is nothing short of unmissable.
Treat yourself to roast duck at Tiem An Di Nhan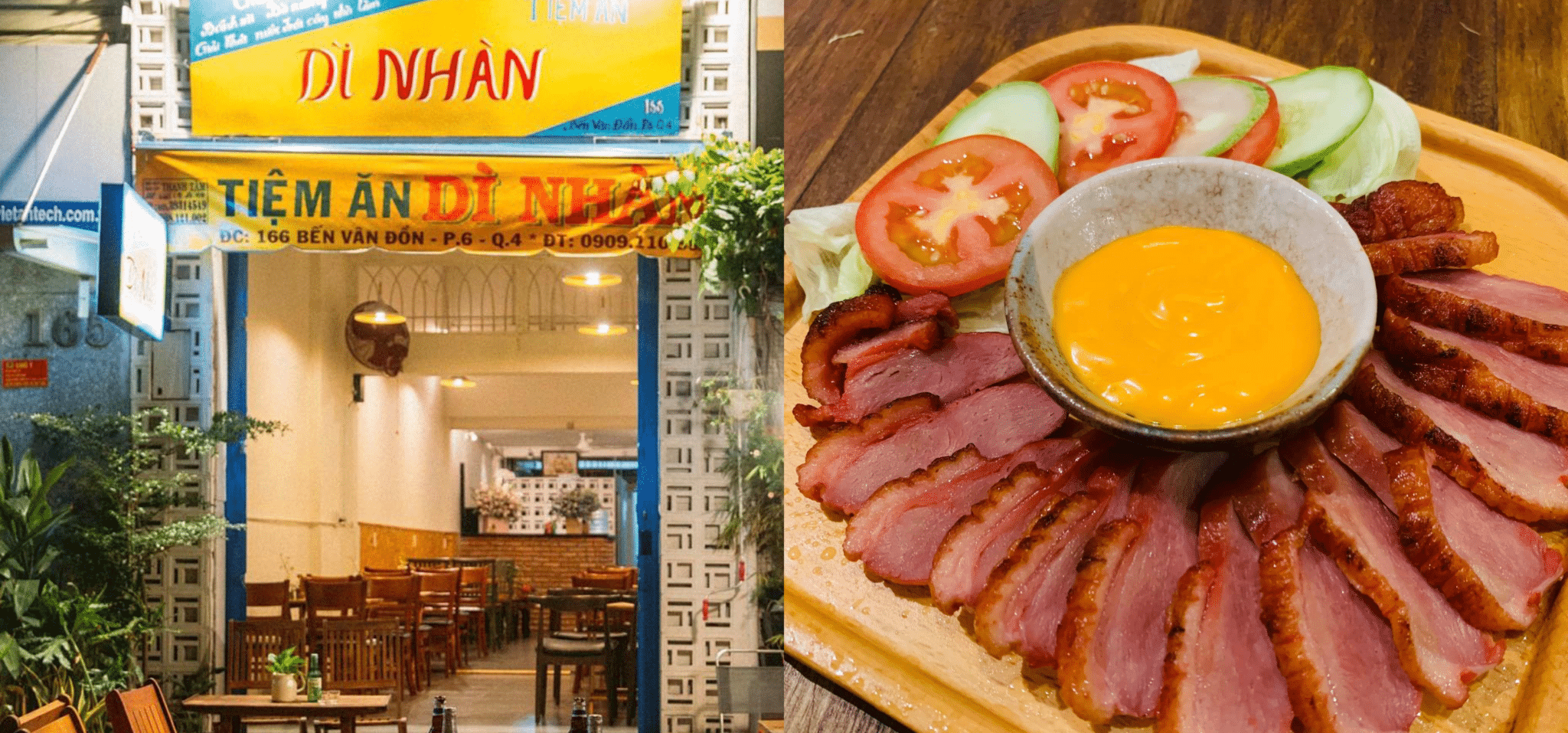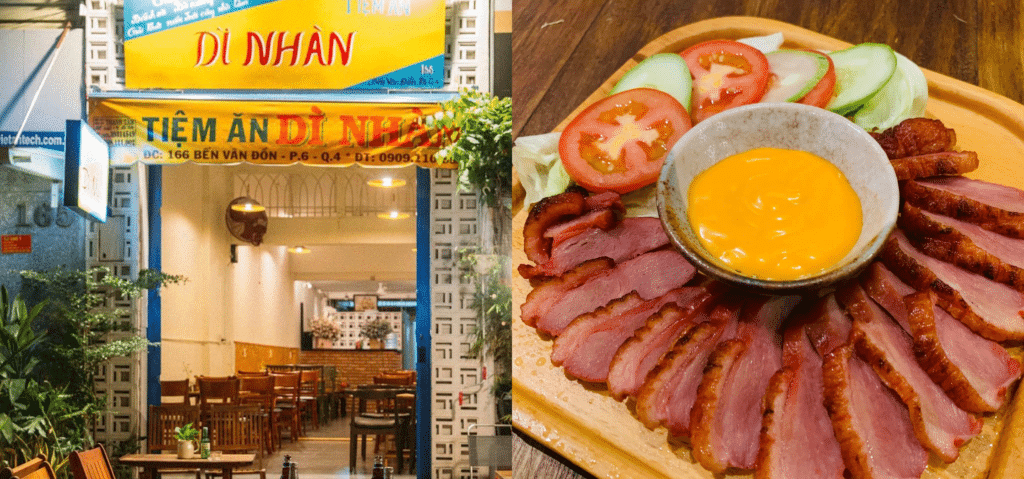 Roast duck – or 'Vịt quay' – is one of the Vietnamese foods that set tongues wagging and hearts aflutter. Scratch beneath its crispy surface, and you'll find a traditional mix of herbs like ginger, star anise, and lemongrass, all dressed in a glaze of local honey.
When your alcohol-induced hunger is in the mood for roasted duck, head to Tiem An Di Nhan. The late-night eatery is big on local flavors, serving everything from fried vegetarian spring rolls to sizzling pancakes packed with pork, shrimp, and bean sprouts.