Los Angeles is known for its permanently buzzing nightlife.
Starting with Spire 73's signature cocktails and ending with a bold hot dog at Wurstkuche, this is how you can experience an amazing night out.
Here's your essential guide to Los Angeles nightlife.
Catch the sunset at Spire 73
If its name isn't enough of a hint, Spire 73 sits 73 levels above ground in LA's dynamic downtown. Boasting panoramic vistas over the city's skyline, it's easy to see why the watering hole ranks as the highest rooftop bar in the Western Hemisphere.
Although the nightlife spot is dubbed the place where heaven touches Los Angeles, Spire 73 doesn't disappoint when it comes to decor. Unapologetically upscale, the boozy sanctuary features timeless yet modern elements, such as comfy sofas right by the terrace's edge.
Elsewhere, the reservation-only rooftop bar has a cozy appeal, all thanks to the strategically placed fire pits.
Not one for penny-pinchers, Spire 73 comes equipped with signature cocktails, top-shelf champagne and gourmet bites to rival the view. Naturally, expect a fashionable crowd who is anything but afraid of splurging on their sky-high getaway.
Complete your Instagram feed with a snap at the Hollywood Sign
The iconic Hollywood Sign was never meant to be a permanent landmark. Originally constructed as a temporary advertisement for a real estate development, the structure became an American Dream symbol, representing the glamor of the entertainment industry.
Thanks to technological advancements – which saw the integration of LED lights – the Hollywood Sign became a sought-after Instagrammable night spot.
Lose yourself in the World of Illusions
Billed as a brain-bending workout for your imagination, Los Angeles' World of Illusions is the realm where nothing is what it seems to be. Half museum, half immersive experience, the global chain is home to optical illusions, mirror mazes, and rooms that defy gravity.
At World of Illusions, every corner brims with interactive and immersive exhibits that challenge your perception of reality.
From the Giant's House, where you are dwarfed by colossal objects, to the Infinity Room, where mirror walls create a seemingly endless cosmic spectacle, the museum is a visual adventure.
Beyond dozens of 3D illusions and hand-painted murals, the museum also features artwork inspired by cartoons and movies. If that doesn't sound like the 'it' social media backdrop, we don't know what will.
Roam West Hollywood's vibrant avenues
Everything Los Angeles is famous for seems to be in West Hollywood's nightlife. Away from the fabled Sunset Strip, rainbow-striped Santa Monica Boulevard, and high-end hotels, the buzzing hotspot is the definition of California Dreamin'.
Lovingly known as WeHo, the district offers a real-like La La Land to everybody who strolls its streets. Forget about crowded Los Angeles clubs because West Hollywood is where old-school rock 'n' rolls meets upscale luxury.
While the burgeoning strip is a fashionista's dream by day, it comes alive at night with the famed standup club the Comedy Store, along with live music meccas such as The Roxy and The Viper Room.
The Los Angeles nightlife hotspot doesn't place its bets on clubs. Instead, its bohemian heart puts LGBT+ bars, intimate speakeasies, and watering holes reminiscent of Hollywood's Golden Age on a pedestal.
Time stands still in West Hollywood, so it doesn't matter when you visit it.
Sip on the Fire & Rain cocktail at Bar Bohemien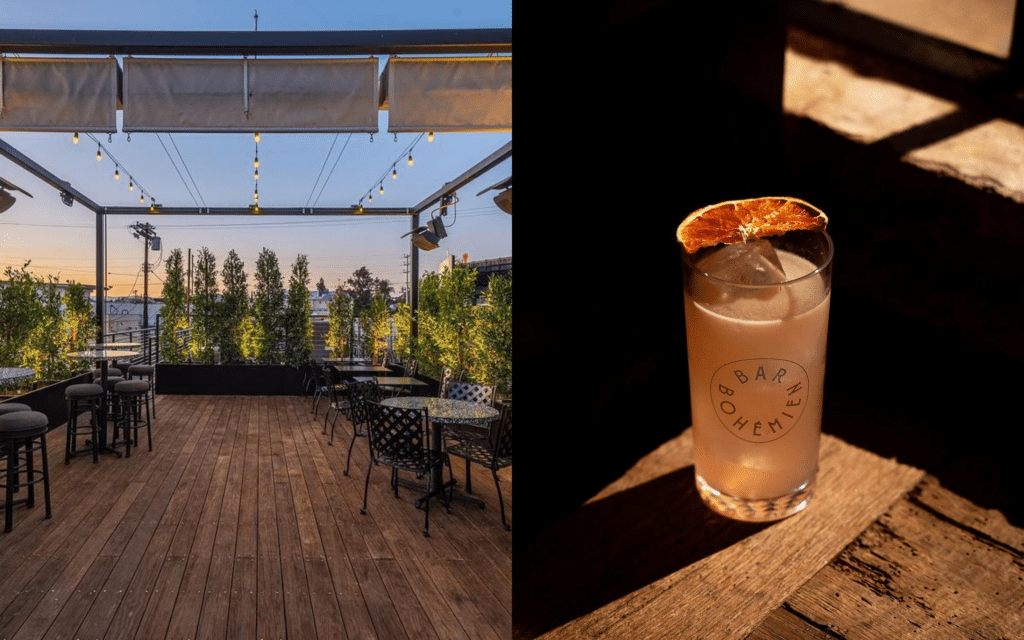 When the heavens conspired to create the perfect storm, they sent us Fire & Rain. A bold reiteration of the classic G&T, the cocktail has an ingredients list that will call you a cocktail rookie in five different languages.
While the Bimini Gin sets the stage with citrusy notes, the Del Maguey Vida Mezcal introduces a smoky warmth. Add guava, lemon, lavender bitters, Velvet Falernum and voila – you get a boozy elixir that's worth ordering another round.
Bar Bohemien is the mastermind behind the Los Angeles cocktail. Loyal to its namesake, the watering hole sports vaulted high ceilings with 1920 brickwork, leather bar seats and arched windows.
But not everything is about decor. A true avant-garde activist at heart, Bar Bohemian makes Los Angeles' cocktail-loving community return with funky and yet approachable alcohol-fueled libations.
Experience electronic music the LA way at Exchange
Not many clubs can pride themselves on spanning four floors, but Exchange can. As Los Angeles' nightlife spot for foolproof electronic sessions, the party hub is renowned worldwide for hosting blue-blooded artists names like David Guetta and Tiesto.
Finish off your night with exotic hotdogs at Wurstkuche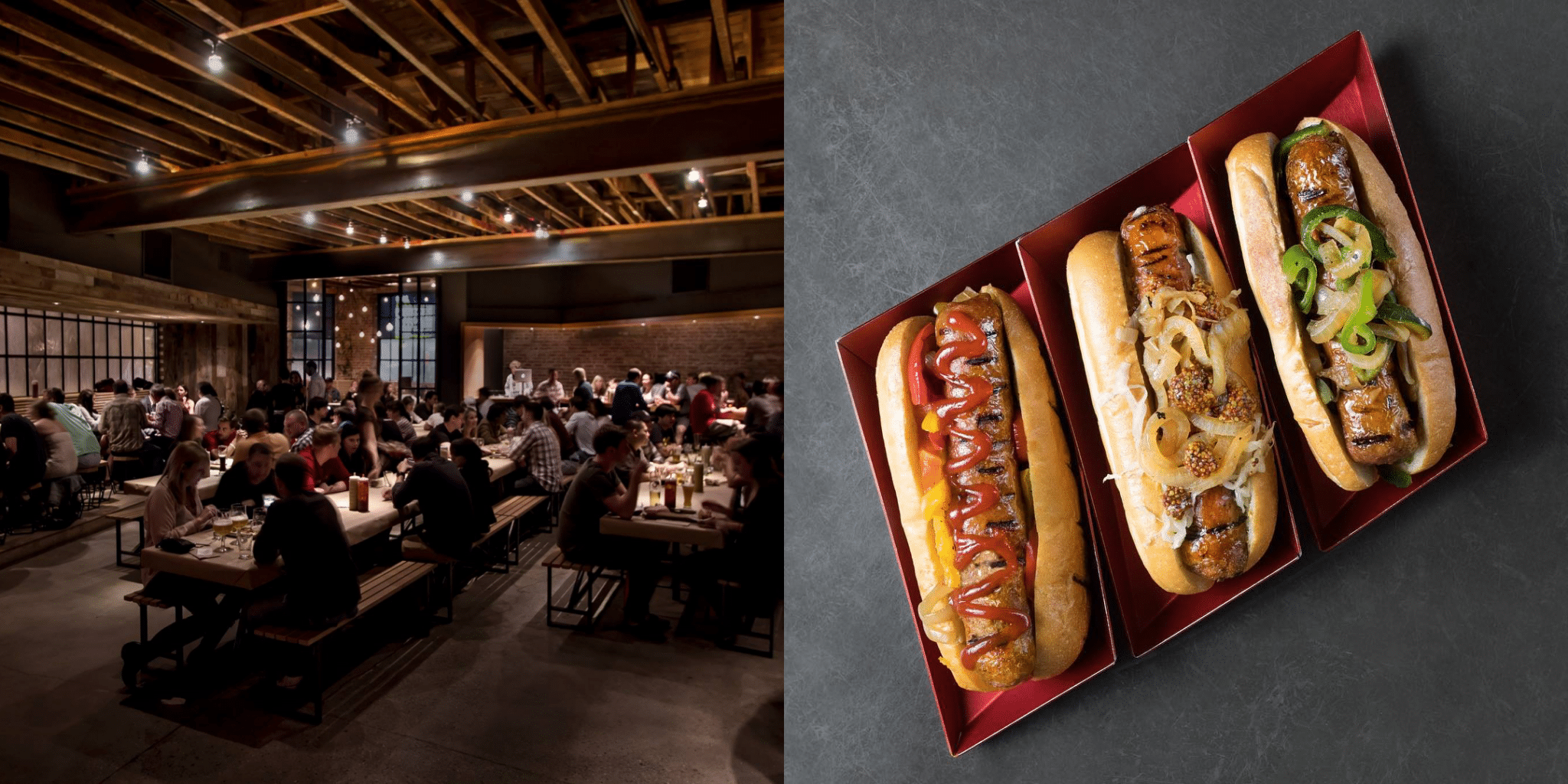 At Wurstkuche, hot dogs are works of art. For the adventurous foodie, the late-night eatery offers an array of exotic sausages that push the boundaries of flavor.
With a hotdog-based menu, Wurstkuche is where you experience aromatic and tantalizing nuances of the Austin Blues, a mouthwatering blend of smoked beef, Texas wild boar, and blue cheese.
Or venture into uncharted territory with the Duck and Bacon, a daring combination that surprises with its delicate yet distinct flavors.
A hotdog heaven from A to Z, the hip restaurant blends rustic charm with urban sophistication. Exposed brick walls, communal wooden tables, and an open kitchen create an inviting and convivial ambiance, perfect for gathering with friends, family, or fellow food lovers.