Marbella nightlife is known for its lavish and unapologetic partying.
Starting with Pangea Rooftop's sweeping views and ending with a much-needed jamon at Taberna Casa Curro, this is how you can experience an amazing night out.
Here's your essential guide to Marbella nightlife.
Enjoy the views and crafted cocktails at Pangea Rooftop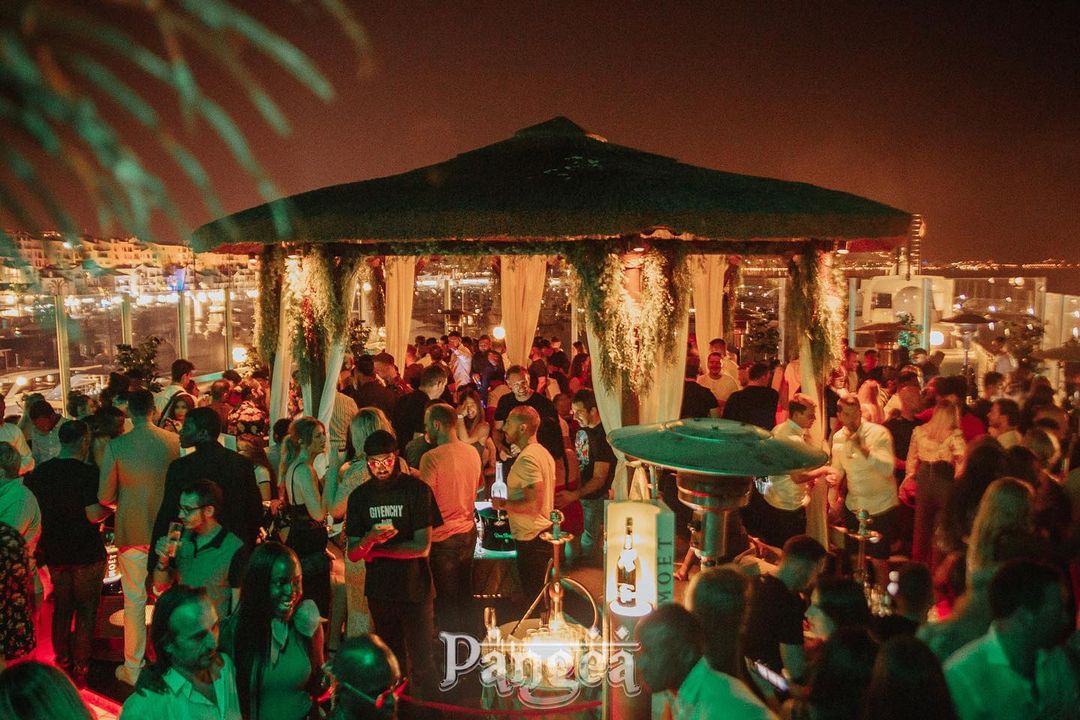 With a "nobody does it better" mantra, Pangea sits on a third-floor open-air terrace. Open until late at night, the rooftop bar treats its patrons to Insta-worthy views of Marbella's skyline and Puerta Banos' luxurious yachts and boats.
Swank is the new black – or at least this is what Pangea Rooftop says. Although the decor combines natural materials like wood and modern elements like glass, the watering hole creates an alfresco-meets-Mediterranean atmosphere.
Upscale through and through, Pangea knows how to balance lounge aesthetics with clubby vibes. The ritzy retreat transforms into a full-fledged club when the sun dips into the Mediterranean sea. At night, cocktail sippers transform into party animals who abandon the comfy leather sofas to dance the night away.
Like the best things in life, Pangea comes with a hefty price tag. An eclectic mix of boujee locals and tourists who aren't afraid to splurge on their pre-drinking sessions are the familiar faces here.
Snap your next Instagram addition at MOSH Fun Kitchen's Light Tunnel
An upmarket must for sushi lovers and champagne connoisseurs, MOSH Fun Kitchen is one of the most desired hunts in Marbella's nightlife. Away from its Asian-inspired menu and high-end seatings, the restaurant houses one of the city's most Instagrammable spots.
Dimly lit and surrounded by lush greenery, MOSH Fun Kitchen's Light Tunnel masterfully delivers picture-perfect lighting.
Test your luck at Casino Marbella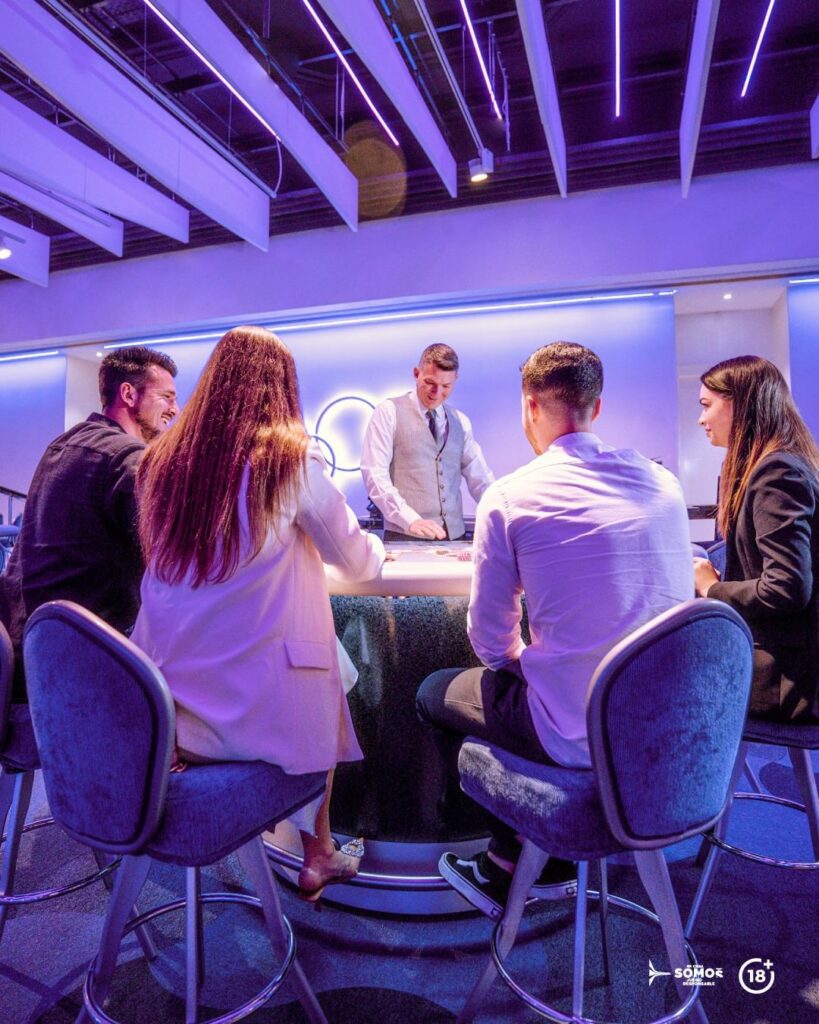 When it opened in 1978, Casino Marbella was one of the only spots where tourists could roll the dice. Fast forward to today, the gambling establishment can pride itself on being an award-winner.
Since its inception, the casino has received many accolades – its first-rate hospitality service could have contributed to that.
More than a mere gambling experience, Casino Marbella features everything from traditional slot machines to Black Jack and roulette. With something for every seasoned pro and rookie, the palm-fringed casino is equipped with over 100 electronic gaming machines and 30 tables.
Not everything is about having the right cards. Casino Marbella also serves Mediterranean dishes and classic cocktails, ensuring that whoever passes through its doors won't be bored.
Explore Puerto Banus' streets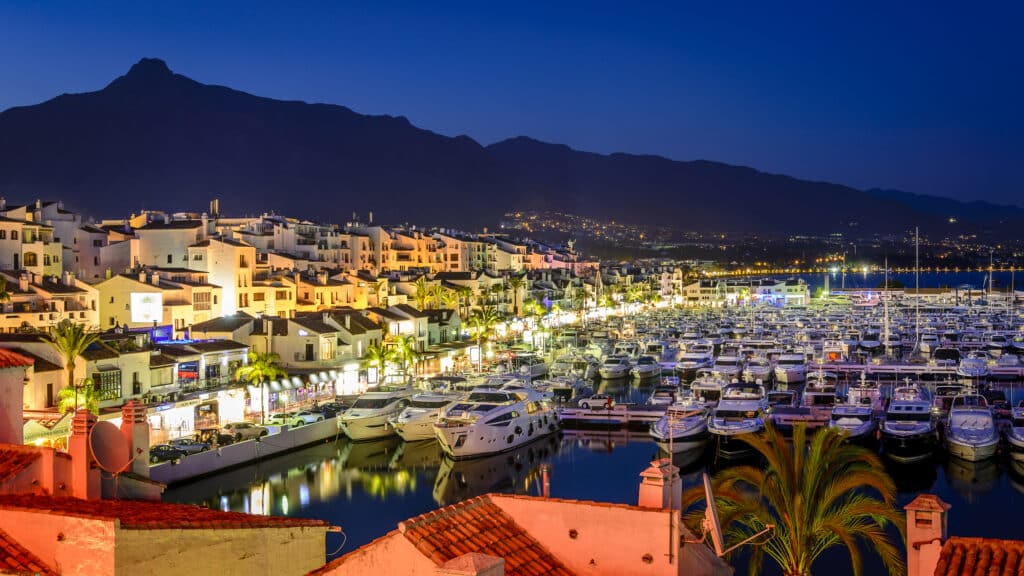 As the epitome of luxury and extravaganza, Puerto Banus' marina is not one for penny-pinchers. Dubbed the place where the bad and boujee come to see and be seen, the nightlife hotspot brims with gourmet dining and high-end shopping departments.
With Gatsby-inspired parties, ritzy cocktail bars, and a high concentration of luxury cars, the tropical paradise is one of Europe's top party destinations. Clubbing spots like the electronic-fueled Tibu and the permanently buzzing Ocean Club make splurging feel totally worth it.
But that's not to say the Marbella spot has a unilateral approach to nightlife. For those who aren't into clubbing, chic lounges like La Suite combine a stunning seafront with masterfully crafted cocktails.
Fuss-free venues are a scarcity but not absent. The Claddagh Irish Bar is a go-to choice for Guinness pints and casual drinking sessions. Since champagne is the upper class' liquid gold, expect a slew of bars focusing solely on offering top-shelf bubbly.
Puerto Banus might be stunning during the day, but it transforms into a nocturnal wonderland where labels and A-list celebs reign supreme when darkness descends.
Sip on the Saint Lillet cocktail at Perlage Marbella
A refreshing concoction of vodka, a French aperitif made of citrus liquor and Bordeaux wine, and mint, the Saint Lillet cocktail translates into a boozy lavishness. Should we also mention it comes with elderflower caviar? We think we're good.
The mastermind behind this bold elixir, Perlage Marbella, takes mixology to the next level. Often referred to as the city's best cocktail spot, the bar is anything but shy in paving the path to innovative, creative, and never-seen-before drinks. Despite its enviable status, Perlage seems to be a fuss-free cocktail experience.
While subtle lighting adorns the bar, wall art and modern furnishing come together to create an inviting aura. It is obvious that every detail – from the marble-like tables to the carefully chosen accent – has been curated with utmost care.
When it comes to its clientele, Perlage Marbella attracts a diverse clientele of locals and tourists who want a certain je ne sais quoi from their drinking session.
Party like there's no tomorrow at Tibu
Despite the fierce competition in Marbella's clubland, Tibu has always been at the forefront of the city's nightlife. Renowned for its world-class entertainment and energetic parties, the nightclub has hosted everything from fashion icons to high-profile guests.
Munch on some jamon at Taberna Casa Curro
A treat for outsiders, jamon is Spain's culinary gem – and for a good reason. With a rich and complex flavor profile, the succulent meat delivers the perfect combination of melt-in-your-mouth tenderness and satisfying chewiness.
Usually served with bread, cheese, or olives, the protein-rich drunk food comes in paper-thin slices, elevating the late-night snacking experience.
Part of Marbella's lesser-known nightlife spot, Taberna Casa Curro takes its jamon seriously. The casual restaurant pays homage to Spanish gastronomy but fuses it with a dash of Mediterranean flair through reinvented tapas.
This culinary oasis draws in everyone from gourmands to revelers looking for a late-night treat.