Miami is known for its culturally-rich nightlife.
Starting with Serena Rooftop's Mexican-inspired cocktails and ending with a juicy taco at Bodega Taqueria y Tequila, this is how you can experience an amazing night out.
Here's your essential guide to Miami nightlife.
Enjoy the view from Serena Rooftop at Moxy, South Beach
Vibrant and with a modern take on Latin culture, Serena Rooftop is perched on the second floor of the trendy hotel Moxy Miami. Boasting awe-inspiring ocean views and Instagrammable sunsets, the high-kicking bar has a tropical appeal.
If Mexico was an open-air rooftop bar, it would be Serena Rooftop. Inspired by Latin cities' alfresco dining, the watering hole brings the best of both worlds. While colorful sofas give patrons a comfy feel, lush greenery scattered throughout the rooftop bar creates a hidden garden atmosphere.
Both laid-back and high-spirited, Serena Rooftop is the go-to spot for Mexican cuisine. From lip-smacking margaritas to delicious tapas, the Miami nightlife spot is where culture meets top-notch mixology.
Snap an Insta-worthy picture in the neon-lit Ocean Drive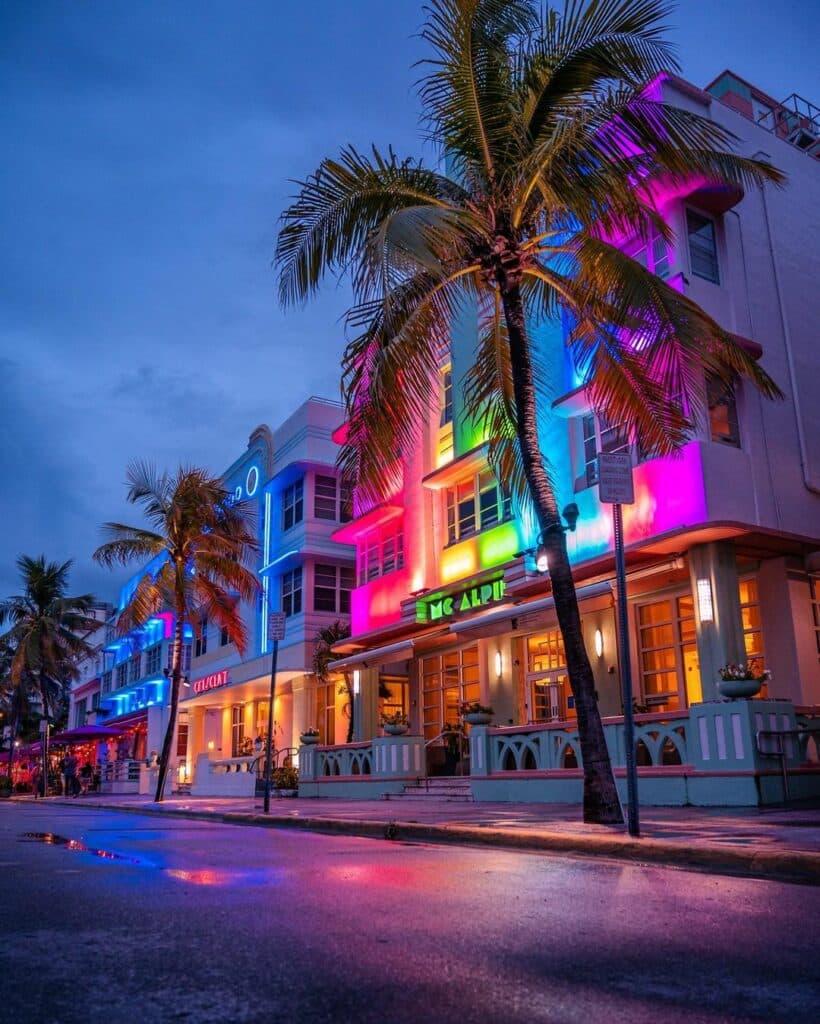 Oozing a GTA V vibe, the art deco Ocean Drive houses more Instagrammable backdrops than your camera roll can handle. Also dubbed one of Miami's most iconic streets, the SoBe thoroughfare comes alive at night with quirky architecture, pastel buildings, and a breezy beachfront.
Experience the beautiful views on the Skyviews Miami Wheel
Thrill-seekers, this one's for you. Nestled in Miami's famous Bayside Marketplace, the 176-foot tall Skyviews Wheel offers jaw-dropping views of the beautifully-lit South Beach.
With the marina on one side and the Metropolitan area on the other, the observation wheel features 42 glass gondolas. If you are in the mood for the VIP treatment, you can pick the VIP Gondola, which boasts leather bucket seats, custom LED show, and a glass floor for an elevated experience.
As one of Miami's latest nightlife attractions, the Skyviews Wheel serves as the go-to spot for special events.
Explore South Beach
You can't call yourself a nighttime adventurer if you haven't explored South Beach's trendy streets. Thanks to its seamless blend of clandestine bars, historic architecture and coveted eateries, the neon-lit district is Miami's epicenter for nightlife shenanigans.
Striking a balance between an approachable appeal and ritziness, South Beach is home to iconic clubbing spots like LIV and Story. For those who aren't in the partying mood, you can either shop 'till you drop at world-class fashion boutiques or sip on cocktails at dive bars.
It doesn't matter if you visit the nightlife spot during the day or night – bored is one thing you won't be.
Give The Corner's Marisol Key cocktail a try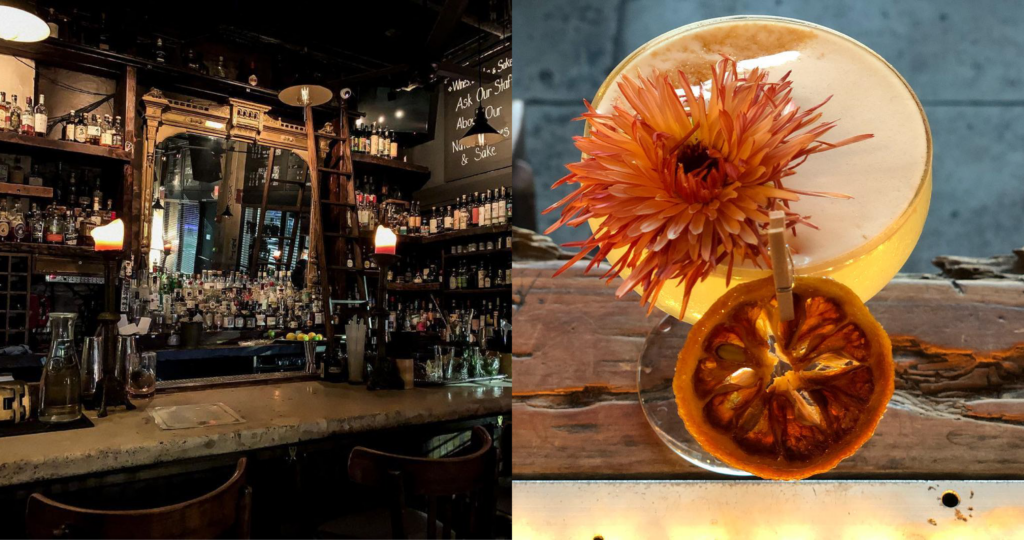 Both visually pleasing and worth another round, the flowery Marisol Key adds another layer to traditional mixology. Featuring a balanced mix of Havana white rum, key lime, frothy egg white, and sunflower seed syrup, the Miami cocktail is summer in a glass.
Its creator, the hip and cozy The Corner bar, found its home in one of Miami's oldest neighborhoods. With more than a decade of bartending experience under its belt, the speakeasy transports its patrons to the Jazz Age.
If its homey vibe doesn't scream vintage, its bar – constructed from 150-year-old wood – surely will. Carefully sourced ingredients are The Corner's unique selling point, be it agave syrup or habanero bitters.
As one of Miami's hidden gems, the watering hole is usually frequented by local, hipster-heavy crowds who want something else from their drinking experience.
Dance the night away at LIV
Home to designer labels and top-shelf champagne, LIV is widely considered one of US' best party hubs. Every weekend, the nightlife destination offers a beat-fueled wonderland where famous rappers like Drake and French Montana take center stage.
Envisioned, shaped, and designed for upper-class party animals, LIV is one of the clubs that invented epic partying.
Munch on some savory tacos at Bodega Taqueria y Tequila
A symphony of flavors and a heaven for your taste buds, Bodega Taqueria y Tequila's tacos are a must after any clubbing session. Think tender meat, fresh and crunchy vegetables, drizzling sauces, and guacamole's tangy finish because that's what those tacos are all about.
No other late-night eatery does Mexican delights like Bodega Taqueria y Tequila. Known as a food and drink fiesta, the food spot worships mouthwatering burritos and juicy tacos. But savory food isn't the only thing Bodega Taqueria y Tequila serves.
A feast for the eyes, the eatery boasts an energetic decor, best described by its cozy booths and colorful patterns adorning the walls.