Santiago's nightlife is a mix of neon-lit dance clubs, bohemian wine cellars, and serpentine street food alleys.
Starting with Red2One's views and ending with quesadillas at Bar Rubik, this is how you can experience an amazing night out.
Here's your essential guide to Santiago nightlife.
Catch the sunset at Red2One Rooftop Bar at W Santiago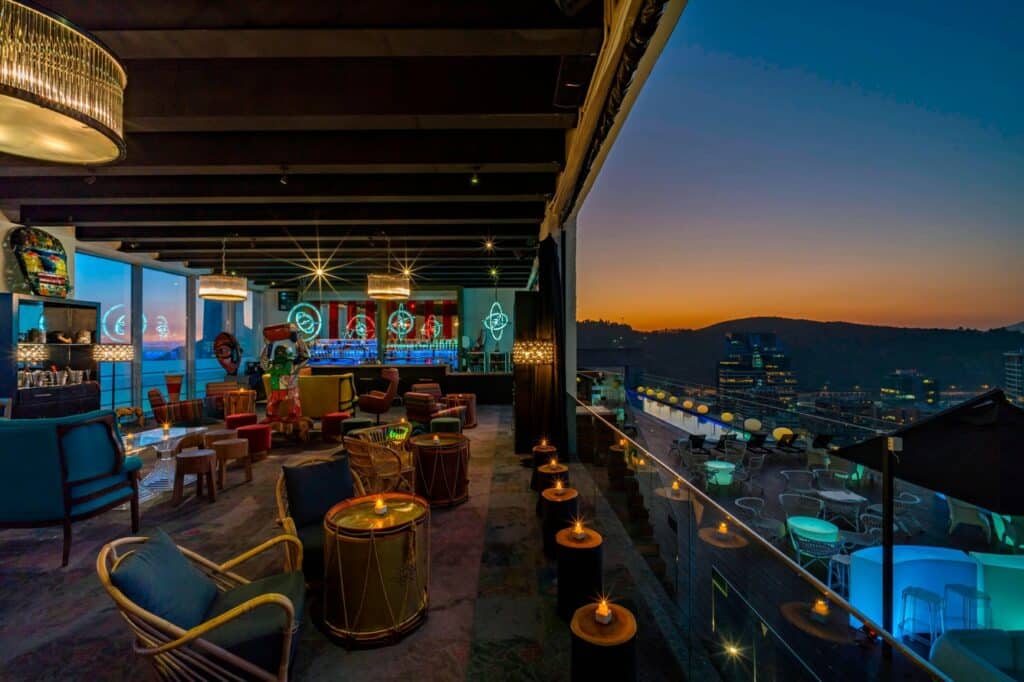 Hovering on the precipice of Santiago's cityscape and the soaring Andes, Red2One Rooftop Bar is where style and substance unite in a dizzying dance of decadence.
Press the 21st-floor button at the ritzy W Santiago to meet the cutting-edge watering hole. While the top-level's architecture is an ode to contemporary sensibilities flaunting a sleek glass-walled, descending a few steps will reveal Santiago's hippiest poolside scene.
The open-air terrace is lined with lounge chairs and bar stools, positioning patrons in front of the city's Insta-worthy sunsets.
If you think the high-kicking sanctuary can't get more swanky than this, think again. Regarding drinks, Red2One's bar is equipped with top-shelf and never-seen-again spirits, allowing bartenders to craft signature blends like Kappa Mule and Lynchburg W.
Weekdays at the Santiago nightlife venue are a melange of tranquility and sophistication as the after-work crowd seeks refuge in its quiet elegance.
Use Santigo's street murals as your next picture background
Chile's thriving metropolis is no stranger to the transformative expressions of artistry. Most walls, narrow alleys, and old buildings turned canvas offers a visual narrative of the city's history, struggles, and victories.
Whether you're going for a mood-filled portrait or an expensive shot encompassing the urban panorama, Santiago's street art adds a dramatic allure to every snap.
View Santiago from above at Sky Costanera
In a way, the Sky Costanera is Santiago's North Star. Sitting at a staggering 300-meter height, the skyscraper is considered one of Latin America's tallest buildings.
Much more than an architectural marvel, Sky Costanera is a cultural prism refracting Santiago's vibrant nightlife from a vantage point. Your destination is the 61st and 62nd observation floors of the Costanera Center Tower.
What awaits you in the glass-walled observatory? Unobstructed panoramas of Santiago offering a unique glimpse into the city's nightlife, sprawled out below like a carpet of jewels.
Sky Costanera is also a treat for culture vultures. It's dotted with art installations that seamlessly blend modern design with traditional Chilean elements. Additionally, the building's restaurants offer culinary delights, serving dishes representing Santiago's multicultural palate.
Explore Bellavista' nooks and crannies
As Chile's version of the quirky Montmartre, Bellavista is the epitome of a bohemian quarter. Soaked in graffiti art murals and adorned with historical architecture, the hotspot features an impressive array of artisan shops, art galleries, and fuss-free eateries.
While Bellavista houses must-see landmarks such as Pablo Neruda's home-turned-museum, the area is not limited by cultural melange.
Walking into any bar or club in the neighborhood is a multi-sensory experience. Boozy sanctuaries like Backstage Experience, decorated with music-themed memorabilia, or Sarita Colonia, a kitsch Peruvian fusion restaurant and bar, make patrons shift their attention from the drink to the decor.
There's no shortage of clubbing spots either. Club Chocolate is another gem with its retro-chic elements and multi-genre music playlists.
Foodies can embark on a late-night adventure at Galindo, a Chilean cuisine spot, or Azul Profundo, famed for its delectable seafood.
Quench your thirst with the Saludo a la Bandera cocktail at Chipe Libre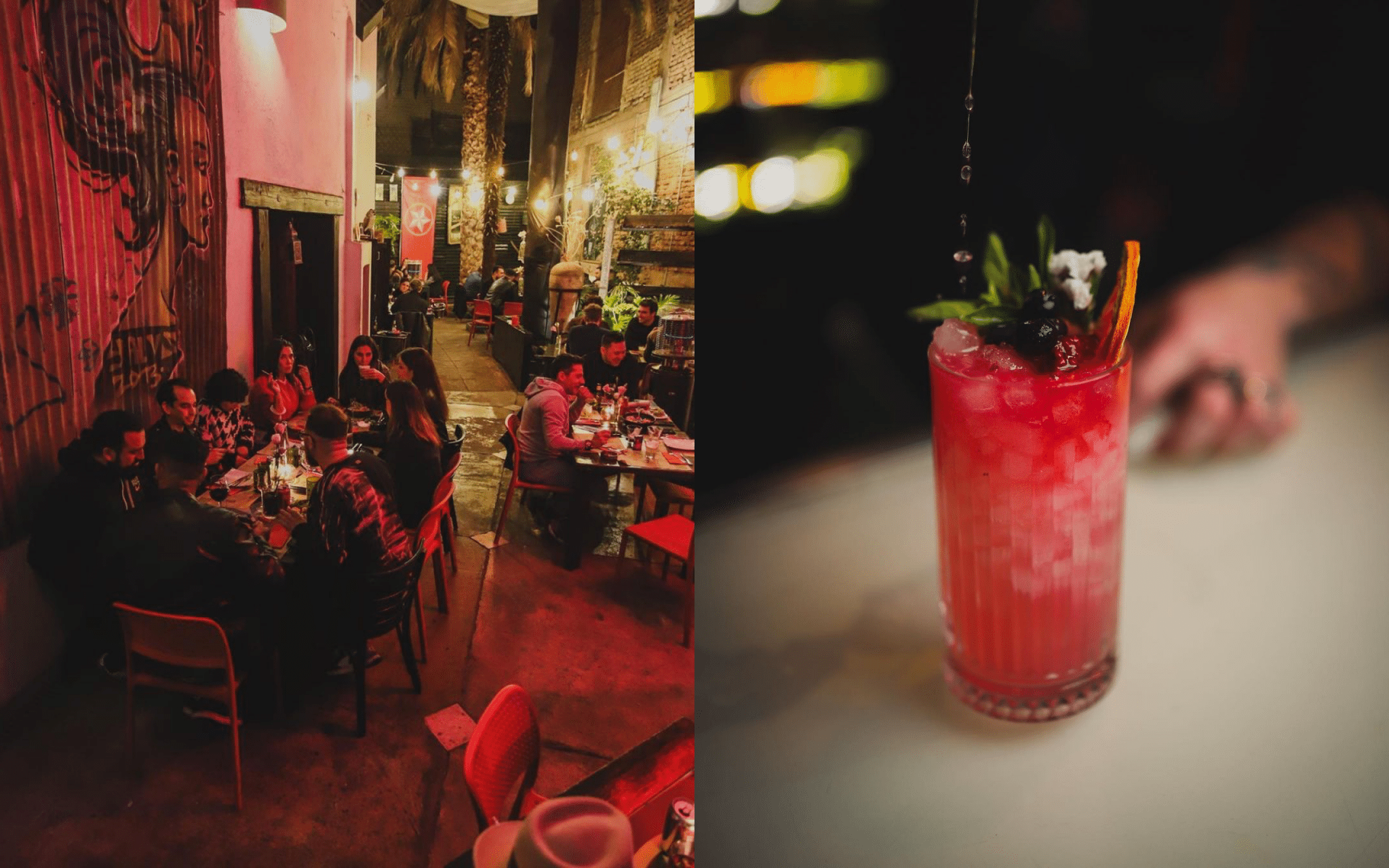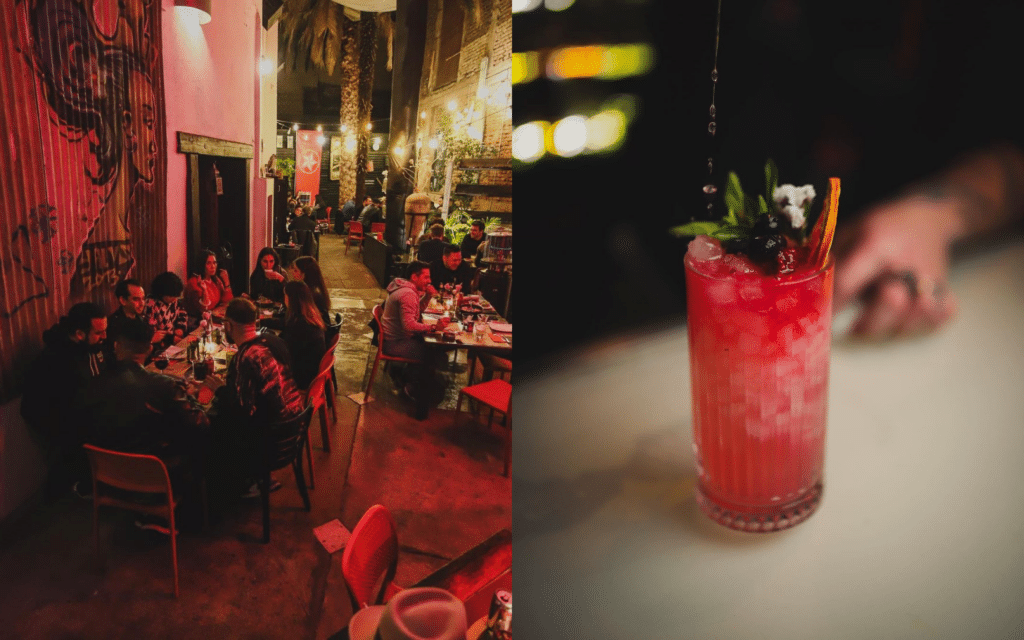 In a spirited clash of heritage and flavor that has been taking place for centuries, Chile and Peru battle over Pisco's invention. While the ownership hangs in the balance, cocktails like Saludo a la Bandera showcase Chile's prowess in crafting Pisco-based concoctions.
Made of pineapple juice, sweet potato syrup, triple sec, basil, raspberry, blueberry and the mighty Pisco, the boozy libation has a fruity yet aromatic flair.
Known by locals as the 'Republic of Pisco,' Chipe Libre is the mastermind behind this libation. Reminding patrons of Santiago speakeasies with high ceilings, checkerboard floors, and a glowing bar, the nightlife spot is where time seems to slow down.
During peak hours, the patio becomes a battleground of bonhomie, hosting a legion of pisco lovers who know no national allegiance, only a shared infatuation with the grape-based drink.
Dance like there's no tomorrow at Blondie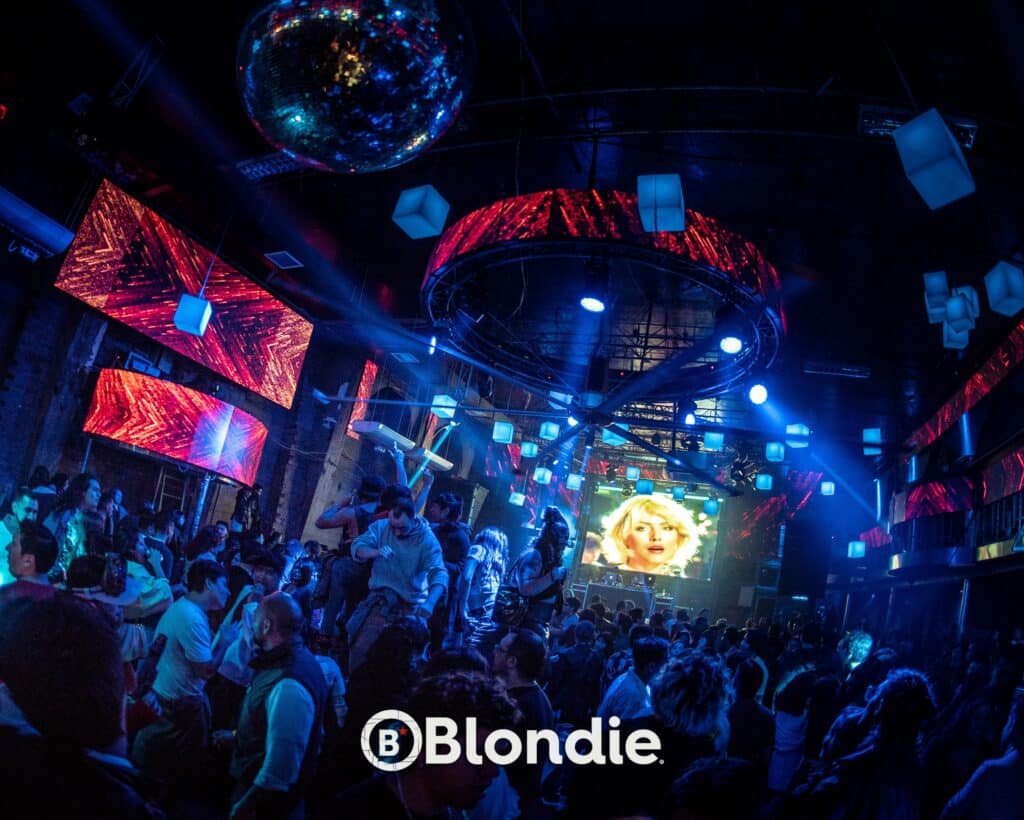 Tailored for the party animals with a soft spot for multi-genre playlists, Blondie doesn't feel like a club. Oozing mini-festival vibes with its four-story venue, the Santiago nightlife spot invites indecisive revelers to pick their own vibe.
Each dance floor dons a specific music theme, but high-energy crowds and late-night dancing dominate all of them.
Treat yourself to quesadillas at Bar Rubik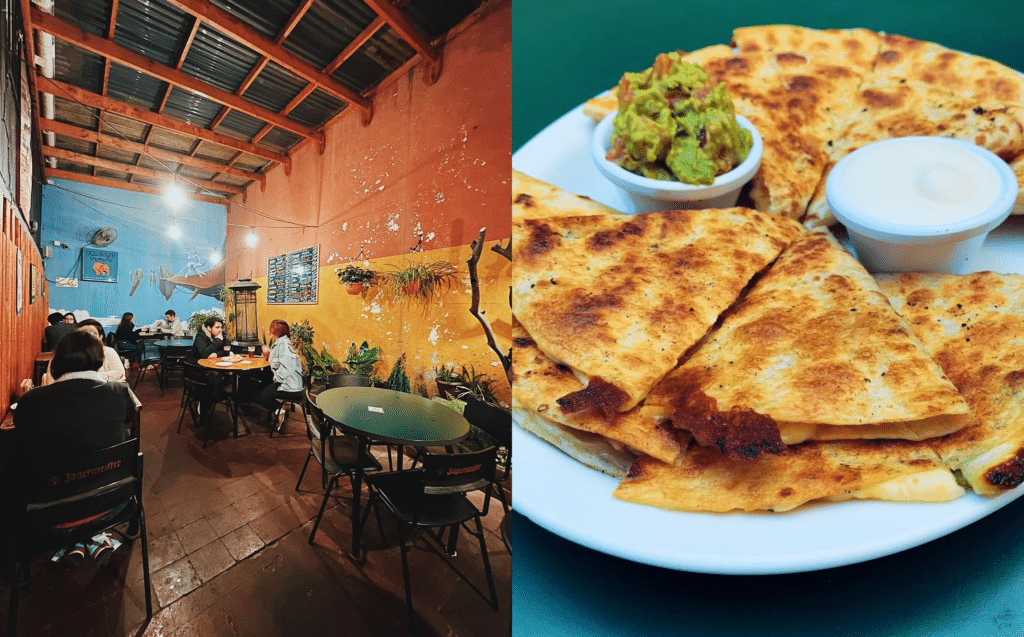 With its ooey-gooey, melty cheese and crunchy toasted tortilla, the quesadilla is the ultimate peacekeeper between your taste buds and your alcohol-laden gut.
The drunk food's versatility is a trait worth commending. It's as adaptable as a shape-shifting chameleon in a box of crayons. You can have it with many fillings – chicken, beef, shrimp, veggies – the world is your oyster, and the quesadilla is your pearl.
Stepping into Bar Rubik is akin to stepping into a fever dream painted in bold hues of nostalgia and modernity. An artistic medley of eccentric furniture, geometric patterns, and vibrant colors, the place has a quirky charm that's magnetic.
The décor cleverly evokes a sense of an 80s arcade, but the vibe is very much 21st-century chic.