Tel Aviv is rich in culture, but is also has a beautifully-layered nightlife.
Starting with a cocktail in hand at Speakeasy Rooftop Bar and ending with warm pitas at Miznon, this is how you can experience an amazing night out.
Here's your essential guide to Tel Aviv nightlife.
Enjoy the views at Speakeasy Rooftop Bar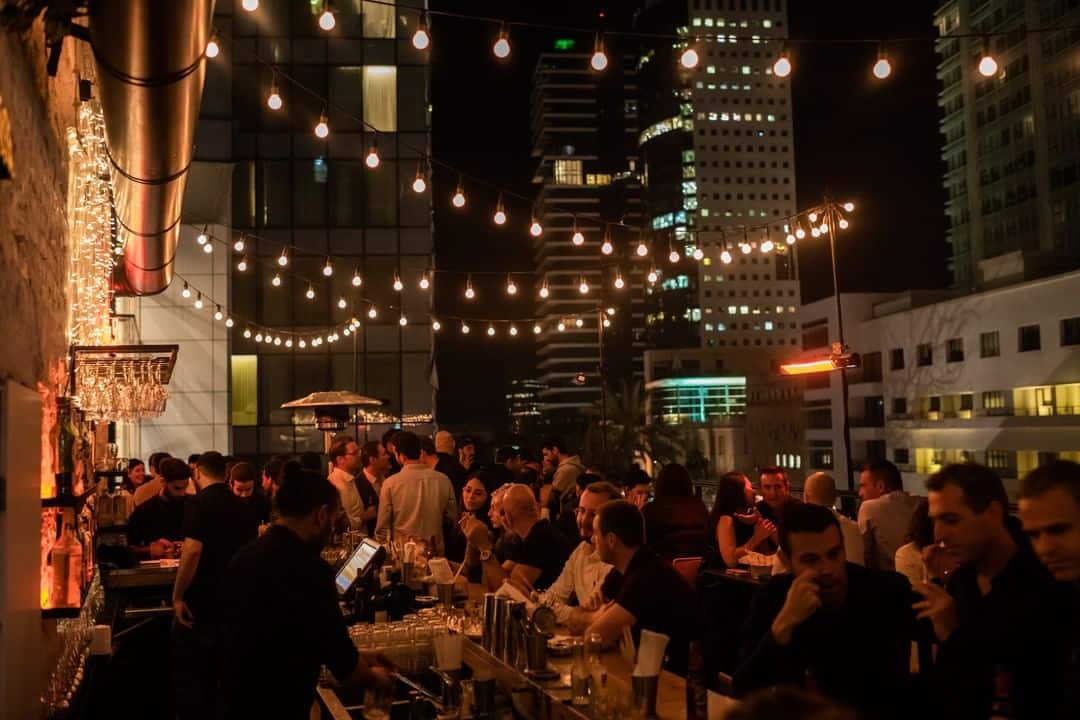 Nestled amidst the bustling streets of Rothschild, one of Tel Aviv's most trendy districts, Speakeasy Rooftop Bar treats patrons to sweeping views.
With a chic-meets-urban decor, the high-kicking watering hole spans multiple spaces. Featuring both indoor and outdoor spaces, the Tel Aviv rooftop bar places its bets on the open-air setting. Cocktail aficionados are greeted by the warm glow of hanging lanterns and an intimate atmosphere.
Upon entering this boozy sanctuary, a thoughtfully-divided space beckons with cozy seating and vintage-inspired accents. Small terrace, big heart is the vibe that Speakeasy Rooftop Bar is going for. Despite its small size, the Tel Aviv nightlife spot packs a punch with culinary delights and lip-smacking cocktails.
Also dubbed as one of the city's best-kept secrets, the hip rooftop bar is usually frequented by cocktail-loving locals seeking something else for their weekend adventure.
Snap some pics at the Colorful Archway at Bavel TLV
With its ornate geometric patterns, bold hues, and hints of traditional Middle Eastern design, this colorful archway perfectly represents the fusion of old and new that characterizes Tel Aviv's contemporary scene.
The tunnel-like structure has a habit of keeping things fresh, making the Instagrammable spot anything but monotonous.
Go on a street art tour in Tel Aviv's Florentin district
Nestled amid bohemian cafes and laid-back bars, the up-and-coming Florentin morphed into a vibrant canvas for street art enthusiasts. Brimming with creative energy and youthful exuberance, the edgy district is a haven for artistic expression that challenges conventional notions.
Street art tours led by knowledgeable guides navigate this urban labyrinth, offering fascinating insights into how the artwork reflects different aspects of Israeli culture and society.
The tours delve into the emotional turmoil experienced by the artists, who risk their safety to convey their message on the city's walls.
While this form of unapologetic street art features styles ranging from surrealism to steam-punk, its allure is both eye candy and soul food. Florentin's walls speak of the transformative power of creative expression by unifying art's power with the human spirit's boundless potential.
Although street art on public property is illegal in Tel Aviv, even authorities have turned a blind eye to the creative alleys and eye-catching walls.
Stroll Rothschild Boulevard's streets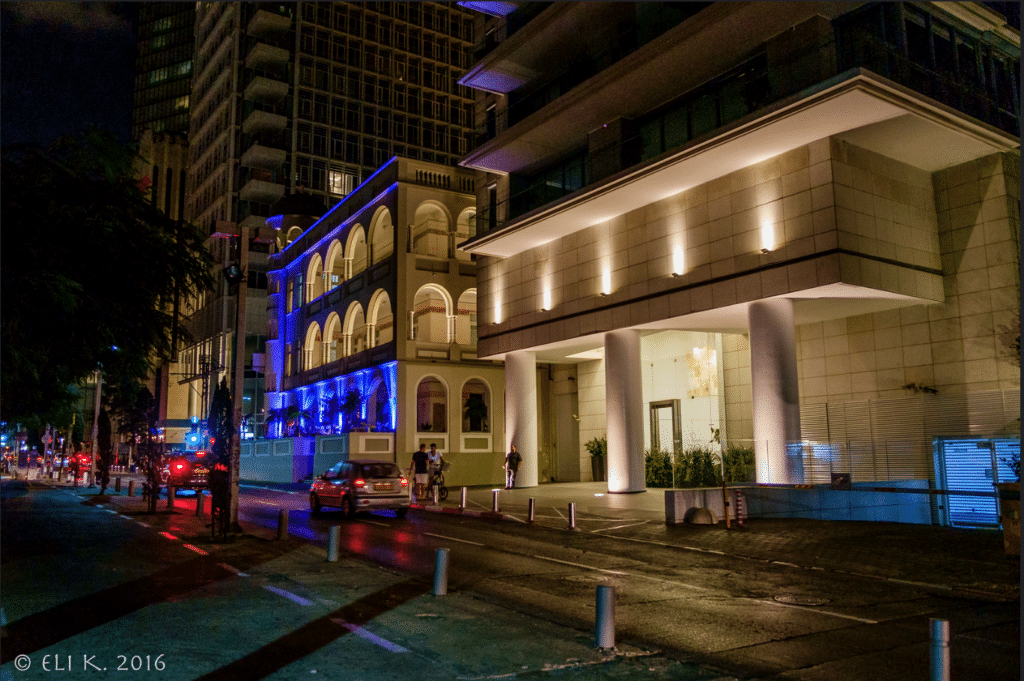 Rothschild Boulevard is one of the city's most expensive streets, an iconic thoroughfare that effortlessly captures Tel Aviv's bustling metropolis.
Although it has an impressive century-old resume numbering it among Tel Aviv's oldest boulevards, the nightlife spot covers everything from Bauhaus architecture to upscale restaurants.
Showcasing intimate cafes during the day and high-spirited clubs at night, Rothschild Boulevard seamlessly blends the old with the new. While the area is a testament to Tel Aviv's rich heritage, it transforms into a buzzing hive when night falls.
One quick stroll around the area and you can tell the boulevard has a soft spot for alfresco revelry. Many venues offer outdoor seating, from rooftop bars to restaurants, allowing patrons to soak up the balmy Mediterranean breeze.
After you've finished your people-watching session and downed your drink, head to late-night clubbing spots Breakfast Club and Jimmy Who.
Rothschild Boulevard feels like an entertainment chameleon – it lures visitors no matter the time, hour, or day.
Sip on the A Lesson in Fisting cocktail at Bellboy Bar
A lesson worth learning, this Tel Aviv cocktail is a rum-based concoction whose flavors hit your palate in waves. While the rum's bold notes blend with pineapple juice's sweet tanginess, Calvados – a brandy made from apples – adds a complex depth to the mix.
Don't be fooled by its strength, as pear cordial's subtle sweetness and Angostura bitters' spiciness creates a harmonious balance.
With only 12 bar stools and one bartender, Bellboy Bar adds another dimension to drinking experiences. Also dubbed as one of Tel Aviv's finest nightlife adventures, the watering hole displays a retro-inspired decor, with vintage wallpapers and plush velvet seating.
Reminiscent of old Hollywood's glamor, Bellboy Bar blends traditional ingredients with unexpected twists to creative innovative libations.
As the place where creativity knows no boundaries, Bellboy Bar is a weekend must for any cocktail aficionado.
Dance the night away at Haoman 17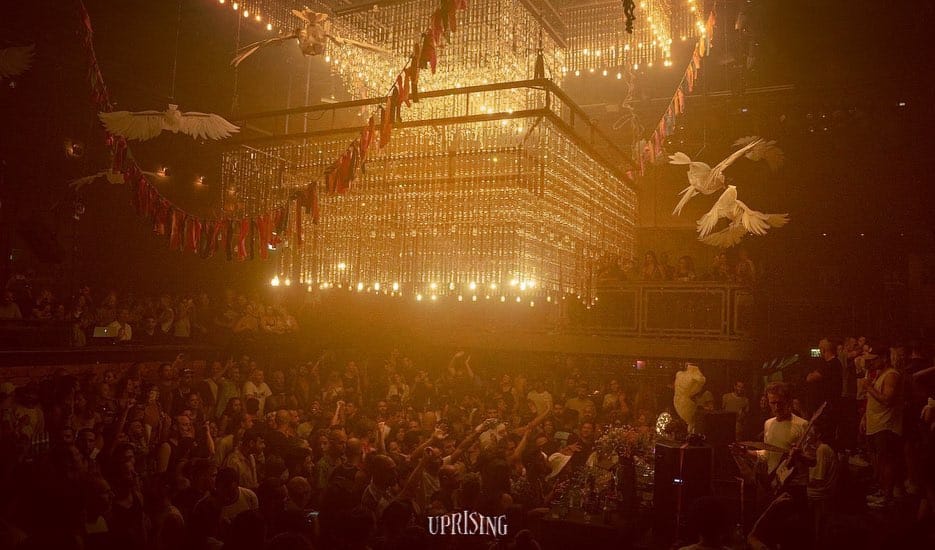 Often rated as one of the best clubs in the world, Haoman 17 has become a legendary hotspot for the local crowd of electro-heads. The party destination is one of Tel Aviv's oldest nightlife venues, and it lives up to its reputation.
Since its inception, Haoman 17 has played host to blue-blooded electronic DJs like Tiesto.
Finish off your night with Pitas at Miznon
When looking for the ultimate antidote to booze-induced hunger pangs, pitas are always there to save you. This drunk food transports you to the sun-soaked Mediterranean shores with a finger-licking mix of tender lamb, fluffy pita, fiery chili, and tahini.
One of the few Tel Aviv eateries that changed the world of late-night bites with savory pitas is Miznon. With a "take the flavor of each city and translate it into a pita" motto, the street food place has an open kitchen concept where customers can watch the cooking process.
Far from being your average fast-food joint, Miznon is committed to culinary innovation. Using fresh ingredients only, the late-night eatery creates seasonally-inspired dishes and elevates the street food concept.
With options ranging from mouth-watering meat pitas to vegan choices, Miznon has something for everyone.