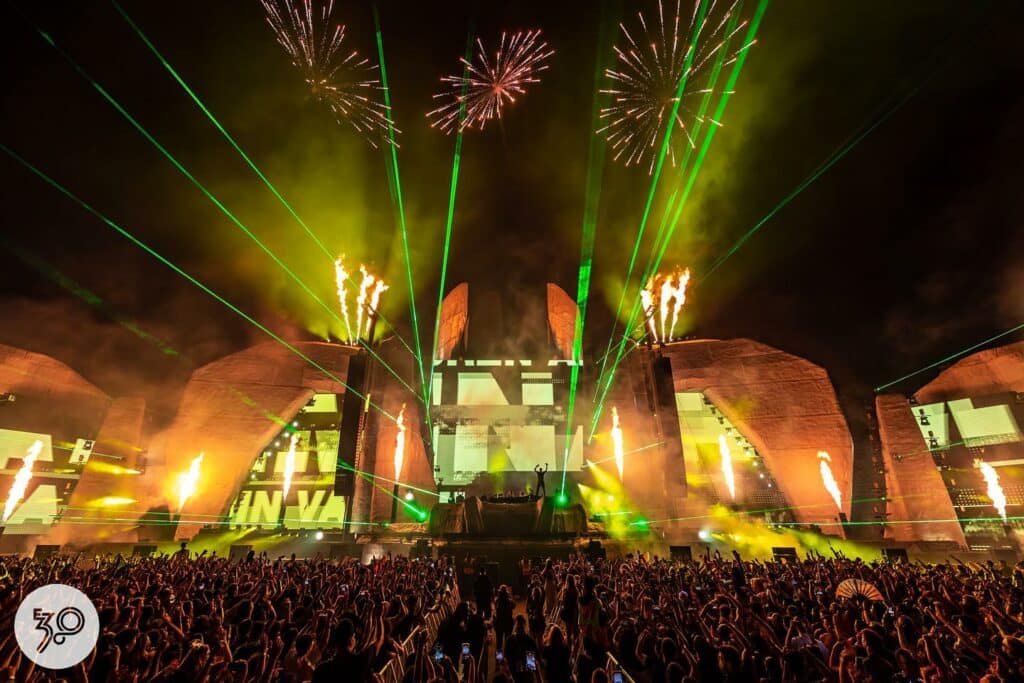 Loyal to its name, Electric Zoo is a music mecca for electronic beats and everything they encapsulate. The music ranges from dubstep, trap, trance, house and anything in between, attracting a massive crowd of EDM enthusiasts and seasoned electronic fans.
Since it is one of the largest music festivals in New York City, Electric Zoo brings together international DJs from dozens of countries on the same stage with one mission in mind – to create an unforgettable electronic affair.
Here's everything you need to know about Electric Zoo festival.
The festival features the best of electronic music
Whether you're in love with electronic music or just a casual listener, Electric Zoo is where you head to for non-stop and out-of-this-world beats.
A pro at curating jaw-dropping lineups, the event takes festival-goers on an immersive journey through a broad mix of electronic subgenres. From trance and house to dubstep and commercial EDM, Electric Zoo covers every electronic music genre one could think of.
Previous editions witnessed performances from the most lusted-after DJs, including Martin Garrix, Diplo, Armin Van Buuren, and DJ Snake. But the festival doesn't only focus on blue-blooded artist names – on the contrary.
Striking a balance between renowned names and budding talents, Electric Zoo shifts the spotlight to lesser-known acts, such as Apashe, Pretty Pink, and Rome in Silver.
Electric Zoo Festival is on a popularity spree
Electric Zoo's first edition attracted 26,000 festival-goers. Previously, the music event was a 48-hour affair, but that changed thanks to the music-loving community's affirmative nod.
Back in 2010, the fest welcomed 85,000 attendees and over and 66 music acts.
Since then, the crowd at Electric Zoo has been increasing unwaveringly year after year. The festival's popularity continued to rise, reaching a record-breaking attendance of over 107,000 people in 2019.
We can thank Made Event for the electronic fest
Electric Zoo is the brainchild of events coordinator Made Event. Since its 2001 inception, the company has been shaping New York's electronic culture since its debut.
A trailblazer in the promotion, production, and execution of electronic dance music events, Made Event is responsible for brining roaring artist names like Steve Aoki, Dirt Monkey and Cheat Codes to NY venues and clubs.
Electric Zoo Festival is an award winner
With its commitment to bringing the best electronic beats and vibrant stages, it is not hard to see why Electric Zoo has been nominated for several awards.
In 2010, 2011, 2012, and 2013, the festival received nominations for the "Best Music Event" title at the International Dance Music Awards.
Like any champion, the music event didn't stop at a few nominations.
Various festival-focused publications have listed Electric Zoo as one of the world's top music festivals.
The festival expanded to an international scale
Following some very successful editions, Electric Zoo decided to spread its tentacles to other continents. Consequently, the electronic-fueled concept took over Mexico City in 2014 and Tokyo in 2015.
However, its international ventures were one-off events and Electric Zoo stayed loyal to its New Yorkian roots.
Electric Zoo has had its share of setbacks
The festival's 2013 edition became a tragedy when two attendees passed out and later died. After two successful days, the third day was canceled after the two festival-goers died from and an MDMA overdose.
After the tragedy, authorities and citizens were up in arms against the issuance of permits for such events. Electric Zoo expressed its regret but assured the public that safety and security will be taken into account more in the future.
The festival likes to give back
In 2010, Randall's Island Sports Foundation and the Bronx Museum launched FLOW, an outdoor art exhibition project.
Despite its recent launch, Electric Zoo contributed to the event's success by donating $2 to the project from every ticket sold at its 2011 edition.
Electric Zoo is environmentally conscious
While Electric Zoo Festival had a great impact on the electronic-loving community, it also impacted the environment – but in a good way.
In 2011, the festival introduced an on-site recycling system for waste and water in cardboard containers, biodegradable plates, and utensils.
Likewise, the event also switched to using 100% biodiesel alternative fuel and forced all food vendors to source only organic, hormone-free and ethically-bred livestock.
All in all, Electric Zoo Festival is a whole experience on its own. As the largest and longest-running electronic music festival in New York, it converts Randall's Island Park into an unmissable magical musical wonderland for three days.