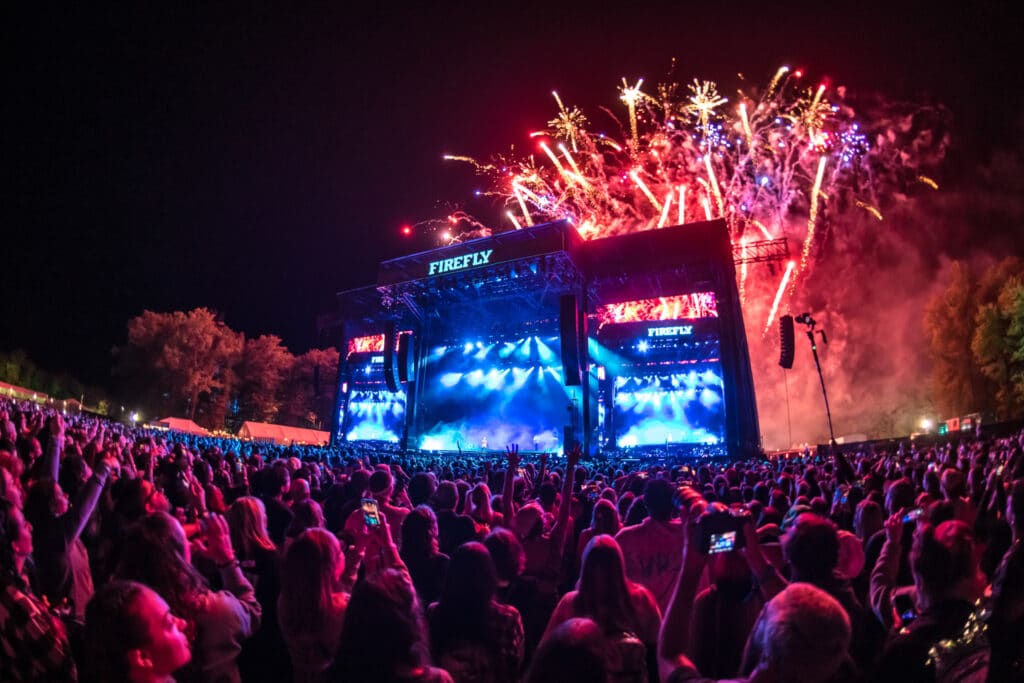 Dover, Delaware, USA
Open-air
XL – 20k-50k
Electronic, Rock, Hip-Hop
$$$$
Live music
+3 Days
An explosion of colour and music, Firefly Festival is a multi-genre event that pays tribute to summer's last days with good food, good mood and ineffable vibes.
Back in 2012, LA-based live entertainment company AEG Presents created the music festival to strike a balance between international headliners and emerging talent.
Although Firefly started as a three-day music celebration, it now spans four days at the end of September.
Since its inception, the vibrant festival has been lighting up on Dover Motor Speedway's vast grounds in Dover. Besides hosting the NASCAR Cup Series, the Delaware race track also became a home for large-scale events.
Every year, over 100 artists take to Firefly Festival's stages to deliver the best beats across genres, including pop, indie, rock, and hip-hop. Besides the multi-genre lineups, Firefly boasts various stages, each donning its own vibe to create the perfect live music experience for every festival-goer.
Here's everything you need to know about Firefly Festival.
Multiple stages is the game at Firefly Festival
No single stage could ever hold Firefly's roaring lineups. Instead of focusing on the traditional main stage, the festival features seven music playgrounds and makes them epic.
The Porch Stage, The Lawn Stage, The Backyard Stage, the Treehouse, The Coffee House, The Pavilion, and The Firefly Stage serve different types of vibes.
Each displays a specific music genre and a decor that goes hand in hand with it.
All-inclusive lineups are Firefly's biggest draw
Every festival-goer has a unique music playlist and Firefly knows that too well. Instead of placing all of its best on one specific music genre, the festival chose a multi-genre approach.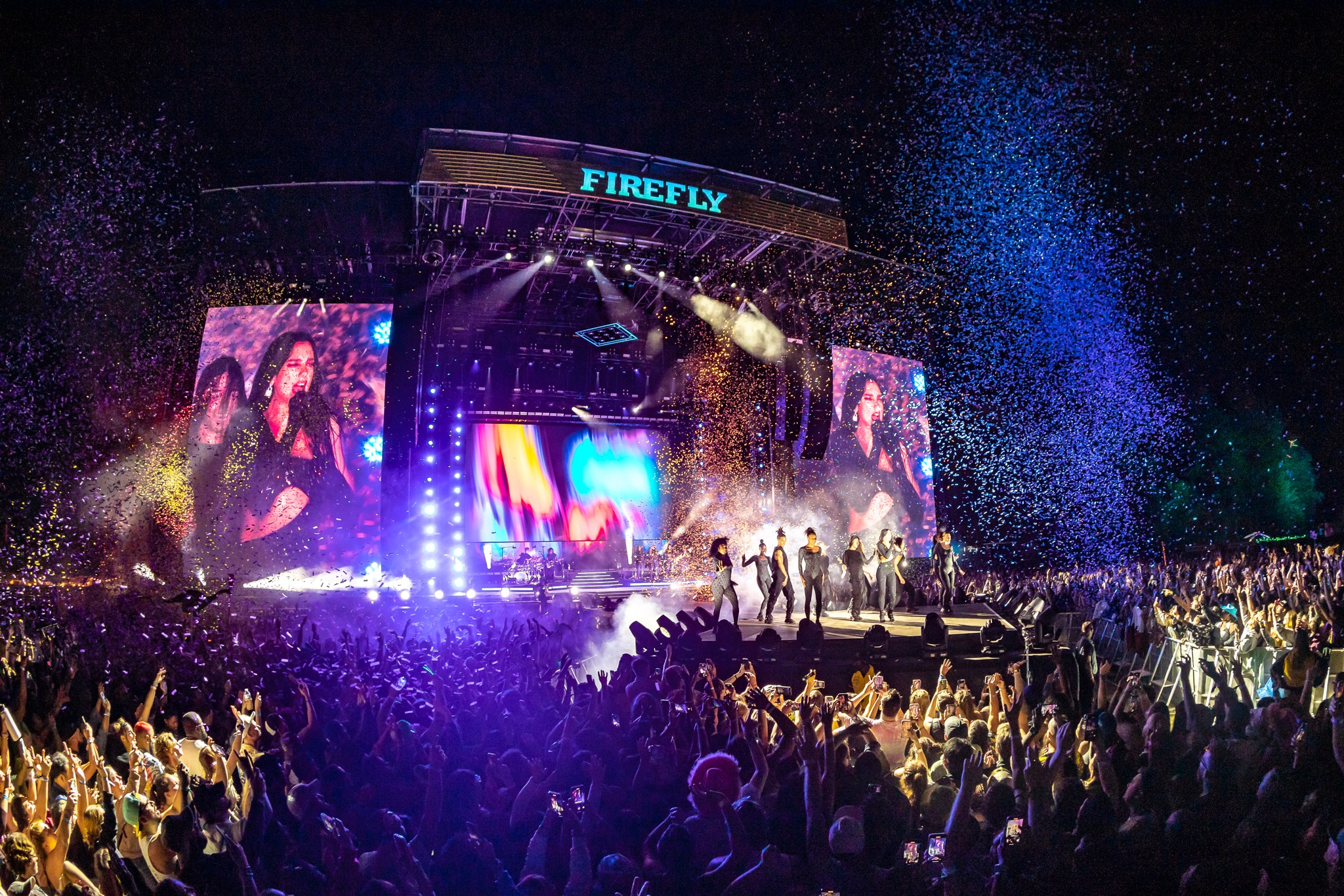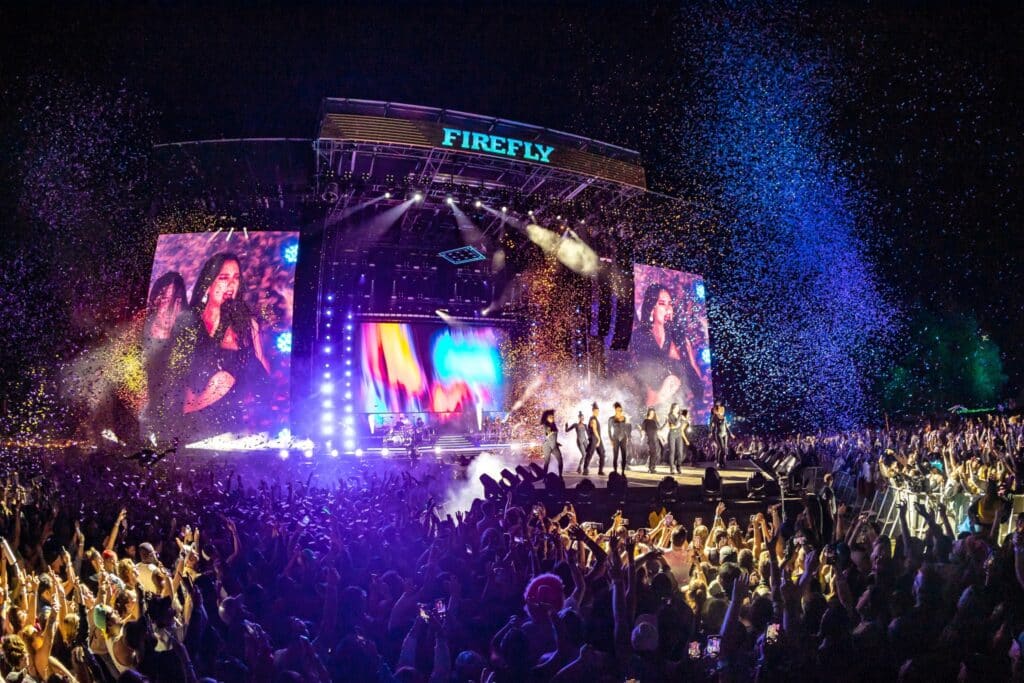 By bringing in blue-blooded artists from pop, indie, rock, and hip-hop, the event attracts tens of thousands of music fans every year. With A-list names like Green Day, Dua Lipa, Zedd, T-Pain, and Avril Lavigne, Firefly is an all-inclusive festival.
Passion Pit's performance was canceled in Firefly's debut edition
When it hosted its first edition in 2012, Firefly was anything but shy in curating its lineups. Despite just launching on the festival market, the event booked top-tier talents like John Legend, Bassnectar, and The Flaming Lips.
Indietronica band Passion Pit was also scheduled to perform among the other popular musicians and bands. But their show was canceled due to lead singer Michael Angelakos's ongoing treatment for bipolar disorder.
But not was lost. Brooklyn-based rock band Yeasayer was selected to replace Passion Pit's performance.
Firefly Festival never falls short for entertainment activities
Aside from the top-notch musical acts the festival home hosts, entertainment activities ensure that bored is one thing festival-goers won't be at Firefly.
If you need a proper time-out from the booming beats, head to the Hammock Hangout, a shared area where attendees can pick a hammock and relax.
For those who prefer to party, The Thicket is the ultimate holy grail. It is a silent disco area where a DJ plays music that can only be heard through headphones.
Gaming enthusiasts can also make the most of their experience at the arcade tent, which provides arcade and video games.
Firefly supports TOMS' fashion movement
A fashionista through and through, Firefly supported the shoes brand TOMS' initiative through its DIY program. While most of us are familiar with the brand (their slip-on silhouette used to be on every street in 2012), Firefly took things up a notch and invited festival-goers to customise their pairs.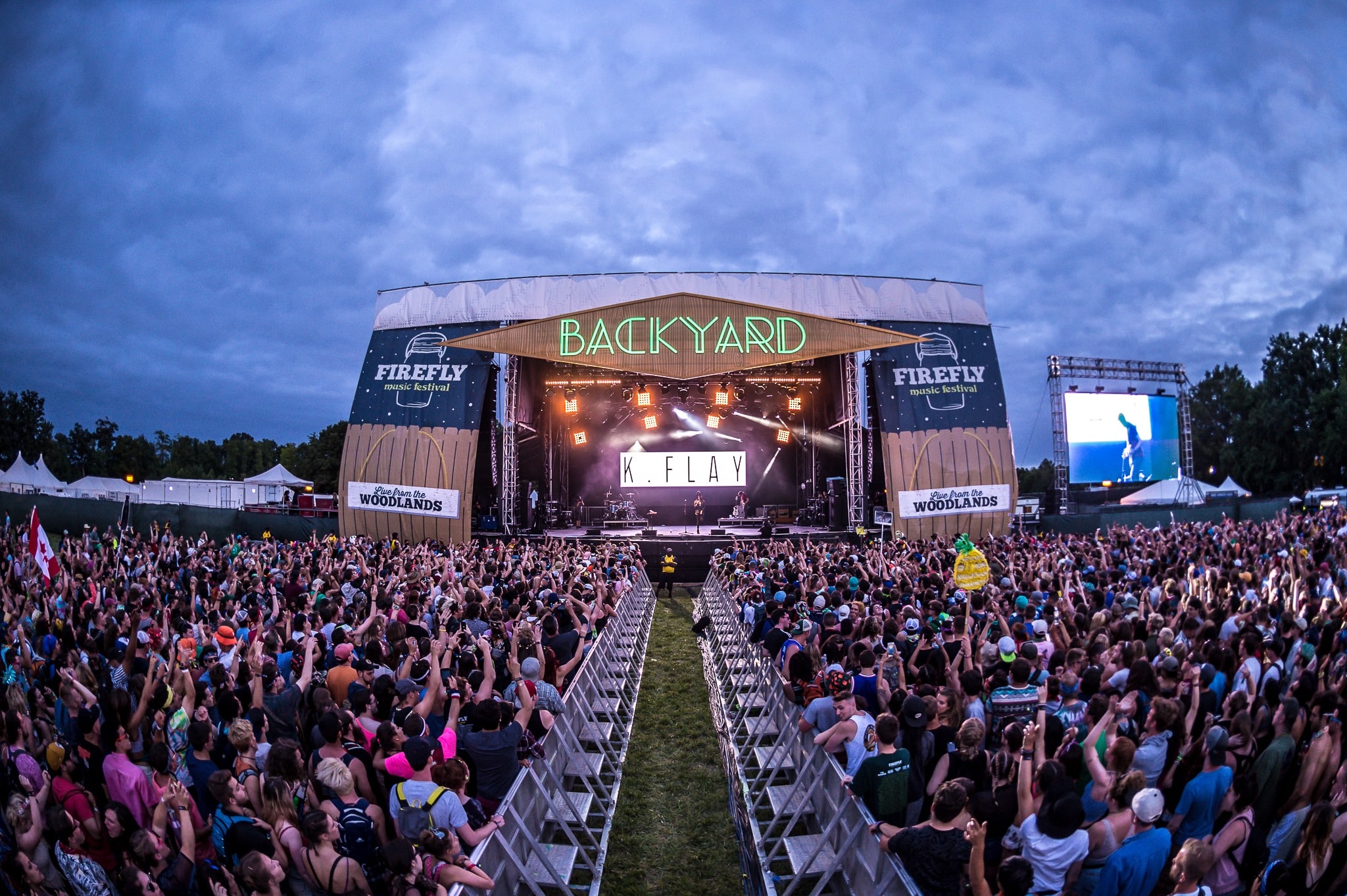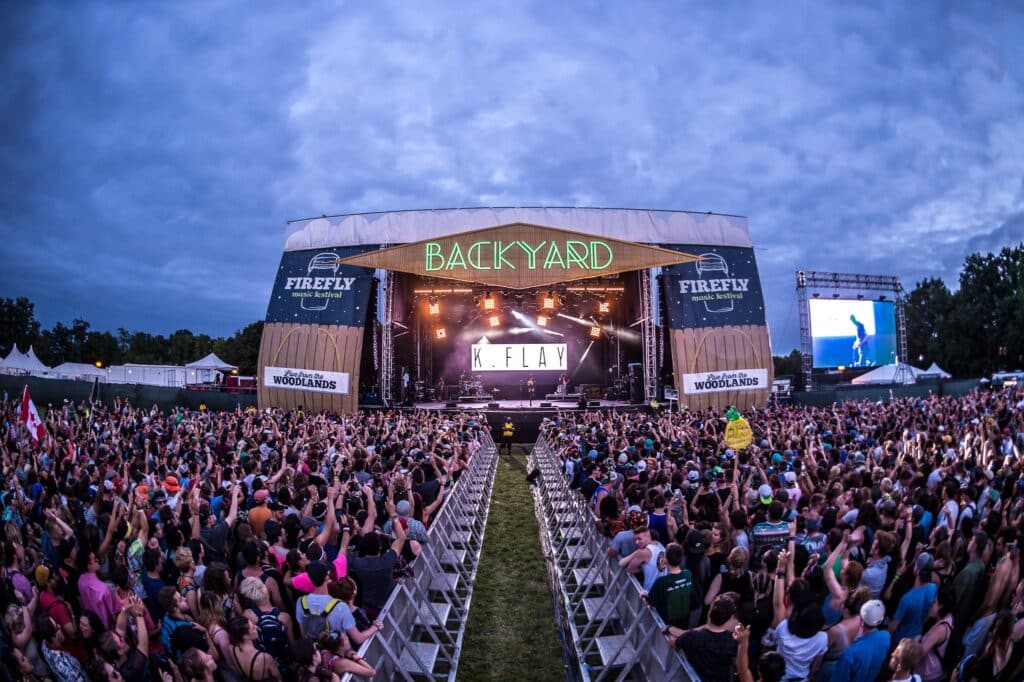 Attendees could meet with expert artists and get advice on how to design their unique and artistic pair of TOMS shoes. For every pair of shoes sold at the festival, TOMS donated a pair to a child in need as part of their One For One Movement.
TOMS has attended the festival for several years in a row, contributing to the festival's mission of community service.
The festival offers several pass options to suit everyone's budget
If you want to attend the event, you will have three different passes to choose from. Each pass grants you access to different areas and amenities.
General admission tickets can fetch a few hundred, VIP tickets are a bit more expensive, and the Super VIP ticket sells for a few thousand.
Firefly Festival provides multiple lodging options
To ensure that attendees get the most out of their festival experience, Firefly offers several camping options as well as a variety of packages to choose from.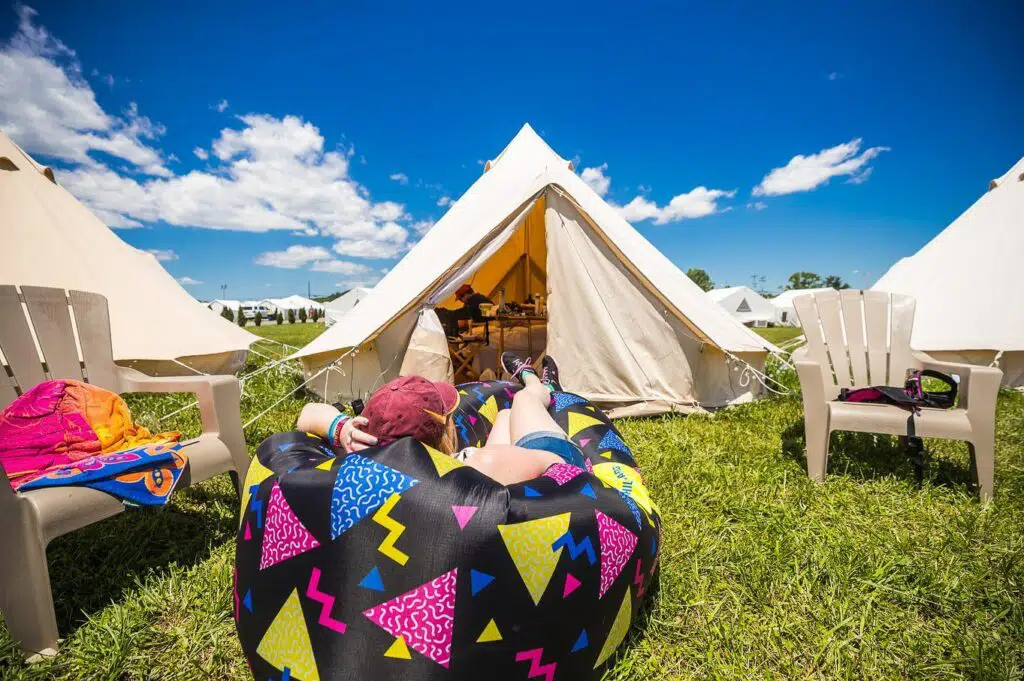 For instance, festival-goers can make their pick between tent camping, glamping, and RV camping. Each one of these options has several packages with different prices and amenity access to make sure everyone finds what they are looking for.
Festival-goers can skate to the sound of the DJs at The Roller Rink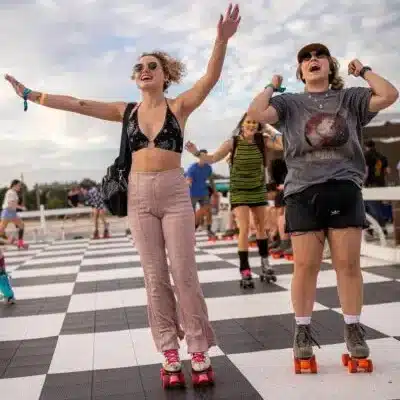 Whether you're looking to enjoy the music or make the most of your day by engaging in leisure activities, Firefly Festival has got you covered.
Firefly features a rink where attendees can bring a pair of skates and skate around for a memorable festival experience while enjoying the vibrant DJ sets.