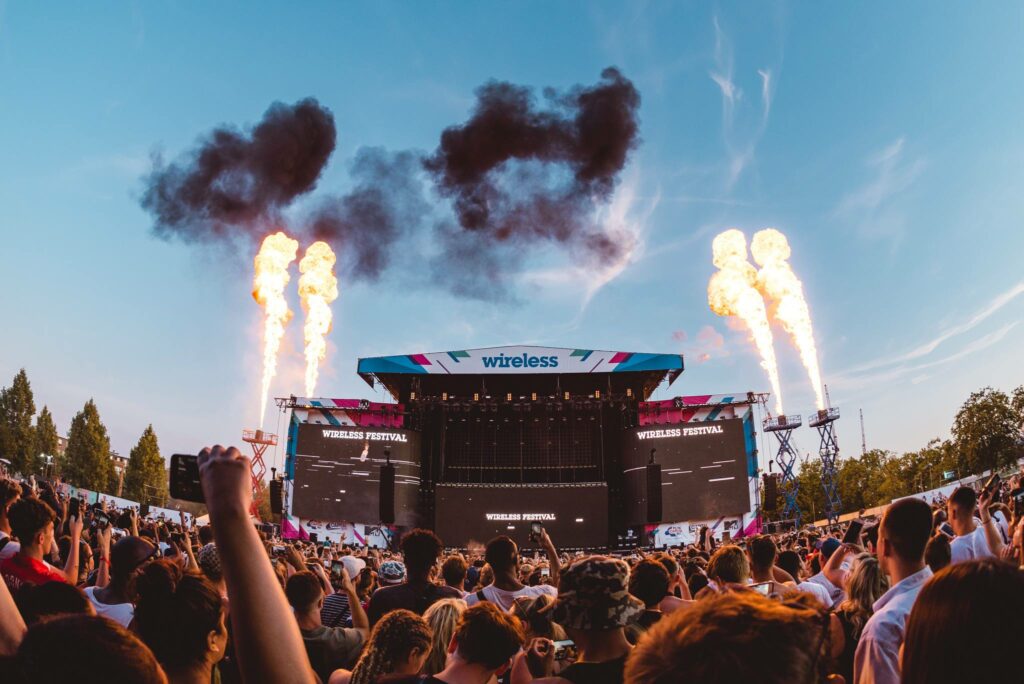 London, UK
Open-air
XXL – 50k+
Hip Hop, R&B
$$$$
International, Live Music
+3 Days
Raking in six-figure attendee numbers year after year, Wireless festival is a tour de force in London's summer music scene, attracting the best of the best from the world of hip-hop.
Owned and managed by entertainment company Live Nation, the urban music festival saw daylight for the first time in 2005.
Back then, the rap celebration took place in Hyde Park for a few thousand of hip-hop aficionados.
London's Wireless Festival takes place in July every year. Taking over Finsbury Park and Crystal Palace, the fest places urban beats into the refreshing setting of lush parks.
If you're a hip-hop fan looking for all your faves in one place or just a London local in search of a huge day out near you, Wireless festival has got you covered.
Here's everything you need to know about Wireless festival.
It was founded in 2005 by events company Live Nation
Wireless has been around for sixteen years, boasting a tonne of star-studded lineups and sell-out shows across the course of its relatively short life.
Like most other festivals, Wireless had to shut its doors for a year in 2020 due to the COVID-19 pandemic.
But its 2021 comeback was hotly anticipated and it didn't disappoint, hosting the likes of Future, Skepta, Migos, Meek Mill, AJ Tracey, Megan Thee Stallion, Lil Baby, Young Thug, Lil Uzi Vert, Headie One, Swae Lee, and Rick Ross.
Wireless didn't start as a hip-hop festival
Believe it or not, Wireless was never intended to be an urban music event.
It started as a rock and pop festival, but in more recent years it has become synonymous with rap music – an identity transformation that has brought the show immense success and acclaim among hip-hop fans worldwide.
It's a bargain, all things considered
Wireless is one of the most accessible festivals out there, costing about half the price of many of its UK competitors, like Reading & Leeds, Creamfields, and Latitude.
For the small cost of £55 – only £20 more expensive than the price of the festival's first year – you can bag yourself a jam-packed day full of A list acts for a Z list price tag, thanks to the festival's dedication to keeping costs low.
The festival has built up a rep for crazy guest appearances
In 2021, rap fans were bowled over by the appearance of none other than Drake during a headline set by US rapper Future.
The star joined to debut the pair's collab Way 2 Sexy from Drake's much-anticipated sixth studio album, Certified Lover Boy.
But Drake isn't the first superstar to make a surprise appearance at the festival. In 2013, Justin Timberlake shocked crowds when Jay-Z strolled out onto the stage mid-set. Things got even more insane when Jay-Z proceeded to bring out Rihanna as a surprise guest of his own.
Talk about expecting the unexpected.
It's also got a rep for surprises that don't go down so well
Wireless has been home to some epic moments… plus a few not so epic ones.
The most noteworthy of them all has got to be Kanye West's 2014 headlining set, where the rap god launched into a 20-minute rant about anything and everything – from insults to footwear competitor, Nike, to effusive praise for then-wife Kim Kardashian.
Fans were pretty unhappy about it, booing and heckling while the rapper ploughed on undeterred.
Luckily for them, Drake dropped out of his Sunday headline set, so Ye volunteered to do another set (complete with speech) the very next day.
The music is only part of the appeal
Wireless bags the creme de la creme of the hip-hop world, no doubt about it. But that's not all the festival has to offer.
Mouth-watering food vendors, pop-up dance floors, video game lounges and even the odd fashion show (accompanied by, of course, booze) are among the other attractions that the London-based festival boasts.
It's the biggest music festival in London
In 2019, Wireless hosted 135,000 attendees.
It was a colossal number for a London music event, putting its reach nearer to that of superstar counterparts like Glastonbury or Coachella.
But its reach isn't limited to the English capital. Live Nation has hosted Wireless spin-off events in Leeds, Birmingham, and Frankfurt, Germany.
It's not such a hit with the locals
In 2018, Wireless nearly met its end.
Haringey Council tried to impose noise restrictions on the festival after unhappy residents complained about its ground-shaking speakers, anti-social behaviour, and trash-laden grounds in the wake of the event.
Not one to go down without a fight, Live Nation persuaded the council to propose amendments to the festival's license rather than an out-and-out cancellation.
These included a new 9 PM ending time, a ban on 'offensive clothing', and a no-swearing rule for performers.
When the music's done, it's time to go home
Unlike other music festivals of its size, Wireless ends at the close of its last set.
In part to appease locals, in part due to its prime London location, Wireless requests that guests leave promptly at 9 PM sharp, no exceptions.
If you're planning on going to the hip-hop extravaganza, you should definitely book your transport and/or accommodation in advance.
There's a pretty hefty crush when the lights go off and revellers are turfed onto the streets of London and told to make their way home.
Wireless Festival is always on the move
Wireless was housed in Crystal Palace Park most recently, but that wasn't its forever home.
It's taken place all over the show, being hosted in Hyde Park, Harewood House, Olympic Park, Perry Park, Finsbury Park, and Crystal Palace Park, though it's not set to settle down into a single spot anytime soon.
Wherever it lays its roots in the coming years, one thing about WIreless remains certain: they'll put on a hell of a show.