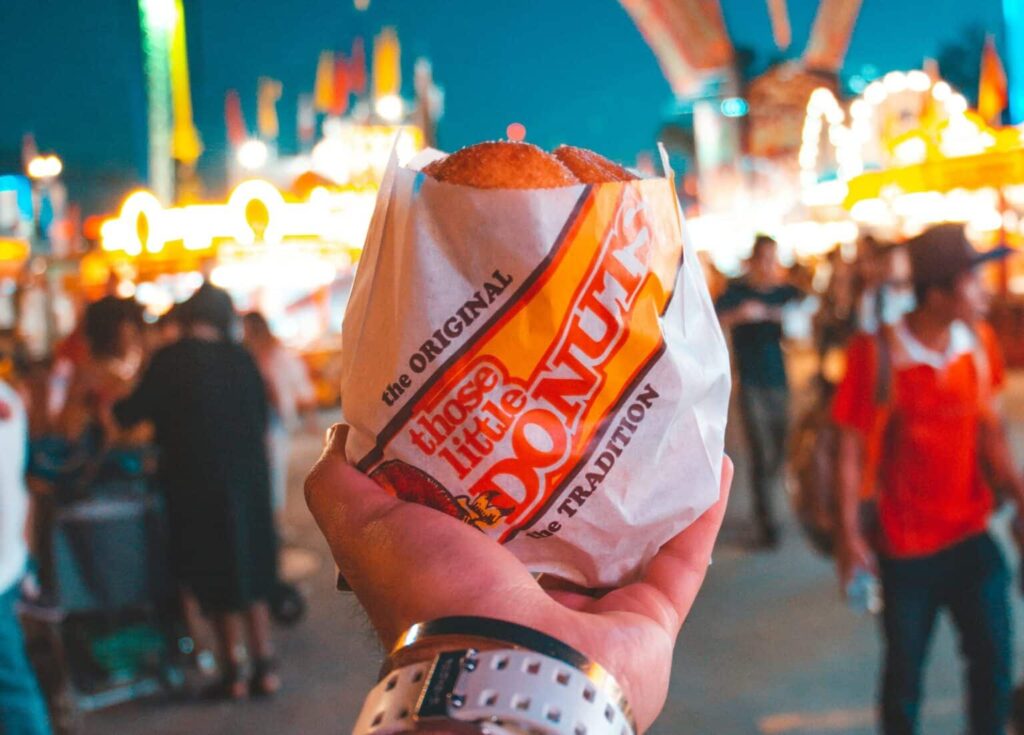 When you think of a music festival, the first thing that springs to mind is probably an epic stage, huge crowds, great music, and not-so-great camping.
But in recent years, these elements have increasingly taken a backseat to make way for a new breakout star to take centre stage – music festival food.
According to a recent Eventbrite survey, 62% of people are happy to go to a weekend festival for the food alone.
Unsurprisingly, over the past decade, the priority for many music festivals has shifted from ensuring perfect harmony onstage to creating it in every bite.
Which begs the question – why?
To state the obvious, food is a necessity.
But it's more than that. Gone are the times of eating cold cans of baked beans or soup for days on end to keep costs to a minimum.
Nowadays, the foodscape when it comes to music festival food is a multicultural feast for the eyes and the belly.
Delish festival food ft. good music
From woodfired pizza and vegan sushi wraps to churros and gyros, big music festivals now boast almost every cuisine imaginable.
Although the trend of food dominating festivals has become more and more popular over the last decade, it seems that with the return of festival season following a global pandemic it has become even more important to partygoers.
After such a long hiatus, we've grown set on demanding the absolute best from every aspect of our live experiences – from the acts we watch to the music festival food we consume.
Even so, surely the music should still have the spotlight, right?
Wrong. Or at least this is what social media indicates.
The big change in the demand for music festival food vendors over the past decade is in part down to the overwhelming dominance of social media.
This is particularly prevalent among younger generations (such as Gen Z) who are the most zealous festival-goers.
Huge appetite? Check! Instagram feed? Check!
The same Eventbrite survey found that 84% of music festival attendees will post pictures of their food on their social media over the weekend.
Essentially, that traffic translates into free advertising. Not just for the food trucks themselves, but also for the music festival.
All in all, Instagram-worthy grub is a winner for everyone.
Thanks to its huge presence on social media – particularly on Instagram and TikTok, where aesthetic visuals are everything – the music festival food industry has transitioned into a highly competitive market nowadays.
And we're not just talking about taste. With the potential to go viral on social media up for grabs, vendors have been forced to fight for the attention of festival-goers wanting the most aesthetic and on-trend food. After all, who cares what it tastes like if it makes a good pic, right?
This isn't to say that people have become shallow with their food tastes. They just become choosier about every aspect of their culinary experience. Given their promotional power, they can afford to be.
Or rather, some of them can afford to be. But not all.
With the increased importance placed on delighting the taste buds, food vendors entering the festival space have hiked their prices to infinity and beyond.
But it's not just entrepreneurial flair motivating the price increase – there's also a hefty dose of necessity involved.
According to Streetfood Central, the average food vendor at a UK music festival expects to make up to 50% net profit throughout the weekend.
Stock and staffing costs, travel expenses, and pitch fees – up to £18,000 for big festivals like Glastonbury – have to be offset by food sales, which can be over £40,000 for a single weekend (as the same source claims).
The competitiveness of the music festival food market pushes costs up in all directions, impacting sellers and buyers alike.
If the pitches are more sought-after, they cost more – so the food costs more.
It's not about the taste, it's about the experience
We, the customers, make music festival food the next big thing, and then we, the customer, are the ones who have to pay the price for its popularity.
It might not sound like the fairest trade, but at least taste buds are satisfied while our social media feeds added a visually-appealing post to their family tree.
There's a question mark over whether our obsession with culinary excellence is making festival food more elitist – reserved for those who don't mind forking out $30 for a hot meal and a drink. It goes without saying that food is a basic necessity that should be accessible to all partygoers, right?
Accessibility (or lack thereof) aside, our 'foodie' obsession seems set to stay.
For those of us fortunate enough to be able to splash out on festival grub, our eyes (and mouths) are set to open to a whole new world of culinary delights.
Co-written by Maddy Mckenna and Sophie Hoath.